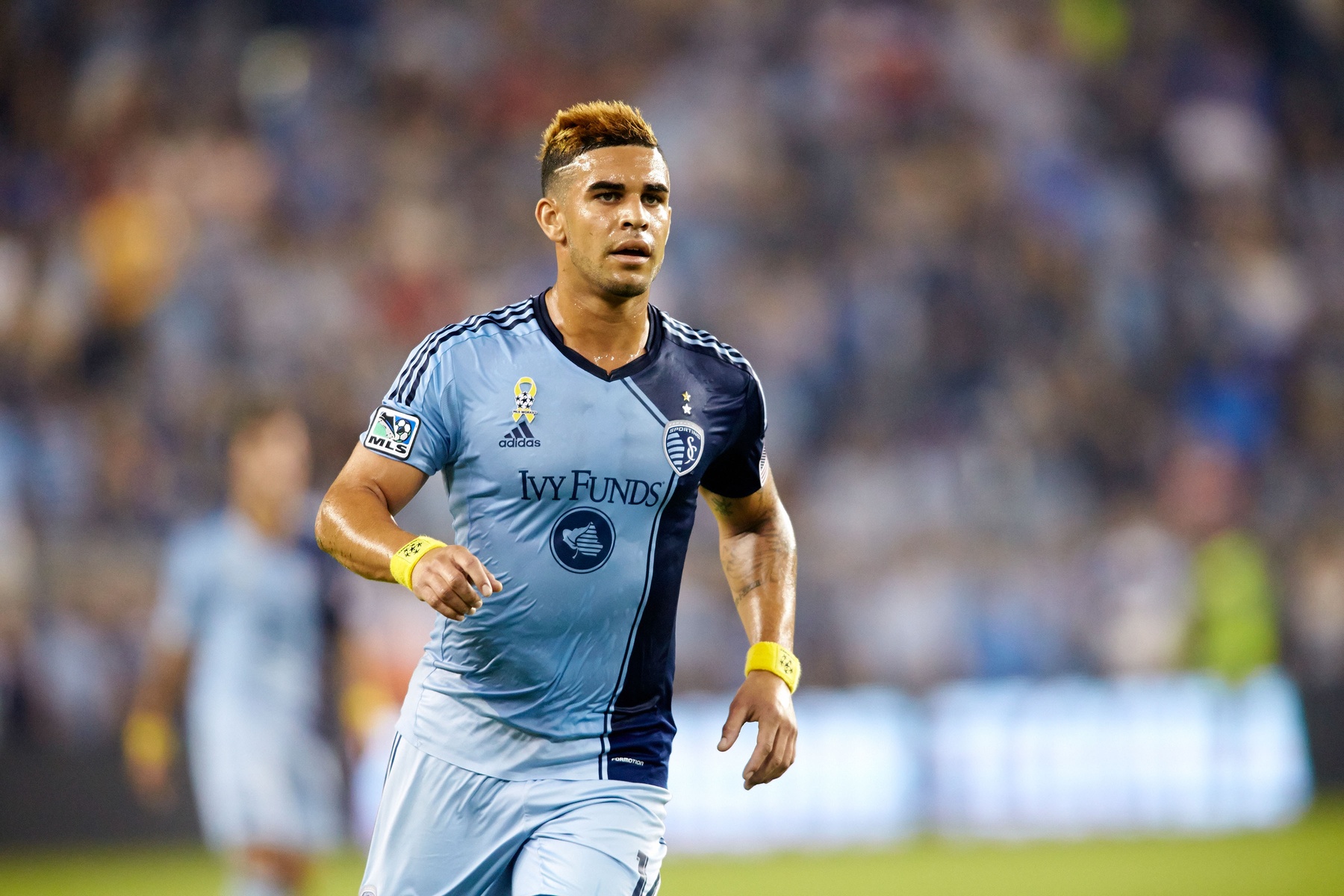 Photo by Gary Rohman/USA TODAY Sports Images
By TATE STEINLAGE 
Dom Dwyer's aspirations are lofty. So much, in fact, that the 24-year-old Englishman was disappointed with only scoring 22 goals last season, despite the mark setting a new single-season record at Sporting Kansas City.
Fortunately for him, Sporting KC's front office was more than pleased with his effort. The club confirmed Wednesday that Dwyer has signed a multiyear contract extension, which will earn Dwyer a "significant raise" from his roughly $92,500 salary in 2014, that according to the Kansas City Star.
"I'm very excited for my future with this club," Dwyer said over a conference call Wednesday. "It's a club who first believed in me and drafted me. It's something I wanted to do, and I'm very excited for it. It's nice to not be concerned about that stuff so I can focus on what really matters and that's playing football, getting better and bringing more championships to Kansas City."
There was little doubt Sporting KC would not retain Dwyer prior to Wednesday's announcement, but that didn't stop other clubs from pursuing the striker, including those from his home country. Dwyer says his extension sends a clear message: "back off right now."
"When I was growing up, my dream was to play in England," he said. "That was always my dream. But growing up, dreams change, and if I can continue to have success in Kansas City and enjoy myself, and they continue to show faith in me and want me in the club, then I'm not ruling anything out. I'm very happy at the club right now."
Dwyer isn't ruling out spending his entire career in Major League Soccer, at Sporting KC. The 2012 MLS SuperDraft first-round pick saw time with the first team in his rookie year. He then scored 15 goals in 13 regular-season games with former Sporting KC USL Pro affiliate Orlando City SC a year later before eventually playing an integral part in capturing both club's respected championships.
Then, of course, this past season's 22 goals was good for second in the league behind New York Red Bulls star Bradley Wright-Phillips, who tied the league's single-season record (27) against Dwyer and Sporting KC on the final night of the regular season.
However, Dwyer is also not ruling out a possible call from Jurgen Klinsmann and the U.S. Men's National Team.
"I've heard rumors here and there, including conversations with my agent, that there's interest in U.S. camp," Dwyer said. "That would be an amazing thing if my phone was to ever ring for that. It's something to be involved in and be in the league (MLS) for. I also think the league is going places as well. It's a place to definitely be in."
For now, National Team rumors are just that, and Dwyer is more concerned with helping Sporting KC rebound from one early exit after another this past season, a year after playing in and winning MLS Cup.
"It's a club with aspirations to win championships," Dwyer said. "It's a club who's believed in me and shown more belief in me. It's somewhere I want to be. You see our stadium, you see the facilities, you see the coaches, fans, ownership groups — all the hard work that goes into the background of the club — it's a good place to be. It's going to be a more successful club in the future."
He's also dead set on reaching his yearly benchmark — quota, if you will — in goals. Dwyer wouldn't spill the beans on just what that number is for 2015. But, based on his form this past season, there's no reason not expect a record-setting type of output from one of MLS' most talented young stars.
"Last year my target was 24. I was a bit short of that, but this year — you know me — it's going to be a bit more than that," he said. "Hopefully it's a record-setting season. I like to set my target high, so you guys can have a guess at the numbers and all that stuff. But most importantly I want to win championships, and to do that I'll need to achieve my goal. Hopefully they both come in quick succession to each other."