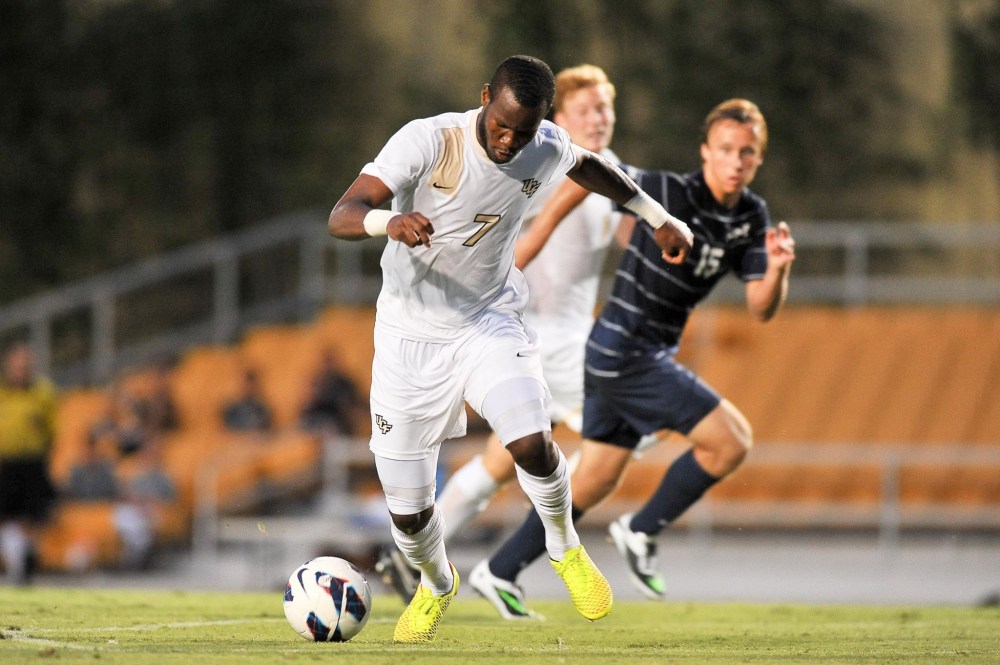 The 2015 MLS Generation adidas class is shaping up to be a small one, but Major League Soccer has taken the first step toward building its class with the signing of the first member of the class.
Sources have confirmed to SBI that Central Florida forward Romario Williams has agreed to a Generation adidas contract, becoming the first player signed to a Generation adidas deal ahead of the 2015 MLS Draft.
(UPDATE– A source close to Williams tells SBI that he has not agreed to a GA deal. At the moment, we have conflicting stories from different sources, but we have it confirmed from multiple sources that Williams has received a GA offer.)
The negotiating process is moving along as slow as usual, with the league likely to push matters in the coming days, ahead of the MLS Combine, which begins on Dec. 9th. MLS usually completes the majority of GA signings in the week before the Combine.
MLS sources have told SBI that the league only plans to sign a class of three to four players, and with top target Joshua Yaro choosing to stay in school, MLS is focused on a handful of targets. Here is a closer look at the players currently in the mix for the remaining two to three GA deals:
TOP REMAINING GENERATION ADIDAS TARGETS
1- CYLE LARIN, UConn, Forward
Canadian national team forward has been extended an offer and is currently in negotiations with MLS. Highly coveted by both expansion teams, and Toronto FC.
2- ABU DANLADI, UCLA, Forward
The most impressive freshman in the country is a dynamic forward who played well enough to force his way into the GA conversation, and contrary to some reports, Danladi has not made a decision about staying in school yet.
3- CRISTIAN ROLDAN, Washington, Midfielder
The highly-regarded playmaker turned down a Generation adidas offer a year ago, and sources believe he will do so again. That hasn't stopped MLS from making him a top target, and an improved offer could persuade the U.S. youth national team midfielder from signing.
4- ALEX BONO, Syracuse, Goalkeeper
The most highly-rated goalkeeper prospect in college soccer not named Zack Steffen, Bono would be the first goalkeeper taken if he signed, but at the moment he has yet to be offered. Signs point to him being the next one to be offered a deal if one of the three above him on this list pass on their offers.
5- OMAR HOLNESS, North Carolina, Forward
The speedy Jamaican forward ale has the physical attributes that have made him the apple of the eye of scouts for two years, but he remains a raw prospect even after two years at UNC and the sense is he
6- AXEL SJOBERG, Marquette Central Defender
A 6-foot-7 central defender who moves very well for his size, Sjoberg is a Swedish international who has already finished school as a junior and could declare for the draft as a graduation junior. Sources tell SBI Sjoberg is trying to land a Generation adidas deal, which may be tough given the fact he turns 24 on opening day of 2015.
7- MICHAEL AMICK, UCLA, Central Defender
A skilled but slightly undersized defender, Amick is a longshot for a GA deal, but does have the attention of scouts who like his intelligence and skill as a centerback. Could probably use another year of seasoning, and should be a top target in for the 2016 draft.