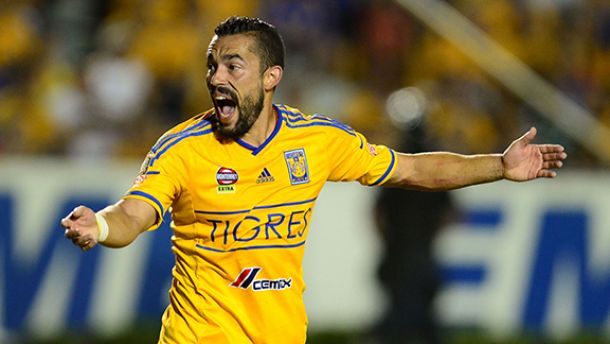 By DAN KARELL
With his career at somewhat of an impasse, Herculez Gomez has decided to return to the place where his career highlights began.
Puebla FC announced late Wednesday that they've signed Gomez ahead of the Clausura season, which kicks off on Jan. 10. Gomez comes from Tigres UANL, where he only spent half a season.
Regresa nuestro último campeón goleador Herculez Gómez @herculezg ¡Bienvenido al @PueblaFC !

— Club Puebla 🎽 (@ClubPueblaMX) December 18, 2014
Nearly five years ago, an out-of-contract Gomez took a risk and left MLS for Liga MX, signing with Puebla. The decision turned into gold as Gomez scored 10 league goals, finishing tied for the goal-scoring lead in Mexico and breaking into the U.S. Men's National Team for the 2010 World Cup.
Gomez has had a much tougher time on the field in the last couple of years. A serious knee injury and ensuing complications have kept Gomez from regaining his speed to get past defenders, making it tough for him to secure a regular place in the starting lineup. Gomez has played for Santos Laguna, Club Tijuana, and Tigres since January 2013.
At Tigres, Gomez scored only once in 15 Liga MX matches, including eight starts, and added two goals in Copa MX action in seven appearances. Gomez has made 24 appearances for the USMNT.
Gomez won't be the only American at Puebla when he returns to the club. USMNT defender Michael Orozco is still a first-team regular in the squad. Houston Dynamo left back DaMarcus Beasley spent two seasons at the club before leaving last summer.
————–
What do you think of this move? Do you see Gomez succeeding at Puebla? Would you like to see him move to MLS?
Share your thoughts below.