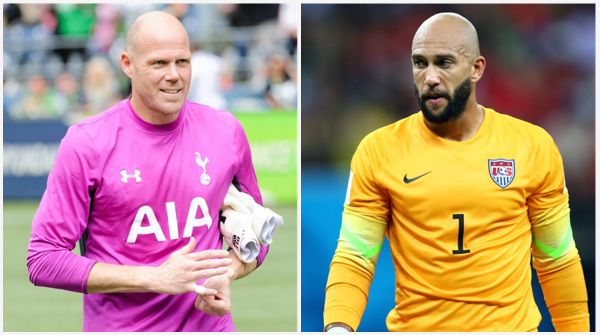 By IVES GALARCEP
Tim Howard's new autobiography figured to have some good nuggets in it, but one particular bombshell has already made waves, and has a fellow former U.S. Men's National Team goalkeeper taking serious issue with Howard.
An excerpt from Howard's new book revealed that, according to Howard, Brad Friedel attempted to block Howard's transfer to Manchester United back in 2003. Howard's book goes into detail about Friedel being asked to write a letter on Howard's behalf as he appealed for a work permit, and that not only did Friedel not submit a letter, but he allegedly appealed to the UK work permit review board to reject Howard's request for a work permit.
Friedel wasted no time refuting Howard's account of things, stating clearly that he did not refuse to submit a letter on Howard's behalf, but did pass on signing a pre-written letter he deemed to be full of exaggerations.
"I'm very surprised to find something of this nature in Tim's book," Friedel told ESPN FC. "I've done nothing to stand in anyone's way of getting a work permit. I've never done anything negative toward a U.S. player."
Friedel has demanded an apology from Howard for the accusations, and told ESPN FC he has considered filing suit, but would rather resolve the matter amicably.
Howard's memoir, The Keeper, comes out on Monday.
What do you think of this story? Think it's a case of Howard getting bad information, or do you think Friedel actually tried to sabotage Howard's career?
Share your thoughts below.