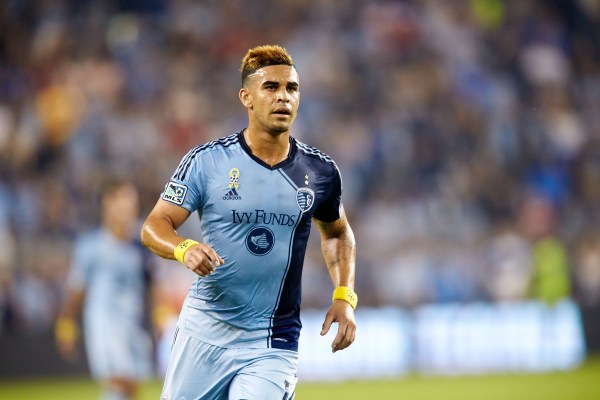 Photo by Gary Rohman/USA TODAY Sports
By DAN KARELL
Dom Dwyer's first full season as a starter for Sporting Kansas City saw him break out and become one of the league's top goal scorers.
The English forward bagged 22 goals and one assist, the second most in MLS, making him the runaway choice for SBI MLS Most Improved Player of the Year. Dwyer also finished the 2014 regular season with the fourth-most shots, third most shots on goal, and third most game winning goals.
In addition, Dwyer's 10 goals on the road was tied for the most in the league with Obafemi Martins, showing that Dwyer's dogged and determined style was the same no matter which stadium he played in.
Dwyer beat out a host of players who had breakout years, including Columbus Crew pair Ethan Finlay and Tony Tchani, the Chicago Fire's Quincy Amarikwa, and LA Galaxy wing back Dan Gargan.
The criteria for the Most Improved Player Award is a player who has spent multiple years in MLS prior to 2014, and who had yet to establish themselves as a regular full-time starter in the league.
Here is a rundown of the other candidates for the SBI MLS Most Improved Player of the Year Award:
2. ETHAN FINLAY
Starting just six games and failing to score a goal in his first two years in MLS, Ethan Finlay exploded on the scene in his third season, cementing a place in Gregg Berhalter's starting lineup and forming a deadly threat on the wing. Finlay's speed and acceleration made him a great option for lung-bursting runs forward and passes from midfield, and his improved poise and movement around the box led to an impressive 11-goal seven assist season.
3. TONY TCHANI
Things look to finally be coming together for Tony Tchani. After showing flashes of potential in his first four seasons, Tchani raised his game to another level in 2014. He was dominant in the air and improved his passing completion percentage, as well as his through balls, leading to six assists this season. His partnership with Wil Trapp in midfield should be one that stays together for a long time in Columbus.
4. QUINCY AMARIKWA
With a new coach at the helm and a fresh chance to impress, Quincy Amarikwa made the most of his opportunity at the start of the season. The 27-year-old forward finished the 2014 season with eight goals and five assists, more than he had racked up in his first five seasons combined.
5. DAN GARGAN
Signed by the Galaxy just prior to the start of the season as added cover on the back line, Dan Gargan took the place of the injured James Riley and never lost his place in the squad, playing 29 times with 27 starts. The 31-year-old Gargan provided a steady presence at right back and provided an option to combine with Stefan Ishizaki and Landon Donovan down the wing.
————
What do you think of this selection? Do you agree with our selection? Who would you have selected as Most Improved Player of the Year?
Share your thoughts below.