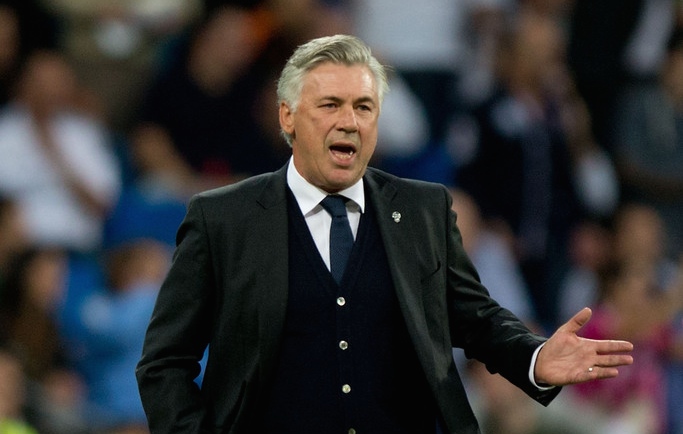 By DAN KARELL
On the verge of winning their third title of 2014, Real Madrid are interested in keeping manager Carlo Ancelotti around for the long-haul.
Speaking in Morocco during the Club World Cup, Real Madrid president Florentino Perez said he'd be "delighted" to extend Ancelotti's contract. The Italian boss deserves plenty of credit, not only for leading Real Madrid to the UEFA Champions League and Copa Del Rey crowns but for managing a team filled with big egos and a seeming imbalance of attacking players over defenders.
We'd be delighted to renew his contract when the season ends," Perez said. "There were initial question marks about getting him in as coach, but I always wanted him. I saw what he achieved at Milan, Chelsea and at PSG. One day I was at a Champions League game with my friend Galliani, I was introduced to Carlo and he was keen to present the whole team to me. He creates a great family atmosphere apart from doing a great job as coach. This is important."
Ancelotti joined Real Madrid ahead of last season after winning two consecutive titles at PSG. Ancelotti is currently in the second year of a three-year contract.
Here are some more stories to kick off your Thursday:
CHIVAS KEEP BUSY IN LIGA MX DRAFT
With the club in danger of being relegated, Chivas de Guadalajara bolstered their forward line with a number of signings during the "Liga MX Draft."
Chivas announced that they've signed American-born Mexican international forward Isaac Brizuela from Toluca, returned both Luis Perez, Raul Lopez, and Marco Fabian from loan, and and acquired Erick "Cubo" Torres for the next six months. Another loanee that returned was American-born defender Miguel Ponce, ironically giving the Mexican-only club two American-born players.
52 transfers took place on Wednesday, with a total of 403,125,000 Mexican pesos spent, approximately $27.8 million U.S. dollars, according to a Liga MX press release.
Clubs can still sign free agents through January from abroad.
MATOSAS CONFIRMED AS CLUB AMERICA COACH

Club America finally confirmed Mexico's worst kept soccer secret on Thursday after by appointing their new coach.
The club hired former Club Leon manager Gustavo Matosas to take charge of a team that just won the Liga MX title under Antonio Mohamed, and Matosas joins a quartet of new signings as the team prepares their squad ahead of the Clausura season.
Known for his entertaining attacking style, Matosas led Leon from the second division to back-to-back Liga MX champions over three years with La Fiera. The Uruguayan has been managing since 2002 following a 16-year playing career. He began his Mexican managerial stay with Queretaro in 2011 before moving to then-second division Leon in 2012. Matosas announced in late November that he was leaving Leon after the side missed the 2014 Apertura playoffs.
QUICK KICKS
Alex Oxlade-Chamberlain, Theo Walcott, and Nacho Monreal are all doubts for Arsenal ahead of Sunday's match at Liverpool. (REPORT)
Real Madrid's Sergio Ramos is also a doubt for Saturday's Club World Cup final against San Lorenzo after picking up a knock on Tuesday. (REPORT)
Bayern Munich are willing to led Xherdan Shaqiri leave next month for as little as €12.5 million. (REPORT)
Marco Reus has been fined €540,000 for being arrested for driving without a license. (REPORT)
Cruz Azul have ruled out possibly signing Paraguayan forward Roque Santa Cruz. (REPORT)
Marseille defender Doria could be allowed to leave in January after failing to make an appearance, with Spanish clubs Valencia and Sevilla interested in the Brazilian. (REPORT)
Bulgaria head coach Ivaylo Petev is hoping that Dimitar Berbatov will come out of international retirement. (REPORT)
————
What do you think of these reports? Do you see Ancelotti extending his deal with Real Madrid? How would you rate his job so far as manager? Did you like Chivas de Guadalajara's signings?
Share your thoughts below.