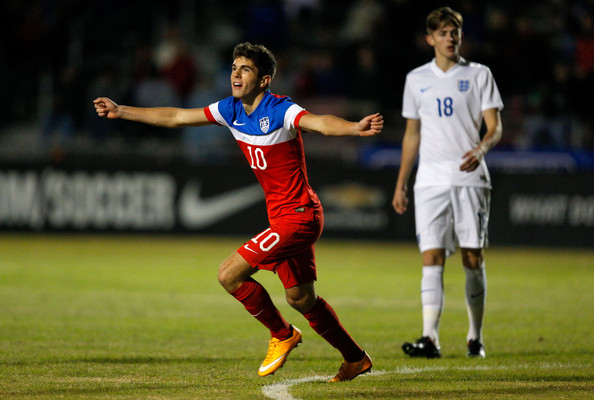 By DAN KARELL
In a move to align its structure in the style of some European powers, U.S. Soccer has introduced a number of changes to its youth system and structure.
U.S. Soccer is adding a number of initiatives, including the creation of a pro-license for coaches, adding an Under-12 age group for youth academies and increasing scholarship funding to remove cost barriers, and adding Under-16 and Under-19 National Team programs for both men and women with full-time head coaches, all likely at a heavy cost to the U.S. Soccer Federation.
"This is a huge step forward in our efforts to improve the development process for player and coaches across the country," U.S. Soccer technical director and head coach Jurgen Klinsmann said in a statement. "As we have done with the senior National Team, our goal is to make sure we are able to provide the best possible environment and opportunity for players to reach their highest level."
The new changes coming to U.S. Soccer focus on three areas, per their press release: assessment and identification, training and development, competition.
"It's fundamental to the growth of the sport in our country that we examine and improve the different areas of development for our players and coaches," U.S. Soccer president Sunil Gulati said in a statement. "We are better situated than ever with the resources to do that. With ambitious programming for our National Teams, new investments in education and technology, and a continued effort to align our technical practices with the best in the world, we are positioning ourselves to take another important step forward."
In the assessment and identification aspect, U.S. Soccer claims that they "will undertake an independent assessment" of their youth national team programs, development academy, and its clubs. U.S. Soccer state they have yet to choose which company will be hired to do the audit.
Last month, the New York Times reported that U.S. Soccer was planning to authorize a "full audit" of their organization by Double PASS, a Belgium-based company that has consulted with the likes of the DFB, Premier League, Hungarian FA, Belgian FA, and Bundesliga to overhaul their youth system and organization.
In the training and development aspect, U.S. Soccer state they are upgrading their coaching licenses and are introducing a new F-license for youth technical directors and a pro-license. In addition, there will be an online "Digital Coaching Center" for coaches around the country to access coaching resources, and a "national coaching education center" is being formed and will be hosted by Sporting Kansas City.
For players, the federation is expanding the development academy programs to a U-12 age group, increasing scholarship funding, and standardizing small-sided games and field sizes for youth players.
Another interesting note in the release is that U.S. Soccer are working with the NCAA to increase the length of the college soccer season, perhaps spreading it over both the fall and spring instead of just the fall.
New hire Nelson Rodriguez will be in charge of counseling and educating young national team players as they determine their professional or collegiate options.
Finally, on the competition aspect, U.S. Soccer is adding the U-16 and U-19 squads to both the men's and women's program to have teams all the way from U-14 through U-20 and U-23 on both sides.
No date has been set for the launch of these new initiatives and changes but U.S. Soccer stated in the release that when they are launched they will provide additional information.
—————-
What do you think of this news? Like the direction U.S. Soccer is moving in? What changes would you like to see?
Share your thoughts below.