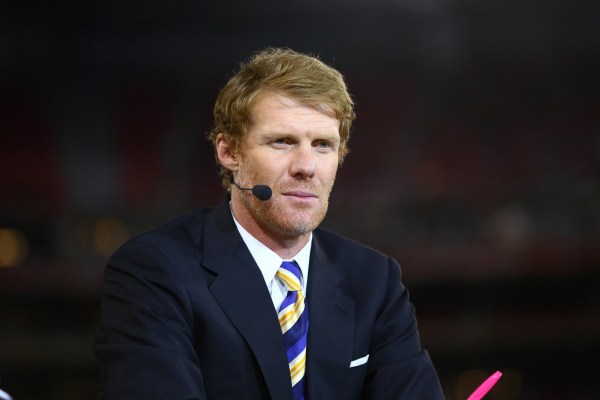 Photo by Mark J. Rebilas
/USA Today Sports  
By FRANCO PANIZO
A popular American will be moving from one established powerhouse to another this winter.
He's just not a currently-active player.
TV analyst Alexi Lalas is set to leave ESPN to join Fox Sports within the next month, signing a multi-year offer with the latter. Lalas is expected to play a major role in Fox's soccer programming, which will include the 2015 Women's World Cup, 2018 World Cup, UEFA Champions League and some MLS games in the coming years.
Fox officially announced the move late Tuesday morning.
"We all work for money and financially (the Fox offer) was wonderful," Lalas told SI.com. "From a content standpoint, we ran down all the different things they have including the World Cups, which I've loved to do. But I want to be very clear: The World Cup is not the reason I am going to Fox and I don't think it should be.
"Is it a wonderful carrot? Absolutely. But if the reason you go somewhere is because of the World Cup, then I think you are setting yourself up for disappointment and maybe disaster."
Fox has the U.S. broadcasting rights for the next two World Cups, but there was more that appealed to Lalas. Fox is based out of Los Angeles, and as such provides a far less taxing commute for the former U.S. Men's National Team defender. Lalas lives in LA and has two young children, and previously had to fly cross-country to ESPN's studios in Bristol, Connecticut.
Lalas, who has not yet been told if he will be doing primarily studio or game analyst work at Fox, leaves ESPN after six-plus years. He will start working for Fox as of January.
"Look, this was not me saying I don't want to be at ESPN," Lalas said. "I love ESPN. This was an opportunity that came along that was so much more than what ESPN could offer — and when I say more I am not just talking money-wise. Collectively, (Fox) had so much more to offer and when ESPN didn't (offer that), the choice became easier."
Lalas' usual on-air partner Taylor Twellman faced a similar situation recently, but opted to sign a new deal to stay at ESPN.
—–
What do you think of Lalas' move to Fox? Wish he would've stayed with Twellman over at ESPN? Wondering how much the transfer fee was?
Share your thoughts below.