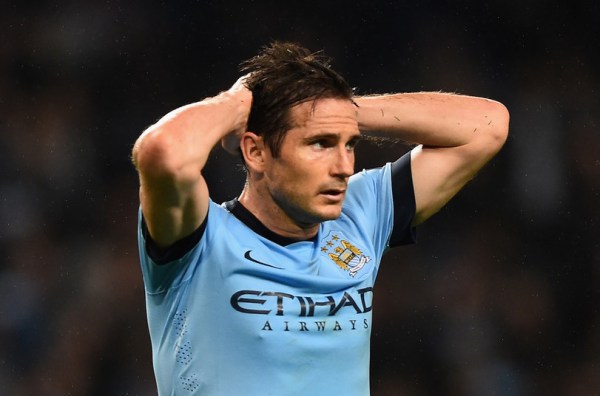 By IVES GALARCEP
New York City FC will have to begin its MLS existence without the team's marquee player for half of the NYCFC's inaugural season.
That is the verdict facing the MLS expansion team after Wednesday's announcement that Frank Lampard would extend his loan with Manchester City through the remainder of the English Premier League season, which runs through May.
It remains unclear just when Lampard would be able to join NYCFC, but he could wind up having to wait until July to make his MLS debut.
"Frank is a star and it is no surprise that Manchester City is rewarded by his contributions on the field every single day," NYCFC Director of Football Claudio Reyna said in a team-issued statement. "He is eager to get to New York once his commitment ends in England and will be available to play on arrival as a permanent member of the squad given he will come to us having played at the highest level.
"We are all committed to making sure we build a winning team and that our fans get to enjoy great soccer at every single game," Reyna said. "The opportunities open in the immediate transfer window combined with our recent successful draft ensure that we can continue to assemble a world class team that will make New York City soccer fans proud."
Lampard will miss at least the first three months of the season, and could wind up missing as many as four months of NYCFC's inaugural season. Spanish striker David Villa is slated to be with the club from the start of the 2015 season, which kicks off on March 8 with NYCFC visiting Orlando City in a clash of MLS expansion teams.
Lampard will remain with Manchester City as City mounts a challenge to Chelsea for the English Premier League title, while also competing in the Round of 16 of the UEFA Champions League.
What do you think of this development? Feel like NYCFC has been given a raw deal? Don't seeing it as that big of a deal?
Share your thoughts below.