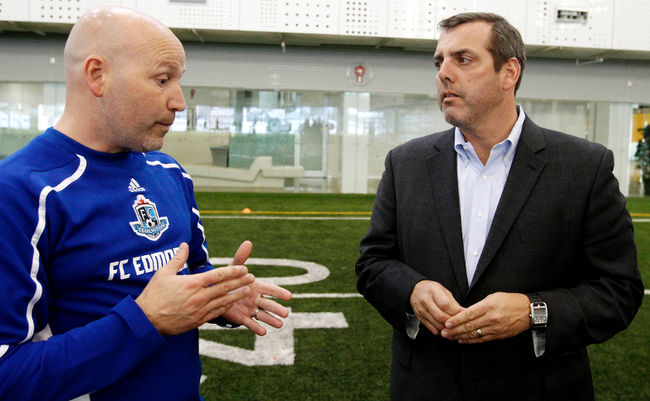 By RYAN TOLMICH
NASL commissioner Bill Peterson is keeping an eye towards developing future talent.
For years, those connected with soccer in the United States have been working to put together the ideal academy system. While Europe and South America have developed ways of churning out talent fit for their region, the U.S. has struggled to find a proper system to produce players in the country's current culture and climate.
In an attempt to forge their own system, Peterson and the NASL have left the league's teams with certain freedoms when it comes to putting together each club's respective academy. With no overarching system in place, Peterson has left it on each individual club to develop the system that works for them.
"You're definitely going to see people getting serious about it," Peterson told SBI. "Right now, from a league standpoint, we've sort of stayed out of any direction or any guidance because we're trying to figure out what teams are going to find the best way to do it. It's a very tough business and a lot of people have tried to do it a lot of different ways for many years."
One of the teams looking to be on the forefront of talent development is the New York Cosmos, who recently added Spanish legend Raul to help overhaul the team's academy.
Cosmos head coach Giovanni Savarese understands the importance of developing the country's youth. As a veteran of both American and international soccer, Savarese values the league's mindset when it comes to young talent and believes that the NASL is on the forefront of giving younger players an opportunity to shine.
"I think NASL provides something that is very positive, that gives the possibility to young players to participate in a more competitive environment then they're used to in college or other leagues," Savarese said. "I think younger players find more space in our league than in MLS, at the moment, and I think that players develop when they play.
"Now, the commitment  for a lot of teams in NASL is to have a second team, a reserve team, and we're growing in that aspect as well, but we also have to understand, the same can be said about MLS, that it is a young league."
Like the league itself, the sport of soccer in the U.S. is an evolving one. To this point in the country's history, a lot of that development has come through the college game. With NCAA soccer taking the reigns during most players aged 18-22, many of the country's prospects have seen their growth take part in the university setting.
Savarese believes that due to the rise of academies, college soccer is in need of a major overhaul. The Cosmos head coach pointed to a series of current college guidelines, including a longer season, traditional timing and the removal of unlimited substitutions, that must be removed for the college game to maintain an impact.
"If it doesn't change, it will have no importance in the part of the development of players in the future," Savarese said. "I think, in order for colleges to continue to be part of how the sport is growing, I think there has to be some rules and things that have to change.
"If it keeps evolving as soccer is evolving with the leagues and everything else, then I think it can have an important part, but we have to understand that right now, the ages of 19-23 years old is a gap that we have to find a way to help players develop in a much better way for the future."
With the league set to expand to as many as 12 teams in the near future, Peterson sees his league's experimentation with the academy system as a beneficial movement for soccer in the United States. Each team's successes and failures will be noted, and Peterson believes that having so many ongoing styles will help the U.S. as a whole develop a proper system for producing the next generation of talent.
"We need to find the right way in this country to do it," Peterson said. "Having 11 or 12 more teams starting to explore how to do that, I think, is going to get us to where we want to be quicker than us trying to dictate that 'it's got to look like this'. We're doing everything. We're talking with U.S. Soccer, we're talking with all of our local clubs. We're talking with our state associations, and everybody is trying to figure out the right way to do it.
"Like in all sports, as soon as somebody has some success, the herd mentality will kick in and everybody will follow that. I think that continues for another year or two."
That future, as Savarese envisions in, will see the U.S. grow into one of the world's more competitive soccer countries. The Cosmos head coach expects a lot of growth in 10-15 years, as more players enter the pool with proper development in training.
With a focus on the players' professionalism at a young age, Savarese believes that the U.S., and its domestic game, can grow into a world player and fill the gaps that have previously held the team back on the world's stage.
"I think right now, we are going to continue to professionalize the youth," Savarese said. "I don't think that we are fully there yet and I think in the near future, 10-15 years,  I believe that we are going to see a very professional youth environment in which players will understand better the directions and the paths. I just think that the sport is going to grow and they we'll start to see more players that we are missing.
"The national team struggles to find true number 10 or creative player. We still have a need for centerbacks," Savarese added. "There's not that many centerbacks that are of a high level, per se, and I think the more we grow in that time, the more we'll start to look like Germany and other countries that can form two national teams because there's so much competition. I hope that that's where we get to in 10-15 years."