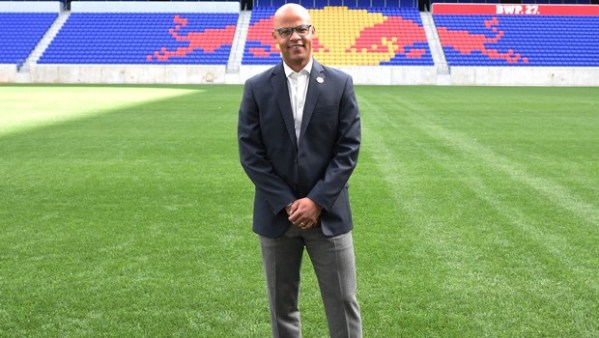 By FRANCO PANIZO
If anything was made clear during Ali Curtis' introductory meeting with the media, it is that he and the New York Red Bulls have plenty to work on and discuss in the coming days and weeks.
The Red Bulls publicly appointed Curtis as their new sporting director on Tuesday, giving the former forward and MLS executive his first job at a club. Curtis, 36, is replacing the departed and largely successful Andy Roxburgh, but has the difficult task of remodeling a Red Bulls team that lost its best player in Thierry Henry to retirement.
How Curtis tackles the challenge is still the unknown part. Yes, he has a philosophy and vision for the club, but there are still a lot of things to be sorted through before making significant moves.
"I have some thoughts as to where we can improve and build upon the team, but I first want to talk with (head coach Mike Petke), I want to talk with the rest of our staff, I want to talk with Bob Montgomery, who is our academy director," said Curtis, who was most recently MLS's senior director of player relations and competition. "I really want to get some information from all areas of the club before we start running in a number of different directions, but I do plan on building the team and do plan on adding some players in this team and we're very excited about that."
While there is a need to add players to a team that has also parted ways with defensive anchor Jamison Olave, one of the main things that needs to be resolved is what to do with Designated Player Tim Cahill. The veteran midfielder lost his regular place in New York's starting lineup late in the 2014 season, and was forced into spot duty during a postseason run that ended in the Eastern Conference finals.
The 35-year-old Cahill has one year left on his deal, but has said publicly that he will be back if he so wishes. That combined with his frustrated actions during the final months of the 2014 campaign and the Red Bulls' decision to leave him exposed in the MLS Expansion Draft have many believing that Cahill is on his way out.
Curtis, however, said that is not the case just yet and added that talks need to be held before a decision is made.
"Three things with Tim," said Curtis. "No. 1, he's under contract with MLS. No. 2, his domestic and international experience, he can be an asset on the field as well as in the locker room. No. 3 is probably most important. I need some time to sit down with Tim and get an understanding of who he is, what his vision is and how we're going to go forward and I just haven't had enough time to sit down with him yet.
"I will shortly."
Curtis' response to Cahill's situation was a rare moment of providing specificity on Tuesday for the former JP Morgan Chase Private Bank analyst.
He dodged a question about whether or not it was a priority to replace Henry this winter with another big-name DP. He was noncommittal in providing a response about future plans regarding USL Pro affiliation or start-up team. He also refrained from specifically identifying which roster positions need an upgrade.
Curtis seemed, instead, more interested in answering questions about his vision and philosophy, talking about what he can bring to the table without getting into too many details.
"Everything I've been involved in, everything I've done over the last 10-12 years has prepared me for this role and prepared me for this moment," said Curtis. "My experience as a player and the lens that I still have, my work at JP Morgan in terms of I was in charge with trying to find quantitative solutions for really both qualitative and quantitative questions, and then my work at the league office over the last seven years.
"I have spent a lot of time working with clubs on player transactions and working with the ins and outs of the MLS Competitions guidelines and the rules and working with the Players' Union and USL Pro and really developing those relationships and building out a business plan. The last seven years I've been able to build out a pretty comprehensive business plan."
Curtis will now need to take all those previous experiences and apply them to his first job within a club structure. As sporting director, he will still likely face tasks and situations that he is unfamiliar with, but he seems plenty eager to take them head-on.
"I knew years ago that I wanted to be at the club and I wanted to be prepared so that I would not only be successful, but I wanted the club to be the best," said Curtis. "I've been fortunate to be able to interact with every club over the last seven years and I feel very prepared, very confident, very excited.
"I know it's a challenge, but that's what makes it fun."