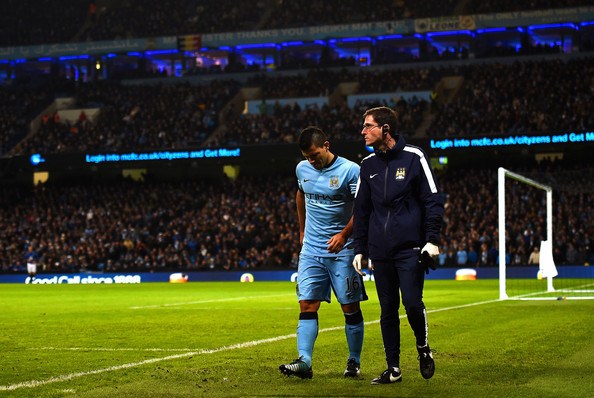 By DAN KARELL
Manchester City's star forward Sergio Aguero could miss out on the busy holiday fixture list.
The Argentine goalscorer left the field with his head in his hands and tears in his eyes in just the third minute, and later it was determined that Aguero has suffered knee ligament damage. For the short-term, Aguero will miss Man City's key UEFA Champions League match against AS Roma, but reports in Argentina claim that Aguero could miss at least one month of action as he recovers from the injury.
"It's a big problem," Man City manager Manuel Pellegrini said following the injury on Saturday. "It is very difficult when you have trouble with your ligament to recover in three days."
Aguero, who has hit the ground running this season after a tired and unfit display at the 2014 World Cup, leads the English Premier League with 14 goals in 15 games played, and another five goals scored in UCL action.
Here are some more stories to kick off your week:
RODRIGUEZ SUFFERS CALF STRAIN, IS UNLIKELY TO PLAY FOR REAL MADRID IN MOROCCO
Real Madrid have lost another midfielder to injury ahead of another title chance.
Colombian midfielder James Rodriguez was diagnosed with a grade one calf strain, which will likely sideline him for up to a month. The injury means that Rodriguez is very unlikely to feature for Real Madrid at the Club World Cup, which begins on Wednesday in Morocco. Real Madrid begin the tournament in the semifinals next Tuesday.
"I don't think James is going to play. Calf injuries are hard to recover from," Carlo Ancelotti said, via Marca.
With Luka Modric and Sami Khedira also out, Ancelotti could move Dani Carvajal into a holding midfield role or call up Real Madrid Castilla midfielder Álvaro Medrán as a spot replacement.
QUICK KICKS
Real Madrid will decide on whether to complete the transfer of Cruzeiro's Lucas Silva after Christmas. (REPORT)
Louis Van Gaal has claimed that Radamel Falcao is only fit enough to play 20 minutes per match at the moment. (REPORT)
Italian FA chief Carlo Tavecchio has bemoned the "desperate situation" that AC Milan and Inter Milan are currently in, with both clubs struggling in Serie A. (REPORT)
Borussia Dortmund manager Jurgen Klopp is considering resting Ilkay Gundogan for their mid-week UEFA Champions League match against Anderlecht. (REPORT)
Bayer Leverkusen will be without Lars Bender for their upcoming Champions League match against Benfica. (REPORT)
————
What do you think of these reports? Do you see Sergio Aguero returning in time for the year-end matches? Do you think Real Madrid can survive without Modric, Khedira, or Rodriguez? What do you think of Van Gaal's comments on Falcao?
Share your thoughts below.