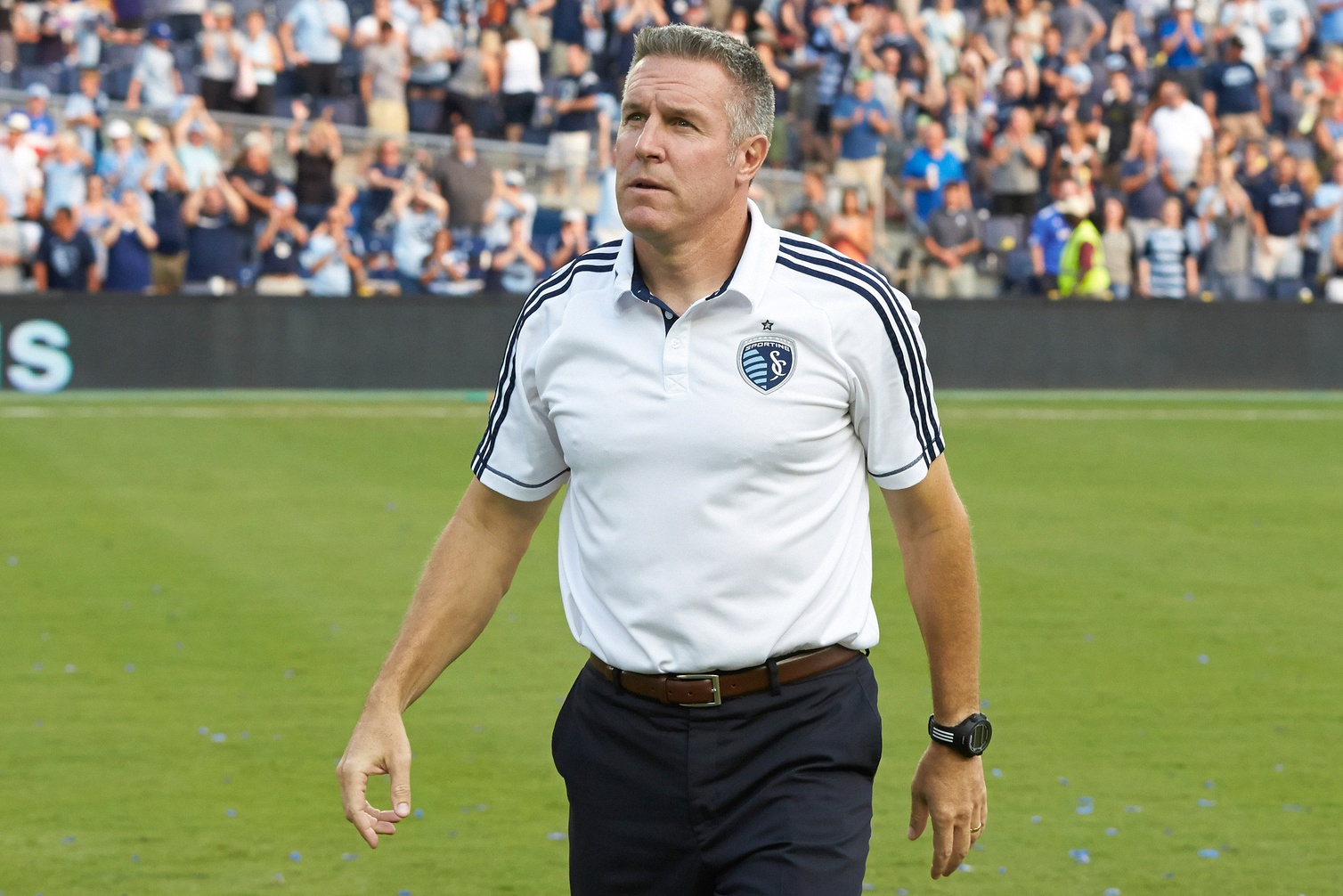 Photo by Gary Rohman/USA Today Sports Images
By TATE STEINLAGE 
Peter Vermes is packing his bags. Not for another international scouting trip, league meeting or player combine, but for a two-week vacation with his family that will leave the Sporting Kansas City manager "out of touch" for the first time in quite a while.
The trip couldn't come at a more perfect time. "It's been a crazy five years," he told SBI Wednesday after explaining that this past season was the hardest in his coaching career since he first took over the club as both manager and technical director in 2009.
"This year and when I first took over were the hardest," Vermes said. "When I first took over, the difficulty was learning how to divide my time between being the head coach and the technical director. That part was very difficult."
The upcoming trip, he said, will help "re-energize" himself for 2015 and the day-to-day grind that comes with being involved with seemingly every aspect of a professional organization.
It may also be the last time he is able to relax for another year. Unlike one offseason ago, following a MLS Cup championship, Sporting KC is an active player in the market both at home and abroad.
Already they've declined the options of six players, including key goalkeepers Eric Kronberg and Andy Gruenebaum. They've shipped fan-favorites Aruelien Collin off to Orlando City SC and C.J. Sapong to the Philadelphia Union. In return, they've gained former Seattle Sounders defender Jalil Anibaba and Columbus Crew midfielder Bernardo Anor. The club most recently has added Haitian midfielder James Marcelin, Chilean goalkeeper Luis Marin and Hungarian forward Krisztian Nemeth.
Vermes insists more moves will come, too. He also had no trouble acknowledging the elephant in the room — the upcoming CBA negotiations, and just how difficult it has been to build a roster with so many uncertainties surrounding future rules and regulations.
"I really don't know anything in regards to the CBA," he said. "It's all speculation. Because of that, I'm more of a guy who deals in reality. I go on with the status quo, and that's how we work around here. I think we've put ourselves in a good position to deal with whatever changes there will be down the pipe, because we've prepared for them.
"I think we've done a tremendous job in regards to adding allocation money to our cap in a couple sales we've done in the last year. We're in a good position. Hopefully we're in a position to take advantage of some of the new changes when they come out. Whatever they are, I just feel that we'll be in a good place based on some of the things that we've done."
There are many parts to the upcoming CBA talks, including how much control the league will retain when it comes to clubs and how and where they spend their money. But no one topic is more important than player salaries and the salary cap.
The cap figure will increase, but by how much? Vermes would not talk specifics when it came to the CBA, but he did give insight to how the salary cap has impacted offseason moves and how it will potentially set the club up for success when a CBA agreement is in place.
"The salary cap is always going to be an issue for every team at the end of the season," Vermes said. "Sometimes it's in your favor because you lack success, and sometimes it's in your favor because you had success. It just depends on the situation.
"I think our cap has been something that we've done very well with. The reality is that, as your team finds success over the years, players aren't asking for less money. Their contracts don't stipulate less money. If you do well, if the team does well, they make more. Somewhere, somebody is going to be a cap-casualty. You cannot always meet everybody's demands."
Vermes used Major League Baseball's soft cap as an example. He said situations like that of Derek Jeter, who spent his entire career with the New York Yankees, are the exception, not the norm.
"That's for a number of reasons," he said. "What I do know is that we're always going to be making decisions for the club in the long-term. We always want to try and stay competitive so we're not a one-hit wonder."
That, in a sense, is the status quo Vermes and Sporting KC are clinging to, and with very good reason.
"What we don't want to do is be left standing there going, 'Oh my god, we did this and we did that, how are we going to do this because the CBA doesn't allow for this?' he said. "We don't want to be in that position, so we've done a lot of strategy around that"
That back-and-forth chess game of building a roster amid all of these factors awaits Vermes when he returns in two weeks. But, knowing the 48-year-old manager's tendencies of being on top of everything, it's a good bet that it'll be at least on the back of his mind while he enjoys some time off with his wife Susan and their two kids.