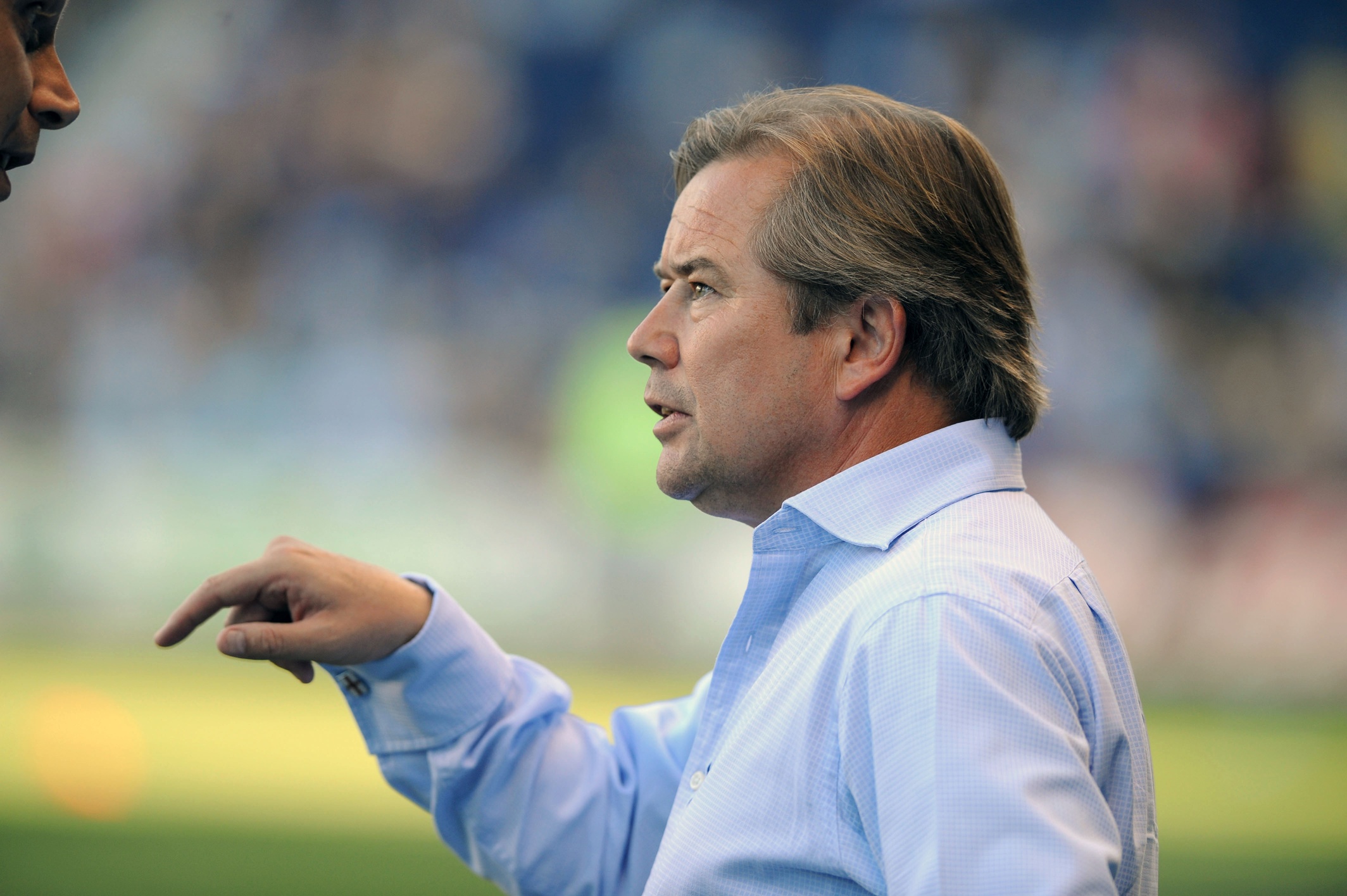 Photo by John Rieger/USA Today Sports
By RYAN TOLMICH
Despite a flurry of acquisitions through both trades and the expansion draft, it appears that Orlando City still have plenty of moves to make ahead of their debut season.
Head coach Adrian Heath and VP of soccer operations Paul McDonough hinted as much Wednesday following the club's participation in the MLS Expansion Draft alongside New York City FC. Orlando City's 10 new players brings their team total to 21, but the Lions plan to continue to strength the squad ahead of the start of the offseason.
"I think with the trades we did on Monday and the picks we took today, we feel really comfortable and we have a few more yet to announce," said McDonough. "We feel really good where we are right now, we're really happy. I think we have good balance, good depth, good versatility within the group."
Orlando City kicked off Wednesday's expansion draft by taking goalkeeper Donovan Ricketts from the Portland Timbers in a move that was fairly surprising.
With the club recently acquiring goalkeeper Tally Hall from the Houston Dynamo, Ricketts' selection may appear to leave the club with a surplus at goalkeeper. But with Hall set to miss the start of the 2015 season due to injury, Orlando believes Ricketts' addition will be an ideal one to address the early-season need.
"He's hugely experienced. Over 100 caps for Jamaica," Heath said. "More importantly, he's been absolutely fabulous in this league. He's played for winning teams with the Galaxy.
"Obviously, Tally Hall, who we grabbed earlier, has got an injury, and we want to give Tally every chance to get himself fit and ready. We just think he was the best available out there, Donovan. We think he's going to be a great fit for us moving forward."
In front of Ricketts and Hall, Orlando City boasted a relatively young defensive group – headlined by 18-year-old Tyler Turner, 17-year-old Tommy Redding and 19-year-old Rafael Ramos – coming into the week.
In response, the club added experienced centerback Aurelien Collin, from Sporting Kansas City while also grabbing Heath Pearce from the Montreal Impact in the expansion draft.
Following Monday trades for Collin and defensive midfielder Amobi Okugo, Orlando City opted to add Okugo's former running mate, Pedro Ribiero, who featured with the 23-year-old utility man at the Philadelphia Union.
McDonough revealed that Okugo played a major part in the acquisition of Ribiero, as the club hopes the pair of ex-Union players can bring some of that chemistry to Orlando.
"We like the fact that Amobi has played 100 games in the league. He's young," McDonough said of Okugo. "We really like him as a defensive midfielder. We think he's a guy that's steady, responsible, and can kind of sit in for Kaka.
"He's got all of the youth national team experience. He's just a guy that we really felt fortunate, and to get him was a really good deal for us, so we're happy to have him join us.
In addition to Ribiero and Okugo, the club grabbed Tony Cascio, who will be looking to return from an early-season ACL injury. Cascio will join Benfica product Estrela and USL Pro holdover Kevin Molino in the midfield.
The club's forward group is set to include Jairo Arrieta, who will make the move from the Columbus Crew along with defender Eric Gehrig after being selected Wednesday. Heath pointed to Arrieta's chemistry with Crew playmaker Federico Higuain as a major factor, as the head coach expects the 31-year-old to fit in with Kaka much in the same fashion.
"With Arrieta, the way that we play, we think that with Kaka in our team that we'll have very good attacking players, and we just think that he'll be on the same wavelength," Heath said. "He makes very good runs, is very intelligent. We always liked the way he played when he was with Higuain with the Crew."
Joining Arrieta are younger forwards Danny Mwanga and Mark Sherrod, who Heath believes will bring different elements to the club's expanding attacking group.
"I think Danny's a little bit more dynamic, a little bit quicker, a little bit more direct, while Mark's very good with his back to goal, good at going into the box," Heath said. "They're a little bit different.
"Talking to Danny – we're talking about a number one pick here a few years ago that set the league alight – we think we can get him going again and we think, if and when we do, we'll have a very good player on our hands."
Overall, the club is satisfied with the early moves, although there is still plenty left to be done.
"When we look at at what we know we're going to be bringing in in the next week to 10 days to two weeks, (as well as) a couple of the players we've taken today," said Heath. "We like where we are."
Orlando City's 21-man roster:
Goalkeepers (2): Tally Hall, Donovan Ricketts
Defenders (7): Tyler Turner, Tommy Redding, Rafael Ramos, Luke Boden, Aurelien Collin, Eric Gehrig, Heath Pearce
Midfielders (9): Kaka, Harrison Heath, Darwin Ceren, Kevin Molino, Estrela, Tony Cascio, Lewis Neal, Amobi Okugo, Pedro Ribeiro
Forwards (3): Jairo Arrieta, Danny Mwanga, Mark Sherrod