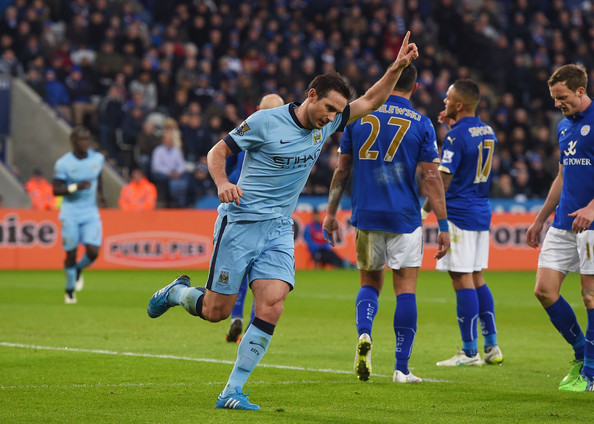 By DAN KARELL
Frank Lampard is looking less and less likely of being in New York City FC gear come the first day of preseason training.
Following another goal-scoring performance in a 1-0 victory for Manchester City against Leicester City, Man City manager Manuel Pellegrini reiterated to the media for the second time in as many days that the English club is interested in extending Lampard's loan, and the player wishes to stay as well.
"We know exactly what we must do," Pellegrini said, via Goal.com. "Frank wants to stay, we want to keep him. Now we must resolve the problem with New York City and MLS."
Lampard signed a Designated Player deal with NYC FC last July after 13 years with Chelsea, but was quickly sent on loan to Man City through the end of December, with the idea of keeping him fit ahead of NYC FC's inaugural campaign.
The 36-year-old's time in a Man City shirt has gone better than expected however, scoring six goals in 14 games all competitions, putting NYC FC in a difficult spot. NYC FC sporting director Claudio Reyna is in Manchester now to negotiate with the Man City technical staff about whether to extend Lampard's loan at Man City or have him report on Jan. 24 for preseason with the rest of the squad.
"When we made the decision for Frank to stay with us until December, I was sure he would be a very important player," Pellegrini told Man City's website following the win at Leicester City. "We are very happy with him and we hope he can continue with us."
Working against NYC FC is the fact that Man City are expected to be without midfielder Yaya Toure for a period of up to six weeks, beginning in early January for the 2015 African Cup of Nations.
If Toure and Lampard leave the club as originally planned, Man City would be left with just two first-team central midfielders in Fernando and Fernandinho, a scenario that the Sky Blues are hoping to avoid.
Man City has a couple of options if they do extend Lampard's loan. They could do what Toronto FC did with Jermain Defoe last season, allowing him to stay with Tottenham through the end of February before joining his new teammates ahead of the 2014 MLS season. The other option of course is to have Lampard finish the EPL season with Man City, before joining NYC FC in June.
NYC FC are expected to have at least one Designated Player around when they begin preseason fitness training. Man City have ruled out the loan signing of David Villa, according to the Daily Telegraph, as the club look to bring in a new forward in the January transfer window with injuries piling up on the front line.
————
What do you think of these developments? What are Lampard's chances of joining NYC FC at the start of the season? Are you disappointed in the recent comments?
Share your thoughts below.