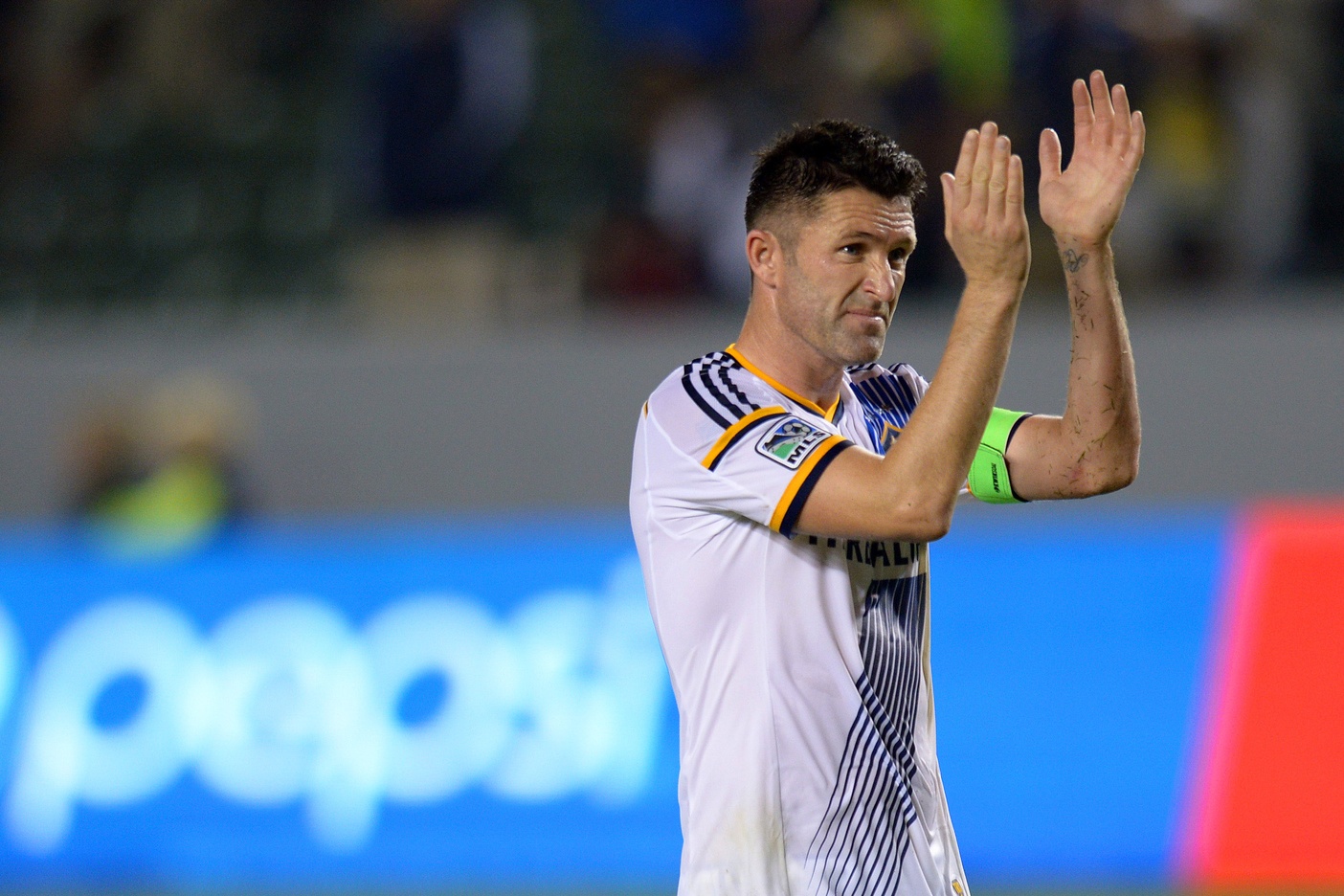 Photo by Jake Roth/USA Today Sports
By RYAN TOLMICH
Fresh off an MLS Cup and MLS MVP winning campaign, LA Galaxy captain Robbie Keane is set to finally sit down and enjoy the offseason.
Keane has ruled out a winter loan to the Premier League, although the Galaxy forward admits that he does have "the itch" to get back onto the field as quickly as humanly possible.
"I've been asked to go on loan. I think you know me, better than anybody, after a few weeks (inactivity) I get the itch," Keane said. "I've got the itch now 100 percent. I was playing five-a-side with me mates 10 days after the Cup final. That's the way I am.
"I have been asked (to go on loan), yeah. And there's a temptation because I just love playing football," he added. "There's a temptation but I just can't see it happening to be honest with you. It's not going to happen."
The Galaxy captain cited medical issues as the reason behind his upcoming rest period, as the 34-year-old believes he could benefit from a bit of a break.
"There's certainly a temptation because I just love playing so much," Keane said. "But I've spoken to people and medically it wouldn't make any sense for me.
"It wouldn't probably be fair at this moment after what I put myself through after the operations that I've had. I want to continue for a long time and this is probably my best bet but as I say it's tempting but, like I say, it's not going to happen."
Here are some more of Wednesday's MLS news and notes:
TIMBERS REPORTEDLY RE-SIGN FERNANDEZ
All-Star Diego Valeri is set to miss a chunk of the 2015 season due to injury, but the Portland Timbers have reportedly taken the step to hold onto his potential in-house replacement.
The Timbers have reportedly re-signed forward Gaston Fernandez, who contributed seven goals and two assists to the team in his debut 2014 season.
The 31-year-old may now slot into Valeri's starting spot in the No. 10 role while Valeri recovers from a torn anterior cruciate ligament suffered toward the end of the 2014 campaign.
SPORTING KC ADD VETERAN GOALKEEPER MELIA
Sporting KC have added their second new goalkeeper of the offseason, but the club's latest signing is a somewhat familiar face.
After losing Andy Gruenebaum and Eric Kronberg in the Re-Entry Draft, Sporting KC announced Wednesday that the club has signed veteran goalkeeper Tim Melia. The 28-year-old will join fellow new signing Luis Marin as well as the returning Jon Kempin in making up the team's goalkeeper corps.
Melia previously spent time with the club in August, serving as a League Pool goalkeeper that also represented D.C. United and FC Dallas. Prior, Melia served as backups to Dan Kennedy and Nick Rimando at Chivas USA and Real Salt Lake, respectively.
—-
What players do you expect to look for winter loans? How will Fernandez fare in 2015? What other moves do you expect Sporting KC to make this offseason?
Share your thoughts below.