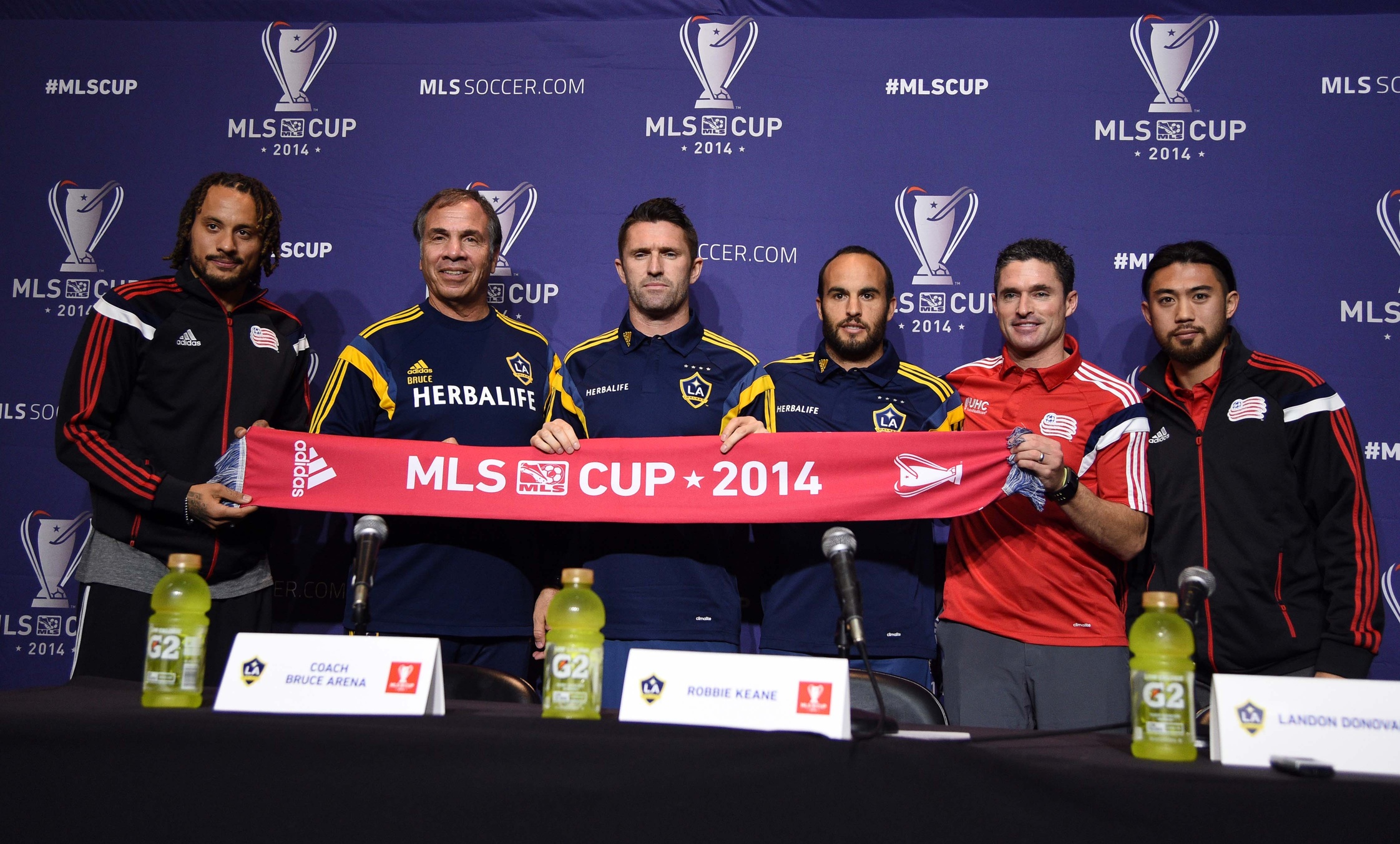 Photo by USA Today Sports
By RYAN TOLMICH
CARSON, Calif. — For the third time in four years, the LA Galaxy are set to host the MLS Cup.
The Galaxy enter 2014's finale fresh off earning revenge against Supporters' Shield winners Seattle Sounders, who bested the Galaxy in October to earn the regular season crown. With the league's top regular season team in the rearview mirror, the Galaxy are now tasked with taking on the league's hottest team: the surging New England Revolution.
Having lost in just one of their past 15 outings, the Revs have peaked at the right time, led by the midfield duo of Jermaine Jones and Lee Nugyen. However, the Revs are far from over-reliant on their pair of midfield stars, as the team's Eastern Conference finals triumph over the New York Red Bulls was spearheaded by the goalscoring of winger Teal Bunbury and forward Charlie Davies.
The Galaxy enter Sunday fully aware of how dangerous the Revs can be. With the creativity of Nguyen and Jones balanced out by the finishing ability of those surrounding them, the Revs have plenty of goalscoring potential. Galaxy defender AJ DeLaGarza, who will make his return from injury after missing out on the second leg in Seattle, admitted Saturday that stopping Jones from asserting himself will be paramount if the Galaxy are to have any midfield success.
"He's a hell of a competitor and he's really good on the ball," DeLaGarza said of Jones. "He can spray those long balls and he's got an engine that can go all day long. We've just got to move the ball quick. You can't run faster than the ball, so if we move it quickly and break them down like that, then I think we have a good chance of creating some chances."
Those LA Galaxy chances will likely come from the three-headed monster of Robbie Keane, Landon Donovan and Gyasi Zardes, who combined to score 45 goals in the regular season, more than eight MLS teams.
Despite the trio's potential for goals, Revs head coach Jay Heaps knows that keeping too many eyes on individuals will prove costly. Rather than putting all hands on deck in an effort to stop the Galaxy's three attacking stars, Heaps understands that it will take a team defensive effort to limit the Galaxy as a group.
"Some of the keys, and there's no one blueprint to stop LA, but, for me, if you focus on their individuals, then someone else is going to beat you. You have to make sure that, when you're defending, you look at Landon, Robbie Keane and Zardes, if you overcommit to them, then somebody else is going to beat you. It's got to be defending as a group."
With both sides boosting potent offenses, Sunday's action has the potential of turning into an attacking display befitting of a cup final. Both sides have displayed their commitment to aggressive, attacking soccer, and neither side expects that to change ahead of the final.
"If you're going to come here and play, you're going to play a real game," said Galaxy head coach Bruce Arena. "You're on a real field against a team that plays and you've got to be prepared to play. The game tends to be a little bit of an aggressive, wide-open game. Some teams aren't up to that task."
"It's going to be all over the place," added Zardes. "They're going to attack, and we're going to attack."