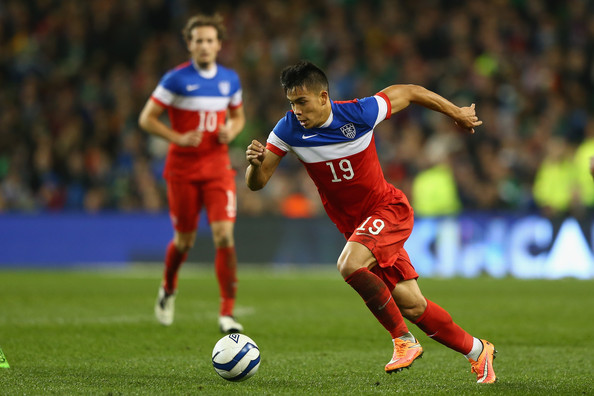 By DAN KARELL
The U.S. Men's National Team could be facing a pair of European powerhouses in the run up to the 2015 Gold Cup.
According to a report in Sports Illustrated, the USMNT are lining up a pair of friendly matches in early June 2015 against the Netherlands and Germany, with both matches taking place on the road. The match against the Netherlands will reportedly be on June 5 while the German match has already been confirmed by the German Football Federation to take place on June 10 in Cologne.
The report also claims that for the second consecutive year, the U.S. are likely to meet Mexico in a one-off friendly match in April.
U.S. Soccer has not yet commented on these reports.
All three of these proposed friendly matches are in preparation for the 2015 Gold Cup, which will take place from July 7-26. The tournament will take place in the USA but venues haven't been announced.
The USMNT last faced Germany at the 2014 World Cup, where the USA suffered a 1-0 defeat. Despite the loss, both Germany and the USA advanced to the knockout round. The USA also memorably beat Jurgen Klinsmann's native country, albeit a weakened Germany side, 4-3, in Washington D.C. in June 2013.
It will have been five years since the USMNT last faced Netherlands if the friendly is confirmed. The USMNT fell to the Netherlands, 2-1, at the Amsterdam Arena in March, 2010. The game was memorable for the Nigel de Jong tackle that broke Stuart Holden's leg, as well as Carlos Bocanegra's goal.
Tim Howard, Jozy Altidore, and Michael Bradley all started in that match and the latter two could take part in a potential Netherlands friendly. Maurice Edu, DaMarcus Beasley, and Alejandro Bedoya came off the bench and could be in the friendly match squad as well.
———–
What do you think of this report? Excited to see the U.S. team challenged ahead of the Gold Cup? Do you see the U.S. having a shot of winning? Who do you see making the Gold Cup squad?
Share your thoughts below.