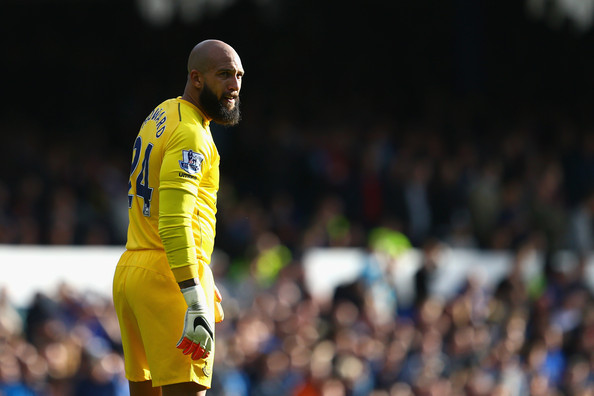 By FRANCO PANIZO
Tim Howard missed his first Premiership match of the season this weekend. He is about to lose out on several more.
Howard will be sidelined approximately 4-6 weeks with a left torn calf muscle sustained last Friday, according to a report from Goal.com. The 35-year-old goalkeeper will now be on the sidelines to start the new year, and could miss each of the struggling Toffees' five January league matches with his first serious injury since March 2013.
The veteran goalkeeper picked up calf problem in Everton's 1-0 defeat to Stoke City on Boxing Day, and was subsequently left off the struggling Toffees' game-day roster in Sunday's 3-2 loss to Newcastle United. He has three cleansheets this season.
Everton, which sits in 12th place in the Premiership, will continue to turn to Joel Robles in Howard's absence.
What do you think of Howard being out 4-6 weeks? How do you see Everton doing without him? Confident Robles can get the job done?
Share your thoughts below.