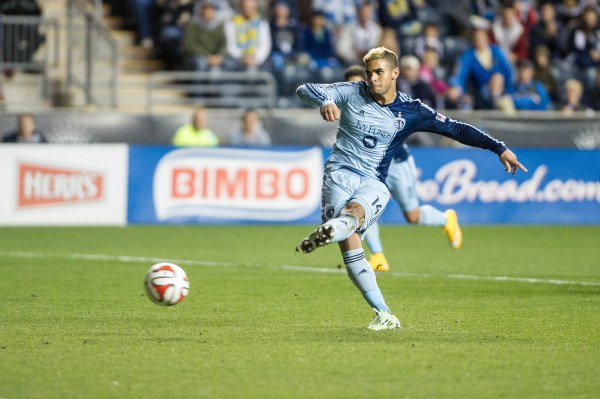 Photo by John Geliebter
/USA Today Sports  
By FRANCO PANIZO
Sporting Kansas City have said goodbye to several familiar faces this offseason, but do not expect them to add Dom Dwyer to that list. They want to keep him around for the long haul.
According to a report from the Kansas City Star, Sporting KC are close to finalizing a contract extension with Dwyer. The 24-year-old forward still has two years left on his current deal, but the club is keen on rewarding him for his breakout 2014 season with a substantial raise.
Dwyer, who made approximately $92,500 this year, broke the single-season franchise record with 22 goals this year. He finished only behind New York Red Bulls striker Bradley Wright-Phillips (27) in the MLS Golden Boot race, and added a tally in the playoffs for Kansas City.
Along with demonstrating his knack for scoring, Dwyer also proved to be very durable. He started 31 of the 33 regular-season matches he appeared in for the club.
Here are more notes from around MLS:
RSL TO APPOINT WAIBEL AS TECHNICAL DIRECTOR
The rumors about Garth Lagerway's Real Salt Lake departure continue to pick up steam, and now a new report has identified his apparent successor.
The Salt Lake Tribune was the latest outlet to report on Monday that Lagerway, RSL's long-time and successful general manager, would leave the club ahead of a move to the Seattle Sounders. But the outlet also added that assistant coach Craig Waibel will be promoted to Technical Director, a role which will include Lagerway's former responsibilities.
A former defender for the Houston Dynamo, Waibel, 39, was hired by head coach Jeff Cassar prior to the start of the 2014 season. Waibel will reportedly work under club president Bill Manning now.
WHITECAPS BRING ROSALES BACK
Initially left exposed in the recent MLS Re-Entry Draft, Mauro Rosales will be returning to the Vancouver Whitecaps in 2015.
The Whitecaps re-signed Rosales on Tuesday, less than a week after he was made available in Stage 1 of the 2014 re-entry draft. The 33-year-old Argentine was pulled out of the list of eligible players shortly ahead of last Friday's draft, however, and has opted to sign a new deal with the club.
"We're very pleased to bring Mauro back," said Whitecaps head coach Carl Robinson in a statement. "Mauro was a crucial part of our run to the playoffs last season. His experience and leadership will continue to be valuable to our squad."
Rosales landed in Vancouver last August via a trade from the now-defunct Chivas USA. He recorded three assists in 11 regular-season appearances for the Whitecaps, but had eight more for 21 games for the Goats in 2014.
REVOLUTION RE-SIGN KNIGHTON
The New England Revolution like what they have in goalkeeper Brad Knighton.
The Revolution announced Monday that they re-signed Knighton, the back-up netminder who had made five appearances in all competitions in 2014. Two of those came via starts in the regular season, and the other three in U.S. Open Cup play. He went 3-2 in those matches.
Knighton, 29, is currently in his second stint with the Revolution.
—–
What kind of increase do you think Dwyer deserves? What are Waibel's chances of finding immediate success as technical director of RSL? How will Rosales fare in Vancouver in 2014?
Share your thoughts below.