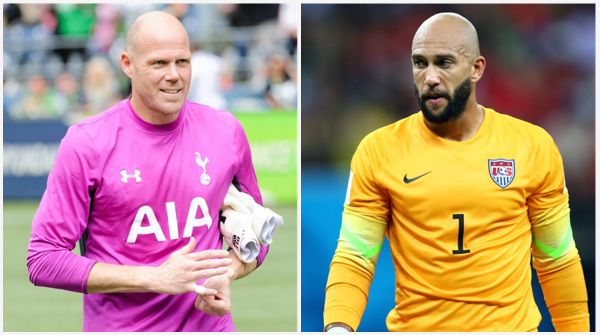 By ADAM TROXTELL
Tim Howard has decided to go back on his claim that Brad Friedel tried to block his move to England.
Howard issued a statement via Twitter on Tuesday retracting what was written about Friedel in his recently-published autobiography, The Keeper. In it, Howard accused Friedel of refusing to sign a statement supporting a move from MLS in an effort to prevent Howard from signing with Premier League heavyweights Manchester United.
Friedel immediately denied the controversial claim and asked that his former U.S. Men's National Team teammate apologize.
"Brad takes issue with my characterization of his position and events," Howard said in the statement. "At the time, I was surprised that Brad would not automatically sign my letter of recommendation, and I took this as an opposition to my application. Brad later explained that he had not in fact opposed my efforts to seek a work permit, either by writing to the (Professional Footballers' Assocation) or otherwise.
"I have decided to take Brad at his word."
Howard added that he has instructed his publisher to strike the account from future editions of his book, which was initially released on Dec. 9.
Shortly thereafter, Friedel sent out a Tweet of his own saying it was now all water under the bridge for the two iconic American goalkeepers.
Statement just released from Tim Howard. Glad it's over, happy to move on. pic.twitter.com/fcSg3Z22Jn

— bradley h friedel (@friedel_b) December 16, 2014
//platform.twitter.com/widgets.js
—–
What do you make of Howard offering a retraction? Was this always going to be the outcome?
Share your thoughts below.