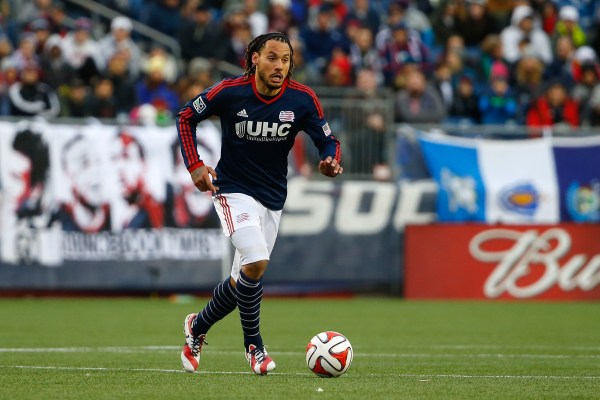 Photo by Winslow Townson/USA Today Sports
By FRANCO PANIZO
LOS ANGELES — Much is being said about Landon Donovan's potential fairytale ending, but Jermaine Jones wants a storybook finish of his own.
Jones will not be retiring like Donovan after Sunday's MLS Cup Final between the New England Revolution and LA Galaxy, but is equally as eager to hoist the championship trophy. That's not just because Jones wants to punctuate an impressive first half-season in the league and with the Revolution, one that saw him transition seamlessly into the club and give New England that last bit of needed quality to make a deep postseason run.
It's also because Jones owns a home and has family and friends – some of which are celebrities – in Los Angeles. Some of them will be in attendance at StubHub Center for MLS's grand finale this weekend, and Jones doesn't want to miss an opportunity to savor a special victory with his loved ones.
"For me, it's a big game and I don't like to lose and I want after that 90 minutes put that cup up. I will do everything," said Jones. "My kids are here and my wife is out here. In stadium, I got more than 20 people. I've got my own box here in the stadium, and I want to celebrate after with those guys and not sit in a box and maybe cry or something"
Jones previously played in a cup final in California, back with the U.S. Men's National Team in 2011. He was a starting midfielder in the Americans' Gold Cup bout with arch-rivals Mexico, who rallied from a 2-0 deficit and won 4-2.
Jones remembers that game and is still upset about losing it, but knows he can make amends in his career with a bigger performance and championship on Sunday.
"I'm older now and, of course, always you play for cups and you want to have something where you can talk about it when you're a little bit older with your kids and everything," said Jones. "I will try everything to get this cup, and I will not say, 'We will see and look what happen.' No. I want to win that cup and I will do everything."
Here are more notes from Revolution camp:
REVOLUTION NOT DWELLING ON REGULAR SEASON DEFEAT
The last time the Revolution traveled to LA, they were treated with a 5-1 shellacking. That defeat came back in July, which for New England is long enough ago that they can look past it.
The Revolution and Galaxy met just once this season, and LA were deserved victors in a one-sided affair that added to New England's summer misery. The Eastern Conference club was in the midst of a record eight-game losing streak at the time, and the lopsided result at StubHub Center was just another in a stretch of demoralizing moments in that stretch.
While some may be interested in looking back on that July 16 affair in advance of Sunday's MLS Cup Final, the Revolution have no real interest in doing so. Not because of the manner in which they were so soundly defeated, but because of how much has changed from then until now.
"I think (having Jermaine Jones is) one of the main components that we didn't have last time," said midfielder Lee Nguyen. "I think it will be very interesting how we match-up with their midfield this game, but also that past game we didn't have Charlie (Davies) and I think also Teal (Bunbury) was playing up top. It's totally different a team this game then it was when we first played."
That change in personnel and tactics has played a major role in the Revolution rebounding from their midseason swoon. They made it to the MLS Cup Final by posting an 11-0-1 record through their final games of the regular season and in the playoffs, an impressive feat that was hard to imagine the club accomplishing back in June.
"At that time I don't think we were the team we are now," said Nguyen. "… Going into this game I don't think guys are worried about that game. We take what we can from it, but it's such a different team from back then. Now, it's all about putting that effort into Sunday and try and get a positive result."
CLUB DRAWING FROM DEFENDING SIMILARLY TALENTED ATTACK IN EASTERN CONFERENCE FINALS
The LA Galaxy have an array of weapons capable of punishing a defense, and the Revolution are counting on the recent experience against a similarly talented attack to help prepare for Sunday.
New England played a New York Red Bulls side with plenty of quality on the offensive side in the Eastern Conference Finals, but managed to move past them with a 4-3 aggregate score. While the Revolution's attack did well in creating chances, the defense also was up to the task by doing its part in limiting the impact that Thierry Henry, Bradley Wright-Phillips, and co. had.
The Revolution did not completely shutdown the Red Bulls' star-studded attacking players, but did enough to make the goals they scored on the other end count. That will have to be the case again on Sunday vs. a Galaxy team that boasts a three-headed monster in Landon Donovan, Robbie Keane and Gyasi Zardes, which is why the Revolution are drawing from the successes of the last round.
"You couldn't just focus on Thierry. You had Bradley Wright-Phillips, you had Tim Cahill in the last game, you had Lloyd Sam, you had Peguy Luyindula," said head coach Jay Heaps. "Those guys were huge, and now you add a whole different level and a whole different style of play, but caliber of players that are equal on a lot of levels."
Another similar aspect that New England feels it needs to adopt going into the MLS Cup Final is not being overwhelmed by the moment or the opponent. The Revolution did that against the Red Bulls, and are planning on trying to duplicate that in order to be the team hoisting the trophy amidst the rain of confetti on Sunday.
"The biggest point is that the team have to (leave) the respect – what we was showing against New York, too – in the locker room," said Jones. "If we do that, we can beat them. Of course, we have a lot of respect of this players who plays there. They're good and they showed it already this season.
"But we have the same good guys in the defense and they showed it already, too. I think who makes the first mistakes will lose that game."