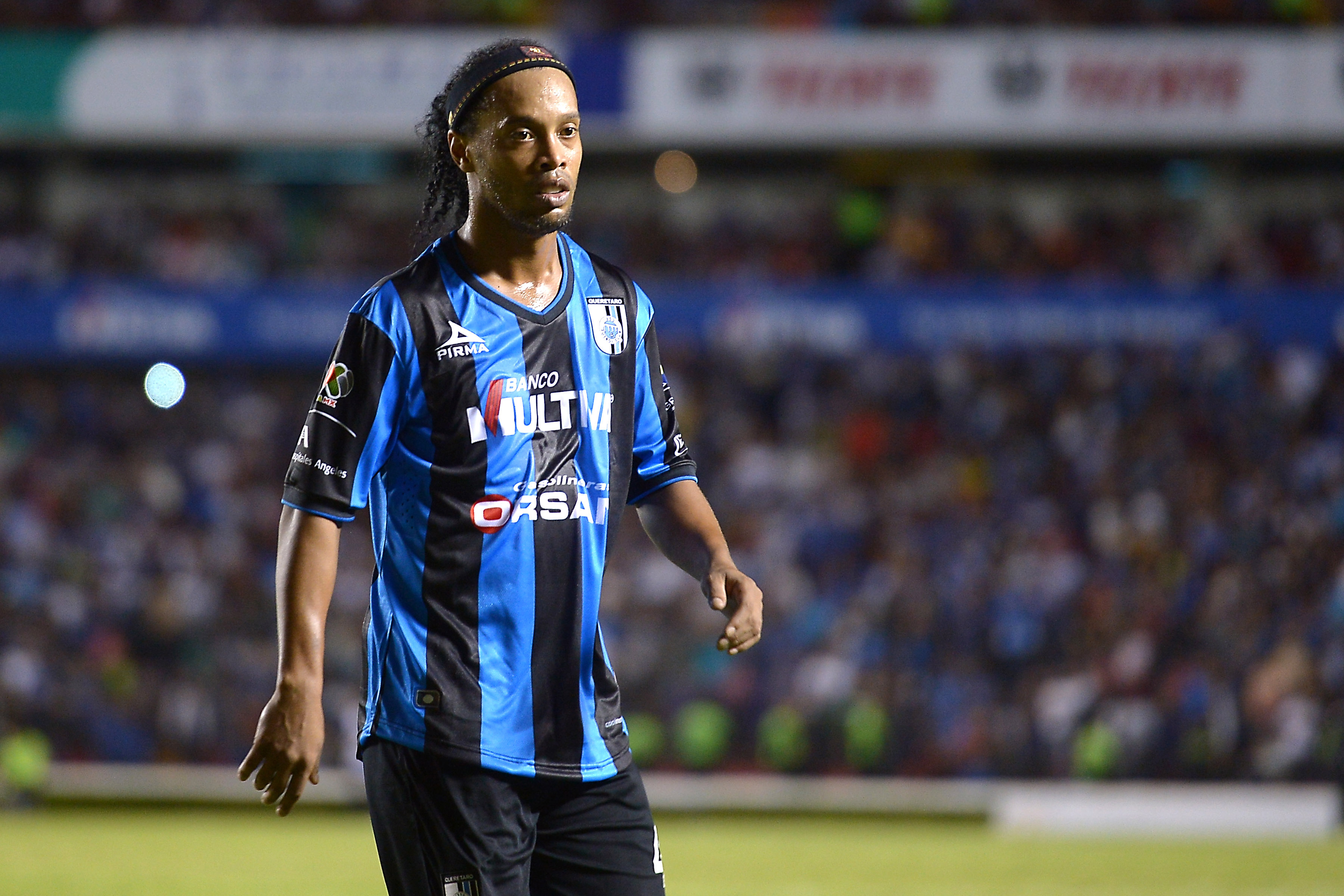 By RYAN TOLMICH
Ronaldinho's time with Queretaro has seen its share of controversy, and now the Brazilian superstar is reportedly set to be on the move.
The playmaker is said to be weighing his options and is reportedly interested in an offer to join MLS expansion team Orlando City. However, the Orlando Sentinel's Paul Tenorio is reporting that the midfielder will not be joining the club.
In addition, the 34-year-old has reportedly been in contact with Angola's Kabuscorp do Palanca, who previously featured fellow Brazilian start Rivaldo. Meanwhile, the LA Galaxy are reportedly not a possible landing spot for the former Barcelona star.
Ronaldinho's recent issues as Queretaro have stemmed from the Brazilian's absence from preseason training, which the midfielder did not attend on the originally scheduled date.
Here are some more of Tuesday's news and notes from around MLS:
WIGAN'S MACKAY REVEALS JANUARY MLS MOVE FOR ESPINOZA
It appears that Roger Espinoza is set for an MLS return.
Espinoza, who currently features for Wigan Athletic in England's Championship, is set for a move back the the U.S., according to manager Malky Mackay.
"There is an agreement that the club have shaken hands with Roger on to allow him to go back to America," Mackay said. "It's one of these things I have to take because he's a terrific kid and a real good boy.
"I've got an awful lot of time for him and as you have seen he has been involved heavily in my squad so far, but it's more of a life change and I thoroughly respect that. He's done really well at this football club over a period of time and worked hard for the club and he will be going back to America I think."
Espinoza was reportedly yearning for a move back to Sporting KC back in October in an effort to move closer to family. The 28-year-old midfielder originally made 113 appearances for Sporting KC in a stint that lasted from 2008-12.
EARTHQUAKES LINKED WITH HONDURAN MIDFIELDER HERNANDEZ
The San Jose Earthquakes appear to be interested in bringing a new forward into the fold.
The club is interested in adding Honduran striker Eddie Hernandez, who currently features for C.D. Vida in his native Honduras. The Earthquakes have seen Hernandez first-hand, as the 23-year-old forward scored Vida's lone goal in an October friendly between the two clubs.
In addition to the Earthquakes, Hernandez has earned interest from fellow Honduran side C.D. Motagua.
"There are several possibilities to go abroad," Hernandez said. "We are waiting for some offers to be realized. Also, the people of Motagua are interested in a return. There are talks advanced by 80% to play on a team abroad including in San Jose in MLS.
"Yesterday, I mentioned that there are chances of playing in Europe and the United States and I'm analyzing what is the best option for all to win. In the US, there is the possibility of San Jose because it signed an agreement with Vida when we went to play there. There are other teams, but they have shown greater interest than possibilities in Europe."
Hernandez joined Vida in 2014, scoring 22 goals in 32 games, while the 23-year-old has also earned a cap for the Honduran national team.
—
What do you think of a potential Ronaldinho-Orlando City partnership? How would Espinoza fare with Sporting KC? What do you think of the Earthquakes' interest in Hernandez?
Share your thoughts below.