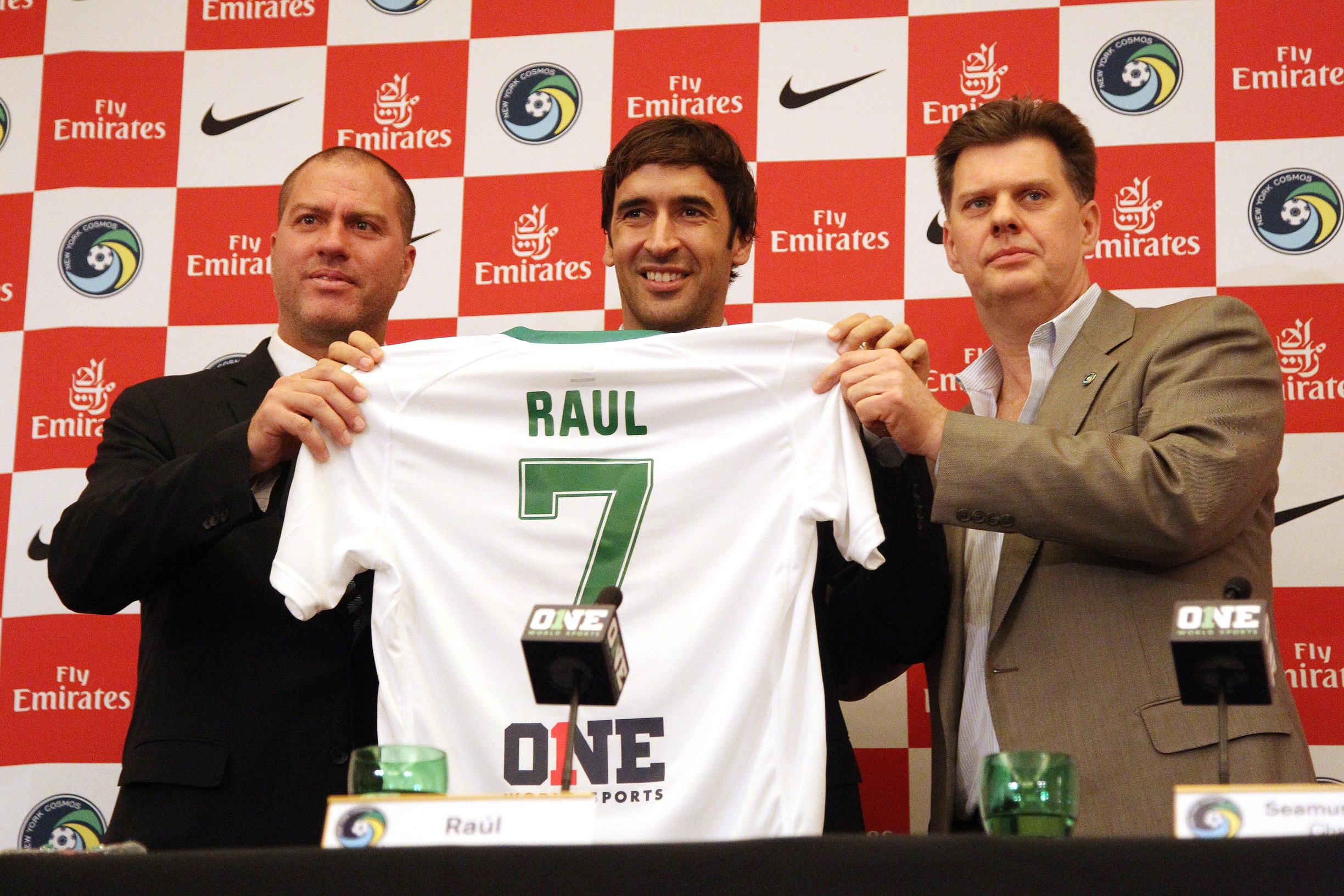 Photo by Noah K. Murray/ USA Today Sports
By RYAN TOLMICH
The addition of Spanish forward Raul was viewed as a warning shot. With a new team entering the market and another approaching a crossroads, the New York Cosmos signing a player of legendary caliber was seen, by many, as a statement of intent.
Cosmos head coach Giovanni Savarese views things much differently. Having worn MetroStars colors before being embraced as head of the revived New York Cosmos, Savarese understands the pulse of New York soccer.
For him, Raul's addition was less of a statement than it was an improvement. With an eye on the big picture, Savarese believes that the Cosmos ambitions, as well as those of New York City FC and the New York Red Bulls, don't breed competition, per se, but enhancement.
"I think some people might look at it that there are now three teams looking for the same players, but I think differently," Savarese told SBI. "I think that this is going to create more awareness and more enthusiasm for players to want to play, for players to see that they have more spaces to be able to become professionals. There's going to be, I think, a bigger effort from players to want to become pros. I think we're bringing more opportunity to New York.
"The competition is healthy, it's good. I think it helps tremendously for the growth of the sport, which is what we all want to see in the United States and I think that having three teams in New York is a very good situation for players to go in and develop maybe through the three systems that each club will have. It will create a lot of opportunities. It's going to be a great competition I think in a healthy way."
That healthy competition, in Savarese's eyes, will do nothing but grow the game in one of the country's largest cities. With three teams all contributing to the game's growth through youth academies, community efforts and, ultimately, on-the-field success, Savarese believes that the trio will present the city's youth with even more opportunities to break into the professional ranks.
"It's important that people keep supporting the teams we have in New York, both our team and other teams," Savarse said. "I think the more support that we can grow with all of the teams, then, in the end, more opportunities will be there for kids to have in the future to be part of this. We want to create good environments, but it's important, not only what we do, but what the fans and the lovers of soccer can provide for this to continue growing in the future."
While the game continues to grow in the Big Apple, the Cosmos true competitors, the rest of the NASL, will also benefit from the increased exposure brought in by Raul's addition.
NASL Commissioner Bill Peterson has seen some of that first hand. While Peterson understands that signings that match the caliber of Raul will be few and far between, the commissioner is excited at the prospects of his league's growth with more and more teams making splashes with talent from all over the world.
"I don't know if they'd make moves at the same level as Raul, but we see teams maturing as they're looking around the world for players," Peterson said. "I think we had 17 players last year that played for national teams, so we're getting a high level of international players already. This guy (Raul) is historic, that's a different level. The interesting thing here is that he really fits in in a lot of different areas.
"It's hard to predict whether teams will do something similar or not," Peterson added. "This could be the start of something, but I don't think it has to be. I think we're finding great players all over the world in different stages of their career."
Savarese echoed Peterson's sentiments, as the Cosmos head coach understands that the addition of Raul isn't necessarily a blueprint for the rest of the league's 10 teams to follow. With varying climates, budgets and cultures, each team has its own set of desires, although the overarching sentiment is that the NASL will continue to work to make improvements in domestic soccer.
"I think the good thing about the NASL is that everybody can work differently, but still contribute to the league," Savarese said. "I cannot say 100 percent that teams are not going to imitate what we have done in bringing in a player like Raul. I think it can definitely change. Some teams will want to do that. I just think that the flexibility that the league provides allows teams to be able to work in their own way.
"We'll keep working our own way and each team will look into their own budgets and what they're able to do to build something important. I think all of that will contribute to the league to keep on going."