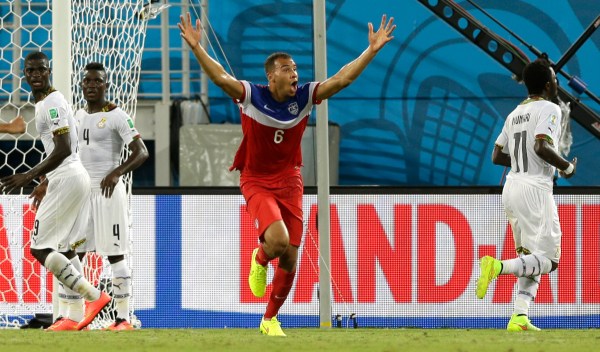 There might not have been an abundance of goals scored by the U.S. Men's National Team in 2014, but that does not mean that there were no top-notch finishes.
In fact, there were several.
The U.S. managed to score just 20 goals through their 15 matches this year, but a handful of those tallies were highlight-reel material. There were jaw-dropping strikes and heart-stopping tallies. Moments of individual brilliance and incredible combination play. Clutch World Cup finishes and impressive winners.
The SBI staff looked back at the Americans' goals this year and voted on a top-five list that is based on significance, aesthetics, degree of difficulty, and other factors.
So before we turn the page on the year that was, here are SBI's Top Five USMNT goals of 2014:
5. Jozy Altidore vs. Nigeria, June 7
From Michael Bradley's perfectly lofted pass to Jozy Altidore's composure and strong finish, there was not much wrong with the winner in the U.S.'s 2-1 win over Nigeria in June. Sure, it was a friendly game, but the way Altidore brought the ball down, cut inside of his defender, and netted his second of the game was impressive and reason to believe that the forward was in store for a big World Cup in Brazil.
[youtube http://www.youtube.com/watch?v=5v9uUfBBl78]
4. Julian Green vs. Belgium, July 1
Julian Green might not have gotten all of it, but there was still enough in his World Cup volley to beat Thibaut Courtois and give the U.S. brief hope. Green came off the bench at the start of the second half of extra time with Belgium leading by two goals in their Round of 16 clash, and delivered an incredible moment by racing into the penalty area and firing home Michael Bradley's sublime pass with the poise of a veteran. In the end, it was not enough to prevent the Americans from being eliminated, 2-1, but the skillful finish gave Green and his team a chance when things looked so bleak.
3. Fabian Johnson vs. Turkey, June 1
From the technically-perfect department came Fabian Johnson's first strike in a U.S. jersey. The versatile veteran pushed up from his right back in the summer friendly against Turkey, and found Michael Bradley before darting into the 18-yard box. Bradley then astutely picked out his teammate with a great aerial ball, and the unmarked Johnson took a left-footed shot that opened the scoring the U.S.'s 2-1 victory.
[youtube http://www.youtube.com/watch?v=6KRnULmVPiA]
2. Jermaine Jones vs. Portugal, June 22
As far as looks go, there was no strike this year better than Jermaine Jones' World Cup equalizer vs. Portugal. The Americans were trailing, 1-0, in their second group game when a second-half corner kick was cleared into the path of Jones. The veteran midfielder proceeded to trap the ball, take a slight touch to his right and blast a shot that might have initially been deemed hopeful at best. But the ball was hit perfectly, and it soared at mid-range before sweetly nestling into the corner of the goal. The game would end in a 2-2 tie, but Jones' first World Cup goal was a thing of beauty.
1. John Brooks vs. Ghana, June 16
Dramatic, pulsating and a dream come true. That was John Brooks' 86th-minute winner against Ghana. The U.S. were against the ropes in their World Cup opener, having conceded a late equalizer and looking like a team ready to succumb to Ghana's waves of pressure. But Brooks changed all that in thrilling fashion, as he tracked a Graham Zusi corner kick and nodded home the winner in the 2-1 affair. The goal itself wasn't anything out of the ordinary, but the magnitude of the moment, what it meant for the Americans, the instant reaction from commentators Ian Darke and Taylor Twellman, and Brooks' genuine disbelief during his emotional celebration made it a special tally that will not soon be forgotten.
—–
What do you think of SBI's Top 5 USMNT goals of 2014? Agree that Brooks' strike was the year's best? Should another goal have cracked the top five?
Share your thoughts below.