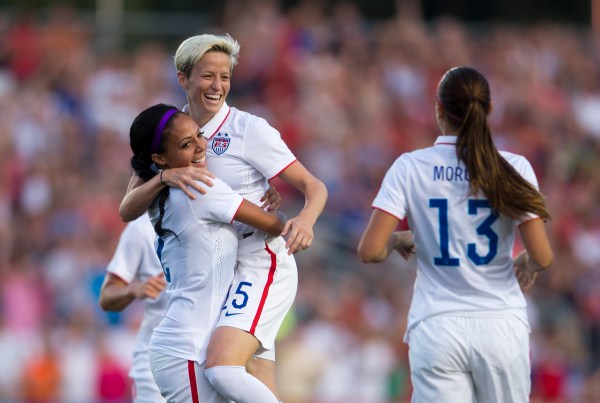 By CAITLIN MURRAY
Over the course of 24 matches this year, the U.S. Women's National Team scored a whopping 79 goals.
The results weren't always in the USWNT's favor, however. They had a 43-game winning streak snapped, suffered their first back-to-back losses since 2001 and ended the year with a 16-3-5 record.
Indeed, it was an up-and-down year for the USWNT by their lofty standards, but their ups were big ones, a credit to the team's world-class strikers who all seemed to score at dizzying rates. With a little help from weak opponents (especially during CONCACAF World Cup qualifying, where the Americans out-scored their opponents 21-0), the USWNT was able to put together some very beautiful and memorable goals.
When a team scores 79 goals in one year, it's tough to pare down a shortlist, but here are SBI's Top 5 USWNT Goals of 2014:
5. Sydney Leroux vs. Japan, March 6 (Algarve Cup)
Sydney Leroux is the kind of forward that never seems to stop — she presses hard and is intensely physical. Rookie Japanese goalkeeper Erina Yamane learned that the hard way and probably won't forget soon. At the Algarve Cup against the reigning world champions, Leroux put pressure on Yamane to get off the goal kick, blocking the punt and sending it straight back into the net for one of the year's more unusual, something-out-of-nothing goals.
4. Alex Morgan vs. France, June 19 (East Hartford, Connecticut)
This year was one of figuring out what the USWNT would look like without Alex Morgan, as she was sidelined until June. It's safe to say that the team was glad to have her back. In her first goal for the national team in more than a year, Morgan seemed eager to show she's still got it. She cooly collected a through pass, tapped it around a French defender and fired from some 20 yards out to knock off the near post. It was official: Alex Morgan was back, and she celebrated in true national team fashion by running over to the American Outlaws section for some well-earned high fives.
3. Carli Lloyd vs. Haiti, Oct. 20 (World Cup qualifying)
It's hard to recap the top goals of the year for the USWNT and not just fill the list with Carli Lloyd goals. If there is a quintessential Lloyd goal, it has power, it has pace, and it's probably a volley — in other words, a pretty goal — and she scored a lot this year. But the one that stood out most was a chest trap and half-volley strike that Lloyd made look as simple and as natural as her signature fist pump goal celebration. Indeed, she makes it look easy and that's why her goals are so fun to watch.
2. Tobin Heath vs. Guatemala, Oct. 17 (World Cup qualifying)
Tobin Heath is the USWNT player known for trying the flashy (and sometimes risky) move when given the chance in a game situation, and Guatemala left her open to score one of her nicest career goals. With exceptional Carli Lloyd service toward the back post off a corner kick and the space to try something cheeky, Heath pulled off a move that probably no other player on the USWNT would attempt — she let the ball through her legs and flicked it in with her heel behind her, resulting in one of the most fun USWNT finishes of the year.
1. Meghan Klingenberg vs. Haiti, Oct. 20 (World Cup qualifying)
Defender Meghan Klingenberg had never scored an international goal until the USWNT's World Cup qualifier against Haiti — and if she never scores one again, she probably won't be too disappointed because, oh, what a goal it was. Capitalizing on a poor clearance in Haiti's end, Klingenberg tracked the ball as it bounced to her feet and struck it perfectly: screaming speed, no spin and heading straight to the far corner of goal. It was a monster of a strike and one of the most talked-about goals of the year for the USWNT.
—–
What do you think of SBI's Top 5 USWNT Goals of 2014? Agree that Klingenberg's strike was the year's best? Should another goal have made the list? Which were your favorites?
Share your thoughts below.