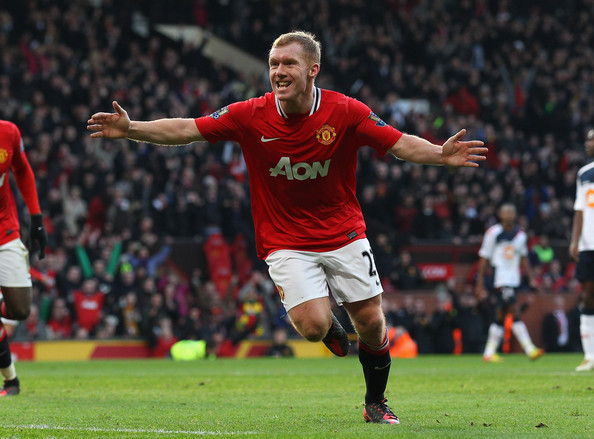 By RYAN TOLMICH
For years, Manchester United boasted England's premier academy system. With graduates such as David Beckham, Ryan Giggs and Paul Scholes, the Man United academy was famous for grabbing the best local talent, although Scholes feels that is no longer the case.
Scholes believes that Man United's academy setup has been surpassed by local rivals Manchester City, as Scholes stated that he feels that Man City have done enough to persuade local youth to forego Old Trafford for the Etihad.
"When I was a kid, it was the case among the lads I played football with that if Manchester United wanted to sign you then joining Manchester City was not even a consideration," he wrote. "United did not have to persuade or offer inducements. We would have walked there ourselves. Thirty years on, and the picture in Manchester is very different and, as a United fan, it worries me.
"It has been no secret among people I know in football that City have taken great strides in their youth academy programs, to the extent that there are even United players past and present who have, or at least once had, sons at City's academy," Scholes added. "That will be difficult for a lot of United fans to get their heads around… The buzz in Manchester is that it is City now who have the better academy program; that it is City who are getting the better players in the local area."
Here are some more news and notes to kickoff your Friday morning:
TIGRES TOP CLUB AMERICA IN FIRST LEG
Club America entered their clash with Tigres with 11 previous titles in their back pocket, but, following Thursday's result, the club is up against it when it comes to acquiring number 12.
Tigres topped America, 1-0, in the opening leg of the Liga MX finals via a 64th minute header from Tigres forward Joffre Guerrón.
Guerrón's finish, which was assisted by Damian Alvarez, saw the forward smash home a header into the far post to earn Tigres an opportunity to secure the title in the second leg, which is set to be played at the Estadio Azteca.
AC MILAN REPORTEDLY INTERESTED IN CUTTING TORRES LOAN SHORT
Just four years after being sold for England's highest-ever transfer fee, Fernando Torres could struggle to find a place to play.
The Spaniard has struggled since joining AC Milan on loan in the summer, and reports now say that the club is looking to letting the forward go just six months after acquiring him.
Chelsea, who still maintain Torres' rights, are reportedly looking for potential suitors for the January transfer window, with one potential club coming in the form of Atletico Madrid, Torres' boyhood team.
However, Atleti have reportedly turned down a deal for Torres that would have involved sending Alessio Cerci to Milan on a temporary basis.
RAMSEY SET TO MISS FOUR WEEKS
Another week, another injury for snakebitten Arsenal.
Midfielder Aaron Ramsey is set to miss four weeks after picking up a hamstring injury in the club's Champions League victory over Galatasaray. The injury to Ramsey just adds to Arsenal's current woes, as Ramsey, Laurent Koscielny, Nacho Monreal, Theo Walcott, Jack Wilshere, Mesut Özil, Mikel Arteta, Abou Diaby, Tomas Rosicky, David Ospina and Serge Gnabry are all currently on the sidelines for the club.
"Koscielny and Monreal are definitely out," Wenger said. "(Callum)Chambers is suspended and Ramsey is injured. We got the scan result [on Ramsey] last night. He was getting close to his form of last season. Koscielny has a calf strain. It might be linked with the fact he has maybe over-protected his achilles. The inflammation has not gone completely on one side.
"Defensively, I have 24 hours to think about it and I will find a solution for the Newcastle game. We have to play somebody with almost no experience [in central defense] or somebody who is not used to playing in the position."
QUICK KICKS
Liverpool forward Mario Balotelli could return as soon as Sunday for the club's matchup with Manchester United. (REPORT)
Two Paris Saint-Germain fans were stabbed outside of the club's Champions League clash with Barcelona. (REPORT)
Genoa goalkeeper Mattia Perin has been linked with a move to Liverpool by his agent. (REPORT)
Barcelona fullback Martin Montoya has asked the club to sell him in the winter. (REPORT)
—-
What do you think of Scholes' comments? How do you see the second leg of the Liga MX finals playing out? Where do you see Torres ending up?
Share your thoughts below.