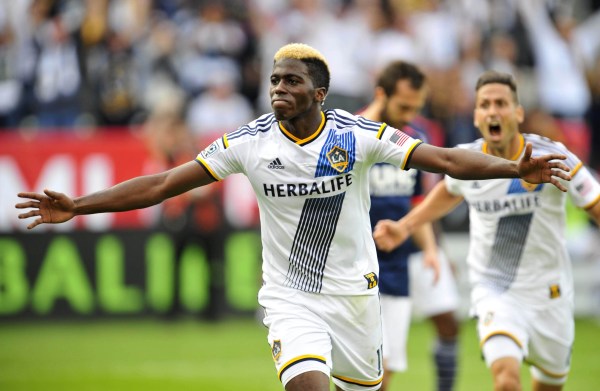 Photo by Gary Vasquez/USA Today Sports
By FRANCO PANIZO
CARSON, Calif. — Gyasi Zardes could have been fazed by the pressure, the moment, and the high stakes, but none of that seemed to get to him Sunday as he made history and became a champion.
Zardes helped the LA Galaxy claim the 2014 MLS Cup trophy on Sunday, scoring the opener in the club's 2-1 extra-time victory over the New England Revolution. While the championship game was the Galaxy's third in four years, it was the 23-year-old attacker's first since signing with the club ahead of the 2013 season.
You would have been hard-pressed to guess that with the way Zardes played, however. The youngster was a constant attacking threat for LA, and while his touches and shooting accuracy were not immaculate by any means, he played with the composure of a player that had been here before.
Zardes even took his golden second-half look with the calmness of a veteran, collecting a cross from Stefan Ishizaki, holding off the strong Andrew Farrell and knocking over the Revolution defender while firing a shot into the back of the net.
The impressive 52nd-minute goal that broke the deadlock was the first one scored by a Homegrown Player in MLS Cup history. It also ended a personal drought for Zardes that dated back to Sept. 29.
"It's an amazing time to do it, but I wasn't stressing that I haven't been scoring," said Zardes. "It's a team sport, not my sport. It's a team effort. If I'm not scoring, but we are still winning, that's OK with me. It's just wonderful to get a goal in this game."
Zardes' friends and family were in attendance to watch him deliver, making the moment even more special for the Hawthorne, California, native. But it was not just the goal that was impressive, as Zardes contributed in a number of ways in Sunday's narrow victory.
Most notably, Zardes — who was playing in front of the watchful eyes of U.S. Men's National Team head coach Jurgen Klinsmann and 27,000 other spectators at StubHub Center — helped the Galaxy tactically with his versatility. He started up top in the game, but swapped positions with the retiring Landon Donovan at the beginning of the second half.
The move was a result of a suggestion from Galaxy captain Robbie Keane, who thought LA would operate better if Donovan moved up front to help provide some sharpness in the final third.
Zardes embraced the challenge, and that helped the Galaxy clean things up in the attack en route to an improved showing in the second stanza.
"Obviously, you see today it's very rare that you can shift a striker to midfield and when he went into the midfield he played better," said LA head coach Bruce Arena. "He's a young man, and has a great future. We'r real proud of him. We see the difference in 2014 compared to 2013. He's much improved and he still has a high ceiling."
How close Zardes gets to reaching that ceiling is up to him. His sophomore season in MLS indicated that he is on the cusp of stardom, as he scored a whopping 16 goals in the regular season. Granted, he did it playing alongside Keane and Donovan, but Zardes still has shown to be plenty capable in front of goal.
Sunday was evidence of that, as his well-taken goal helped the Galaxy claim their record fifth MLS Cup trophy. No, it may not have been the winner, but it helped spur LA and its crowd on in a cagey match that could have been a lot different had New England gotten on the scoreboard first.
Zardes' performance also helped send Donovan, one of his childhood heroes, into retirement with a championship. Donovan had a relatively quiet game against the Revolution, but Zardes stepping up in his place was like a figurative passing of the torch.
One generation stepping aside for another.
"It's amazing, because me as a kid, I used to watch Landon Donovan," said Zardes. "This is my hometown and I used to really look up to Landon, and I still do. It's amazing that he gets to retire as a champion. I'm thankful to just be a part of this with him. He has always been a mentor, and I really love Landon."
With Donovan no longer on the team, Zardes will have an even bigger offensive load to carry in 2015. He will have to help carry the Galaxy attack as the club attempts to win a second consecutive championship.
Defenses will hone in on him more, and things will get tougher. Zardes, however, looks like a player that is up for the challenge and ready to take the next step.