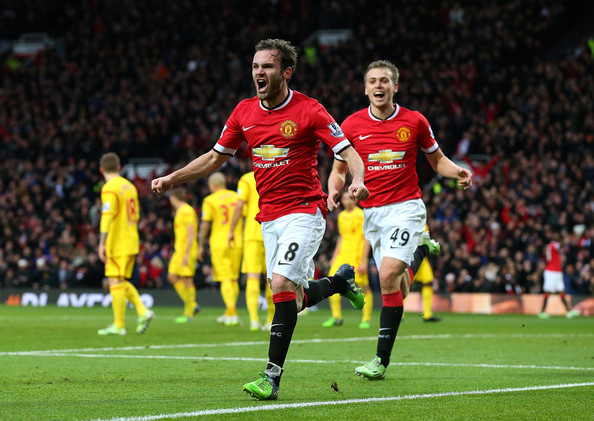 By DAN KARELL
Manchester United can extend their impressive winning streak to seven games when they hit the road and travel to Villa Park.
Fabian Delph and Aston Villa await Louis Van Gaal's men, as they start a difficult stretch of games at Aston Villa, home against Newcastle, and at Stoke in the next two weeks. Luckily for Man United, their offense seems to finally be finding its form, scoring two or more goals in each of their last five matches.
Manchester City meanwhile look to gain more points at the top of the table to catch Chelsea when the Citizens face Crystal Palace.
In Italy, AS Roma will attempt to continue their five-match unbeaten run in Serie A when they face rival AC Milan at the Stadio Olimpico. Roma coach Rudi Garcia will be on the bench for the match, after a two-match ban for aggressive behavior towards an official was overturned.
In France, Paris Saint-Germain can re-take the Ligue 1 lead with a victory against former champions Montpellier.
If you will be watching today's action, or want to discuss the day's earlier action, please feel free to share your thoughts, opinions and some play-by-play in the comments section below.
Enjoy the action (Today's schedule is after the jump):
7:15 a.m. – beIN Sports USA – Derby County vs. Norwich City
7:45 a.m. – NBCSN – Manchester City vs. Crystal Palace
9:30 a.m. – GolTV USA – Werder Bremen vs. Borussia Dortmund
10 a.m. – NBCSN – Aston Villa vs. Manchester United
10 a.m. – beIN Sports USA – Barcelona vs. Cordoba
10 a.m. – Premier League Extra Time – Hull City vs. Swansea
10 a.m. – Premier League Extra Time – QPR vs. West Brom
10 a.m. – Premier League Extra Time – Southampton vs. Everton
10 a.m. – Premier League Extra Time – Tottenham Hotspur vs. Burnley
10 a.m. – Premier League Extra Time – West Ham vs. Leicester City
10 a.m. – beIN Sports Connect – Ipswich Town vs. Middlesborough
11:30 a.m. – Fox Sports 2 – Cruz Azul vs. Auckland City
12 p.m. – beIN Sports en Espanol – Levante vs. Real Sociedad
12:15 p.m. – beIN Sports Connect – Nottingham Forest vs. Leeds United
12:30 p.m. – GolTV USA – Wolfsburg vs. FC Cologne
2 p.m. – beIN Sports en Espanol – Eibar vs. Valencia
2:30 p.m. – Fox Sports 2 – Real Madrid vs. San Lorenzo
2:45 p.m. – beIN Sports USA – Roma vs. AC Milan
4 p.m. – beIN Sports en Espanol – Rayo Vallecano vs. Espanyol