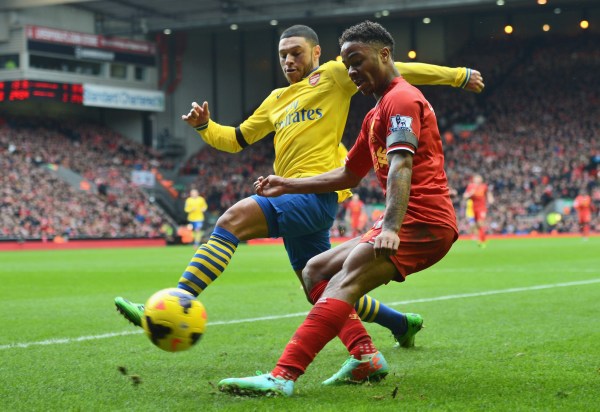 By DAN KARELL
Liverpool's disastrous start to the English Premier League season could be damaged even further on Sunday when they take on Arsenal.
The two clubs have performed below expectations this season, and the match at Anfield is a massive chance for both clubs to position themselves for a better finish heading into the busy holiday schedule. One aspect in Liverpool's favor is that Arsenal have struggled in the big matches recently, and the Gunners' last trip to Anfield produced a spectacular 5-1 victory in favor of Liverpool.
In the northeast of England, the Tyne-Wear derby takes place for the 153 time, this edition at St. James Park. Alan Pardew has just one win in seven Tyne-Wear derby matches, though Sunderland sit just one point above the relegation zone while Newcastle are in a more comfortable position. Jozy Altidore has been dropped to the bench in place of Steven Fletcher.
In France, leaders Olympique Marseille look to stay ahead of Paris Saint-Germain when they host Lille, and in Italy, fourth-place Lazio visit eleventh-place Inter Milan, hoping to inject more misery into the blue side of Milan.
If you will be watching today's action, or want to discuss the day's earlier action, please feel free to share your thoughts, opinions and some play-by-play in the comments section below.
Enjoy the action (Today's schedule is after the jump):
7:15 a.m. – Fox Soccer Plus – Dundee United vs. Celtic
8 a.m. – beIN Sports Connect – Marseille vs. Lille
8:30 a.m. – NBCSN – Newcastle United vs. Sunderland
9 a.m. – beIN Sports USA – Fiorentina vs. Empoli
9 a.m. – beIN Sports en Espanol – Torino vs. Genoa
9 a.m. – beIN Sports Connect – Atalanta vs. Palermo
9 a.m. – beIN Sports Connect – Sampdoria vs. Udinese
9:30 a.m. – GolTV USA – Hertha Berlin vs. Hoffenheim
11 a.m. – NBCSN – Liverpool vs. Arsenal
11 a.m. – beIN Sports USA – St. Etienne vs. Evian
11 a.m. – beIN Sports en Espanol – Granada vs. Getafe
11:30 a.m. – GolTV USA – Freiburg vs. Hannover
1 p.m. – beIN Sports USA – Elche vs. Malaga
2:45 p.m. – beIN Sports USA – Inter Milan vs. Lazio
3 p.m. – beIN Sports en Espanol – Athletic Bilbao vs. Atletico Madrid
3 p.m. – beIN Sports Connect – Bordeaux vs. Lyon