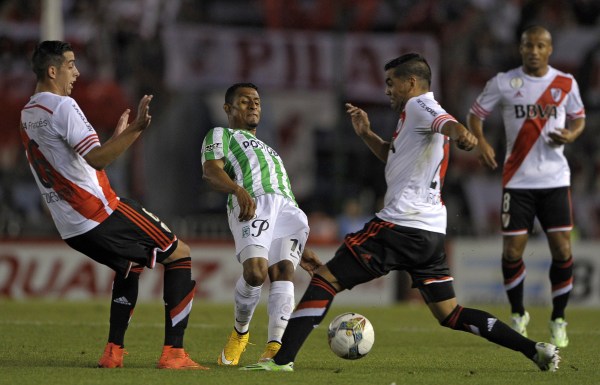 By RYAN TOLMICH
The Champions League group stage is set to come to a close Wednesday as two groups enter their final matches with everything to play for.
In Group E, Manchester City will need to find a way to score in Wednesday's trip to Italy to take on Roma, as the Italian side will go through with either a scoreless draw or loss. However, even a victory may not be enough for Man City, who will also be sent packing if Bayern Munich fall to CSKA Moscow.
Meanwhile, Sporting CP and Schalke will contend for Group G's second spot, as the first has already been claimed by Chelsea. Sporting CP will advance with either a win or draw against the group leaders, while Schalke will need a victory over Maribor to keep hopes alive.
In addition, Barcelona clashes with Paris Saint-Germain in a meeting of two already-qualified sides, while Ajax faces APOEL and Athletic Bilbao takes on Bate to determine Europa League qualifiers.
The evening features a classic South American clash between Atletico Nacional and River Plate in the Copa Sudamericana Final. Former New York Red Bulls and Chicago Fire head coach Juan Carlos Osorio will try to help Atletico Nacional win its first intercontinental trophy, while former D.C. United midfielder Marcelo Gallardo mans the sidelines for River Plate.
If you will be watching today's games, feel free to share your thoughts and opinions on the action in the comments section below.
Enjoy the action (Today's soccer TV schedule is after the jump):
TODAY'S SOCCER ON TV
2:45 p.m. – Fox Sports 1 – Roma vs. Manchester City
2:45 p.m. – ESPN 3 – Bayern Munich vs. CSKA Moscow
2:45 p.m. – Fox Sports 2/ESPN Deportes – Barcelona vs. Paris Saint-Germain
2:45 p.m. – ESPN 3 – Ajax vs. APOEL
2:45 p.m. – ESPN 3 – Chelsea vs. Sporting CP
2:45 p.m. – ESPN 3 – Maribor vs. Schalke
2:45 p.m. – ESPN 3 – Porto vs. Shakhtar Donetsk
2:45 p.m. – ESPN 3 – Athletic Bilbao vs. Bate
7:15 p.m. – Fox Deportes – River Plate vs Atlético Nacional