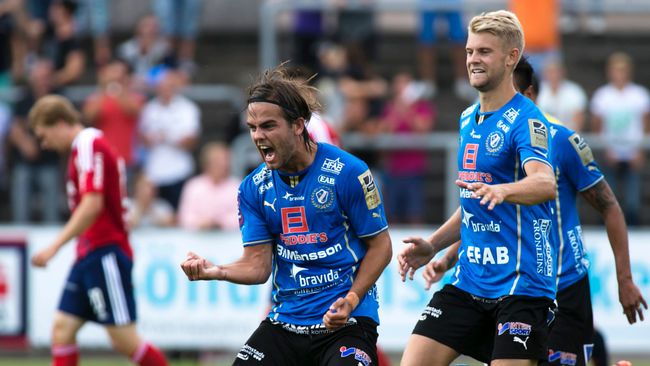 By DAN KARELL
Kristinn Steindórsson was vacationing on the Cape Verde Islands when he heard his cell phone ring.
At the other end of the line was his agent, who asked Steindórsson, a free agent, if he would be interested in playing in Major League Soccer. Steindórsson said yes.
In just a matter of a days, Steindórsson had signed a contract and became the latest member of Columbus Crew SC, adding to the team's plethora of playmaking midfielders.
"It happened pretty quickly," Steindórsson told SBI in a phone interview from his native Iceland.
The 24-year-old steps in as an expected replacement for Bernardo Anor, and is likely to challenge both Justin Meram and Ethan Finlay for playing time on the wings. Steindórsson is coming off his best season since moving to Sweden in 2012, scoring eight times in 29 games after scoring a combined eight goals in his first two seasons at Halmstad BK.
Steindórsson credits a phone call from Berhalter that helped convince him that Columbus would be the right landing spot for "the next step" of his career, as Steindórsson termed it.
"He called me and said he liked my certain attributes that I have and thought that my style of play would fit into the team's style of play, and I totally agree with that," Steindórsson explained, adding that he models his game in a style similar to Barcelona's Andres Iniesta. "I think that his vision on how he wants the team to play is similar to my vision and how I want to play, so it's a good fit. It made me even more interested in (joining Crew SC)."
Having Berhalter as not only head coach but also Crew SC sporting director helped make this deal come to fruition.
In addition to Berhalter having coached against Steindórsson twice when Berhalter was with Hammarby in 2012 and the former U.S. Men's National Team defender's impressive list of contacts across Europe, it was ultimately his ability to help convince Steindórsson that MLS would be a good option, instead of remaining in Sweden or moving elsewhere in Europe.
"To be honest I didn't know so much (about MLS)," Steindórsson admitted, adding that due to the time difference, it's difficult for soccer fans in Iceland, Sweden, and other Nordic countries to watch MLS games on a regular basis.
Crew SC then had to put on their version of a full court press, distributing notes about the team's history (he knew the team won MLS Cup in 2008) and sending Steindórsson an online package of games and highlights, which allowed Steindórsson to become more familiar with the league, his new team, and his new city.
The work paid off for Crew SC as Steindórsson signed with the club, and helped convince his friends and family that moving far from home wasn't a poor choice.
"In the beginning, my parents were a little bit doubtful because they didn't know so much about MLS and the level of the league," Steindórsson said. "They thought I was going far away and so on.
"But as I showed them more and told them about the club, about the Crew and the league, and I showed them some games, they started to get more positive and they're really happy for me now. They think it's a great next step for me. My friends think it's pretty great and they're happy for me. I've won them over.
"The club's done a good job introducing (themselves) not only for me but for my friends as well."
When Steindórsson signed with Crew SC on Dec. 11, he became the fifth player to sign with MLS after spending the past season in either Sweden or Norway, including his Crew SC teammate Mohammed Saied. "It's becoming more and more interesting," Steindórsson said of the mass emigration to MLS.
While many players join MLS from Europe after exhausting their options back home, Steindórsson is just entering his prime. Despite having played regularly for the Iceland Under-21s in the 2011 and 2013 UEFA U-21 Championship qualifying campaigns, Steindórsson has never been capped by the full national team, which is of course enjoying plenty of success recently.
Steindórsson hopes that his move to MLS can help get him in Lars Lagerback's squad, beginning with a pair of friendly matches in Orlando, Fla. next month.
"I'm taking the next step into a better league now and I think the Crew's style of play is going to be a better fit for me," Steindórsson said. "I could show more there than in Sweden. I think I will play more to my strengths in this style of play.
"If I do well next season, I think it will definitely improve my chances for making the national team."
Speaking of national team players, Steindórsson revealed that he does know former Iceland youth international and current forward for the U.S. Men's National Team, Aron Johannsson.
The pair played together at the club Breiðablik for a couple of years as teenagers and represented Iceland in U-21 matches on a number of occasions. "Maybe he'll give me some advice on the States," Steindórsson joked, saying he may give him a call before coming to the USA.
"I hope (U.S. soccer fans) will like the other Icelander coming to the States," Steindórsson added. When he makes his first Crew SC appearance, he'll become just the second Icelander to play in MLS, following Victor Palsson's six-month stint with the New York Red Bulls in 2012. However, it's Johannsson that is more well known across the country.
Depending on whether he's called-up for the upcoming Iceland National Team matches in Florida, Steindórsson will be arriving in Columbus in mid-January, ahead of the start of preseason training. The Crew are headed to Austin, Texas in February and there's a rumored trip to Florida in late January on the cards as well.
Steindórsson has been studying up on his new digs since signing with Crew SC.
"I know it's a big soccer city and the national team loves to play there," Steindórsson said, also responding off memory that Columbus is the 15th largest city in the USA. "There's a lot of buzz around the (Crew SC too)."
Perhaps the toughest part of his signing now is that Steindórsson still has a few more weeks to go until his new adventure begins.
"Everything I've seen and heard sounds good and it feels like its a really good club," Steindórsson said. "They have a vision and they know what they're doing and how they want to do things and how they want to build it. I'm really excited to be a part of it."