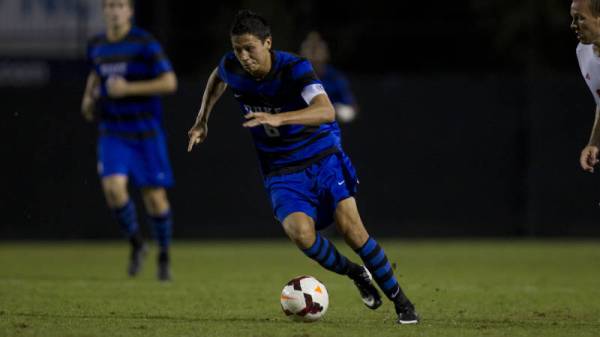 By FRANCO PANIZO
The New York Red Bulls might be gearing up for the upcoming MLS Combine, but they have already made a move for one of college soccer's top prospects.
The Red Bulls announced on Thursday that they have signed Duke midfielder Sean Davis to a Homegrown Player deal, making him the ninth such player in the club's history. He joins the club after spending the past four years at Duke, and will be the fourth Homegrown Player on New York's current roster.
Davis, 21, was a 2014 All-ACC First Team selection and the 2014 ACC Midfielder of the Year. He scored eight goals and delivered 17 assists – 10 of which came in his senior season – while at Duke, and was part of the Red Bulls' Under-23 team that won the NPSL Championship at Red Bull Arena in August.
'We are delighted to announce the signing of Sean Davis, who is one of the best young players to emerge from the college ranks this year," said New York Red Bulls sporting director Andy Roxburgh said in a statement. "Sean is a gifted midfield player, a star of our U-23 championship winning team, a homegrown talent, and someone with the potential to be a top player for the New York Red Bulls in the future."
Here are more notes from around MLS:
NYC FC LAND FREE AGENT GOALKEEPER FITZGERALD
What looked like a position of need is now a position of strength for New York City FC.
Just hours after landing goalkeeper Ryan Meara on a season-long loan, NYC FC announced Thursday that it signed free agent netminder Akira Fitzgerald. The 27-year-old Fitzgerald arrives in New York City after spending the last four years with the Carolina RailHawks of the NASL.
He is the third goalkeeper on the club's roster, joining Meara and MLS veteran Josh Saunders.
"Akira is a good, hardworking keeper with great experience in the NASL over the past couple of years," said NYC FC head coach Jason Kreis in a statement. "He is a tenacious athlete and very smart with the ball at his feet. I think he will fit into the roster really nicely and push all of our guys in training. We have three strong goalkeepers and great competition for places."
ORLANDO SHIPS SERROD TO SAN JOSE
Orlando City's busy week continued with another trade on Thursday.
Orlando dealt Mark Sherrod to the San Jose Earthquakes a day after selecting the former Houston Dynamo forward in the MLS Expansion Draft. In exchange, the Lions received from the Earthquakes a second round pick in the 2015 MLS SuperDraft.
The move to San Jose will see Sherrod reunite with head coach Dominic Kinnear, who was in charge of the Dynamo during the 24-year-old striker's rookie season in 2014.
"Mark is a good pickup for the team," said Kinnear in a statement. "I'm happy for a chance to work with him again. The players, the staff and the fans will enjoy his attitude and work ethic both on and off the field."
Sherrod scored two goals and had one assist in nine games in Houston this past season, but suffered a left ACL injury in May that took him out of action.
BERNIER AGREES TO NEW DEAL WITH IMPACT
The Montreal Impact may be in need of making several changes after a disappointing season, but disposing of Patrice Bernier is not one of them.
The Impact announced Thursday that they have signed the 35-year-old Bernier to a new contract. Bernier has been with the club for three seasons, and has helped the club win back-to-back Canadian Championships.
"I am very pleased that we finalized a new deal with Patrice and I was confident that we would reach an agreement," said Impact head coach and director of player personnel Frank Klopas in a statement. "We want him to be with us in 2015 and have the chance to finish his career in Montreal."
In 2014, Bernier had three assists in 26 appearances in the regular season. He made 20 starts, and also featured in the Canadian Championship and CONCACAF Champions League.
WHITECAPS RE-SIGN ATTACKING MIDFIELDER MEZQUIDA
Nicolas Mezquida showed some promise in his debut MLS season, and the Vancouver Whitecaps have brought him back as a result.
The Whitecaps announced on Thursday that they have re-signed Mezquida, the 22-year-old attacking midfielder who scored two goals in 14 appearances in MLS this past season. The Uruguayan made four starts.
"We are excited to have Nicolas returning for his second season with the club," said Whitecaps head coach Carl Robinson in a statement. "Nicolas is a very talented player, a fantastic teammate who brings a positive frame of mind, and he works exceptionally hard each and every day.
"We are confident Nicolas will excel and play an important part for us in 2015."
—–
Expecting Davis to have a big impact with the Red Bulls this season? Is NYC FC set at goalkeeper or should the club add another? Surprised to see Orlando City deal Sherrod?
Share your thoughts below.