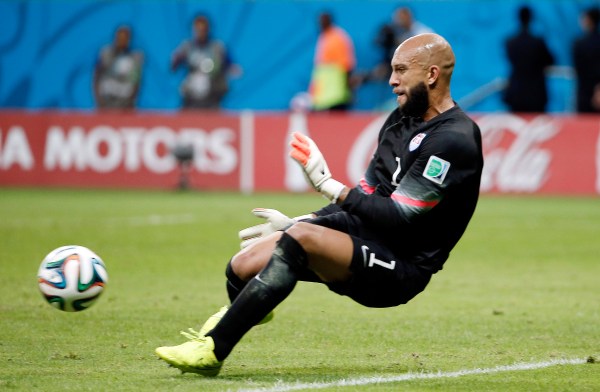 Photo by Winslow Townson
/USA Today Sports  
By FRANCO PANIZO
The way 2014 ended may have overshadowed it a bit, but several players turned in some incredible performances, even a record-setting one, for the U.S. Men's National Team that will not soon be forgotten.
Several Americans stepped up and turned in some compelling shifts on the international scene this year, with the majority of them unsurprisingly coming on the big stage of the World Cup. Tim Howard delivered such an outing in the tournament's Round of 16, as did Jermaine Jones on multiple occasions in a challenging but ultimately successful group stage campaign.
The U.S. finished out the year by failing to win its last four matches, a stretch that saw a number of players fail to reproduce the type of high-level showings seen earlier in the year. Still, the past 12 months provided their share of key individual American showings, and the SBI staff picked out the best ones.
Here are SBI's Top Five USMNT performances of 2014:
5. Jozy Altidore vs. Nigeria, 6/7
In need of a boost before heading off to the World Cup after a disappointing first season at Sunderland, Altidore found his scoring touch just before the U.S. departed for Brazil. Altidore bagged both the Americans' goals, including a highlight-reel-worthy winner, and proved to be a handful against Nigeria's defenders to pace his side to a 2-1 victory in its final friendly before boarding the plane to Sao Paulo.
4. Michael Bradley vs. Mexico, 4/2
Much has been said about how and why Bradley did not live up to his high standards during the World Cup, but he turned in a monster game two months before the tournament. In a friendly against archrivals Mexico, Bradley sat atop a new-look diamond midfield and was dominant in the first half. He scored a goal and set up another to help the U.S. outclass and out-possess their southern neighbors, but the Americans as a collective group were not as effective in the second stanza and had to settle for a 2-2 draw.
3. Jermaine Jones vs. Portugal, 6/22
The equalizer
he scored, albeit stunning, was far from Jones' only major contribution in the World Cup group game against Portugal. Jones was an absolute beast on both sides of the ball, helping the Americans limit the impact of the Portuguese attack by providing his incredible work rate and endless energy. The performance helped limit Cristiano Ronaldo's impact, and nearly helped the U.S. come out victorious before settling for a 2-2 tie courtesy of a late Varela tally.
2. Jermaine Jones vs. Ghana, 6/16
While Jones impressed against Portugal, he dazzled a game earlier against Ghana. Jones turned in arguably his best game in a U.S. jersey in the 2-1 win in the group stage opener against Ghana, as he was constantly in the thick of things on both sides of the ball. He snuffed out several Portugal attacks by using his physicality and moved into the final third with a purpose, looking at times like the only American field player capable of matching the Ghanaians' intensity. He did not score in this one, but Jones set the tone for his strong overall showing in Brazil by stepping up in the first World Cup game of his career.
1. Tim Howard vs. Belgium, 7/1
Howard could not save the U.S. from the jaws of defeat, but he certainly did his best and then some. Howard came up with a goalkeeping performance for the ages in the Americans' Round of 16 loss to Belgium, making save after save to keep his overwhelmed U.S. side from falling behind. In the end, the Belgians prevailed 2-1, but the way Howard remarkably denied them time and again en route to setting a World Cup record 15 saves was downright heroic and deservedly garnered much attention from around the globe.
—–
Agree with this list? Was there another performance that should have cracked the top five? How fondly do you remember these outings?
Share your thoughts below.