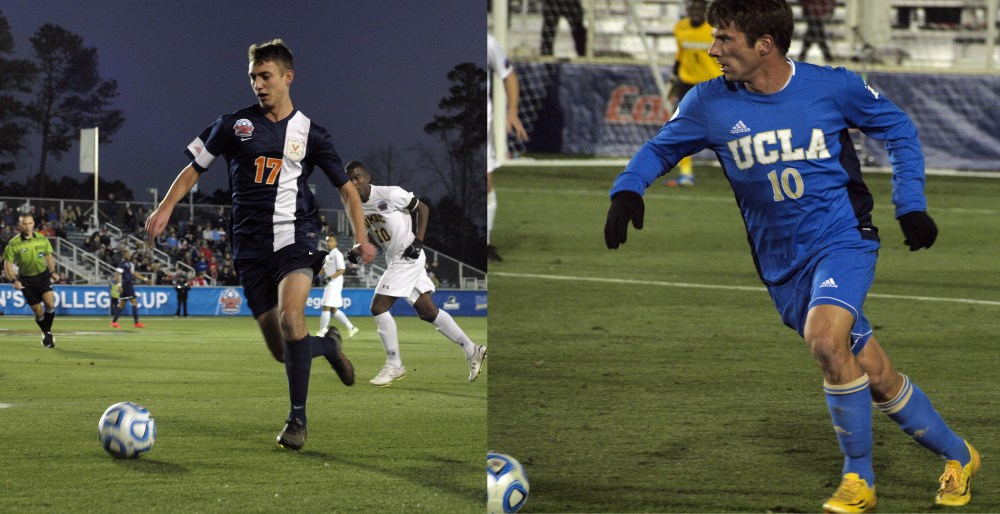 Cary, N.C. — The 2014 College Cup will pit the University of Virginia and UCLA, who share 10 national championships and a history of tension that is still evident today.
They will duke it out at WakeMed Soccer Park in Cary, North Carolina Sunday (12 p.m., ESPNU).
Chase Gasper, golden goalscorer for the Bruins in their semifinal match yesterday, knows many of the players on the Cavaliers side he once committed to, and in yesterday's post-game press conference, he spoke about the underlying tension between these two traditional powerhouses.
"It's actually a dream come true playing against them, because I was committed there originally," Gasper said after his golden goal against Providence yesterday. "It happened that I ended up at UCLA, very happy that I ended up at UCLA, and really looking forward to Sunday's game."
UCLA head coach Jorge Salcedo shot down any mention of animosity between the two sides yesterday, and today, he focused on the respect he had for the great program he and his team will face.
"We're really excited to play against the University of Virginia, we have great admiration for their soccer program," he said Saturday in Cary. "The six national championships they've won, we obviously want to win our fifth tomorrow. We're really excited to step on the field tomorrow at noon."
Bruins goalkeeper Earl Edwards Jr. knows there is something brewing between the two sides, but he only wants to focus on the main goal: winning the title.
"There's been a little talk from them about getting some vengeance; on our end, it's all about taking care of the opponent that's in front of us and we've done that since the start of the tournament," Edwards said. "We happen to be playing Virginia tomorrow, and they want us to get it done for them, but obviously it's a goal in mind we have already; we'd like to get the job done and if it makes them that much happier then that's great."
Virginia head coach George Gelnovatch knows the Bruins should not be taken lightly because they play a similar style.
"I think they're a very good team," Gelnovatch said. "I watched their match after we wrapped up, and it was refreshing because there weren't a lot of fouls and there was a lot of good passing. Not every match is like that, but I think you're going to see good soccer tomorrow."
Virginia midfielder Eric Bird enjoyed 11 minutes of action in UVA's semifinal match, but he is expected to play bigger role in the title game Sunday.
"Everything feels pretty good right now, but I'm not entirely sure since I haven't gotten a lot of game minutes," Bird said. "In the 10 minutes that I was out there last night it felt good. My muscle isn't giving me any trouble. I feel like the final is going to be based off pure adrenaline, so that's what I'm counting on."
With both sides preparing and recuperating, Sunday's affair will see a powerhouse add another title to their university's trophy case.
"I wanted to win championships," Gasper said following Friday's win. "So I came to UCLA."
He will have his chance Sunday against the team he nearly joined.