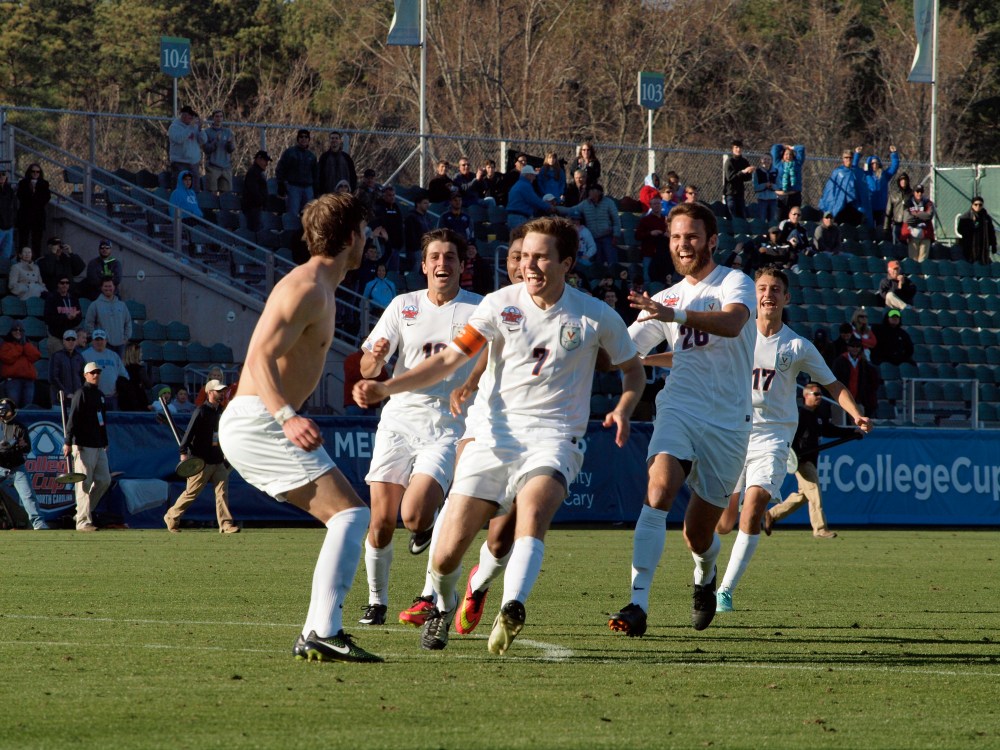 Cary, N.C. — Once again, Virginia is king of the college soccer world.
Virginia added another title to its packed trophy case after a 4-2 penalty-kick win over UCLA in the 2014 College Cup on Sunday. Riggs Lennon scored the decisive tally in the shootout, giving Virginia its seventh national championship and first since 2009.
As a program, the Cavaliers have the third most titles in the NCAA, and with the win, a team from the ACC has won the national title for the seventh time in ten years.
The Hoos finally defeated UCLA in the NCAA tournament after going 0-3 in their previous matches with them. The Cavaliers are 7-1 all time in the College Cup championship match.
The first half saw Virginia bunker down and attempt to counter when possible. Both sides had three shots and forced only one on goal. Bruins forward Abu Danladi and Larry Ndjock combined well in the beginning of the second half and almost connected for a goal in the 49th minute. Danladi flicked on a header toward the back post, but Ndjock could not keep his header on frame.
Tensions started to flare as the match stretched out and the Bruins could not breakdown the immobile UVA defense. Darius Madison and Edgar Contreras engaged in a scuffle with both seeing a yellow card for their involvement in the 82nd minute.
Virginia started to show some fight toward the end of the second half, forcing a free kick just on the edge of the penalty box. But the Bruins also had a good chance of their own as Bruins substitute Aaron Simmons headed a cross just wide of the far post with minutes remaining. The two could not muster any more good chances in regular time.
The first overtime had one great chance coming from Danladi, who found himself free in the box and put a shot on frame. Unfortunately, the ball was not struck well, and it slowly bounced to Cavaliers goalkeeper Calle Brown. The overtime period closed with a hard tackle from Ndjock on Kyler Sullivan, which saw Ndjock receive a yellow and tensions between teams simmer once again.
The Cavaliers had a free kick with 20 seconds remaining in the second overtime period, but they could not covert their chance, and the two headed to what seemed destined to happen from the opening whistle: penalty kicks.
Riggs Lennon, Patrick Foss, Sam Hayward, Scott Thomsen and Todd Wharton all converted from the spot for the Cavaliers while Brown saved one and watched another rebound off the post. Lennon put away the final kick, blasting it down the middle.
Lennon turned toward the mass of UVA players running at him and removed his shirt before being bombarded by his exuberant teammates.