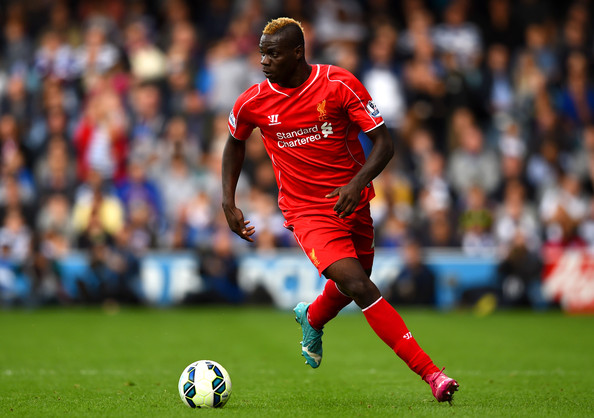 By RYAN TOLMICH
Liverpool manager Brandan Rodgers believes that the team is trying to put a square peg in a round hole when it comes to forward Mario Balotelli.
Rodgers admitted that the Italian striker doesn't fit with Liverpool's current style, which recently switched to include three at the back and no true center forward. With Balotelli's reliance on being in and around the box, the Liverpool manager understands that both the player and the team will need to make changed to accommodate the forward's style of play.
"I think we've seen that it's not really his game," Rodgers said. "Having worked with Mario during the time he's been here, we've seen that he's a player who better in and around the box, so that level of intensity and pressing isn't a part of his game, but you try to get the best out of the players that you have, and the qualities that they have, so that's something that we'll focus on."
Balotelli is set to make his return Friday after serving a one-game ban for an offensive post on Instagram.
Here are some more news and notes to kickoff your Wednesday morning:
PSG TO SPEND BIG ON STRIKER FOLLOWING DEPARTURE OF IBRAHIMOVIC
Despite already earning the wrath of Financial Fair Play, Paris Saint-Germain are far from concerned when it comes to dropping big money on a new striker.
That is exactly what the club plans to do in 2016 as the contract of incumbent starter Zlatan Ibrahimovic winds to a close. Although the club was hit with a fine and issued reduction in their Champions League roster, club president Nasser Al-Khelaifi believes the club has the means to spend big once again.
"I believe PSG will get another big striker in 2016 after Ibrahimovic. Financial Fair Play tends to freeze competition between clubs but that situation plays into our favour," he told France Football. "I believe we can afford a €100 million splash of cash to get stronger, even if that meant focusing on one single purchase in the transfer window, or a drastic reduction in some high salaries so we can buy other players."
KHEDIRA HAPPY TO STAY AT MADRID
Same Khedira has long been linked with a move to the Premier League, but the German midfielder is hoping to extend his current stay in Spain.
Khedira's contract is set to expire at the end of the season, as Manchester United, Arsenal and Chelsea have reportedly registered interest in the midfielder. However, Khedira insists that he is happy with Real Madrid and would like to stay and continue to fight for a place in the midfield.
"I'm confident that soon I will get more of a chance to play," he said. "There are other players in my position but that competition is healthy.
"If we can reach a solution, I'll be very happy."
QUICK KICKS
Former England international Emile Heskey has joined Bolton Wanderers on a short-term deal. (REPORT)
Southampton have added winger Eljero Elia on loan from Werder Bremen. (REPORT)
Cagliari have fired manager Zdenek Zeman after picking up just one win in twelve matches. (REPORT)
Barcelona are set to play a February friendly in Qatar. (REPORT)
Chelsea midfielder Eden Hazard may miss his side's Boxing Day matchup with West Ham due to injury. (REPORT)
—-
How do you expect Liverpool to handle Balotelli going forward? What big-money players would you expect PSG to target? How will Khedira fit into Real Madrid's crowded midfield?
Share your thoughts below.