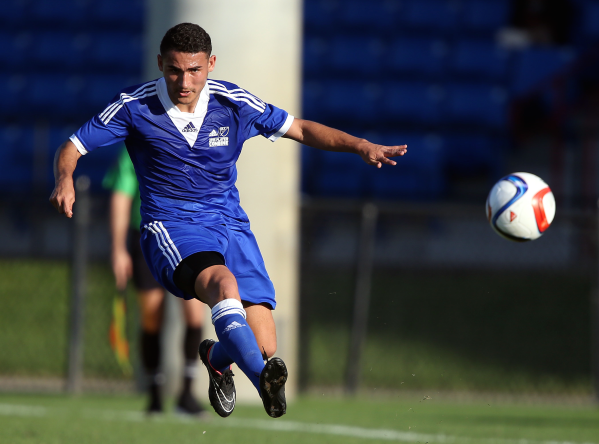 Photo by Andy Mead/MLS
By IVES GALARCEP
LAUDERHILL, Fla. — Day one of the MLS Combine is traditionally the worst of the three, and while this year's opening Combine day did uphold that tradition, there were still some players who did well for themselves and boosted their stock on day one.
The Washington duo of Spencer Richey and Cristian Roldan did well to show scouts that they are among the best prospects at their positions, and Roldan specifically showed why he's regarded as the No. 2 player in this draft behind Cyle Larin.
Before we get to the players who did and didn't do well on Combine Day One, we should discuss the players who weren't at the combine, and will now not be at the combine. We are told that UCLA midfielder Leo Stolz is skipping the MLS Combine altogether and Alex Bono will now skip the Combine to go straight to U.S. Men's National Team camp after being a surprise call-up by Jurgen Klinsmann.
Stolz's decision comes as no surprise given how talks with MLS on a senior contract fell apart. Sources tell SBI that Stolz is heading to Europe to seek out a contract, but that probably won't stop some team from using a late-round draft pick on the college standout.
Now, back to the Combine. Here is a look back at the players we thought impressed, struggled and everything in between after day one of the 2015 MLS Combine:
PLAYERS WHO IMPRESSED
Spencer Richey. The Washington goalkeeper made a plethora of good saves, and looked more like the goalkeeper who was so highly regarded a year ago before being sidelined by a broken leg.
Axel Sjoberg. The 6-foot-7 central defender showed scouts that he can move well for his size, and more importantly, is very good at positioning himself well. Should face some tougher tests in the coming days, but he's climbing up the charts.
Jose Ribas. In a draft that is supposed to be heavy on good left backs, Ribas was the only one who really impressed in the first day. He is a quick and tidy defender who looked good on the ball and does well to get into the attack.
Dan Metzger. The Maryland defensive midfielder was very active, spraying passes effectively and providing an effective link between his team's defense and attack. Suffered a hip point in the second half, but still showed enough to remain a possible Top 10 pick.
Ignacio Maganto. The Iona midfielder looked comfortable on the ball, and flashed some of the better creativity on display on day one. The Spaniard is a player, but will probably be someone more attractive to teams that emphasize possession-style soccer, like Columbus, Real Salt Lake and New York City FC.
Nick Besler. The Notre Dame midfielder looked comfortable in a deep-lying midfield role in the first half before filling in some at left back, where it's safe to say he won't see much playing time in the pros. Overall, just a good player who reads the game well and has a good passing touch.
Boyd Okwuonu. Polished, smart and athletic, Okwuonu looked like he was in mid-season form. Some scouts still think he's a bit smallish for centerback, and more likely to project as a right back, but Okwuonu was one of the better central defenders on day one.
Aaron Simmons. Didn't start on day one but when he came on he showed why some think he's one of the best central defenders in the draft. Good in the air and very strong physically, Simmons has the look of a first rounder.
Cristian Roldan. Playmakers traditionally struggle to make their mark at the combine for a number of reasons, but Roldan still managed to impress with his ability to read the game and sharp passing.
Dzenan Catic. Scored a goal and consistently put himself in dangerous spots. More polished than many of the other forwards in the Combine, Catic is creeping toward first-round territory.
Eric Osswald. Made several tough saves in preserving a shutout. Stands a chance to play himself into being drafted, especially with Combine teammate Alex Bono set to miss the rest of the combine to attend U.S. national team camp.
SHOWED SOMETHING
Oumar Ballo. Steady in central defense, though he could be cleaner with the ball. Showed some good speed when thrown out at right back, and even delivered a top-notch cross.
Tyler Arnone. Not the quickest midfielder but he reads the game well, is a very clean passer and has a tireless motor. Will need three good combine days to really climb up the charts, and is off to a good start.
Conor Hallisey. The Cal winger showed he can provide some good service, and is a quick player who can
Akeil Barrett. The Jamaican winger from Tulsa started day one trying his best to show his one-on-one skills. Showed some good pace, but could have made some better decisions. There is talent there, but will need to show in the coming days that he can be smarter with the ball.
Matt Polster. The SIU-Edwardsville defender helped set up a goal and was active in midfield. Will need to keep impressing to push himself up draft boards at a position where
Craig Nitti. The 6-foot-5 Loyola Marymount defender is a mountain of a man, but he has good feet and positions himself well. Looks a bit slow and bulky, but showed enough on day one to earn a closer look in the coming days.
Luke Mishu. The Notre Dame right back was mobile, got forward well, and was active in general.
Sal Bernal. Quick, tenacious and skilled, Bernal put a dangerous shot on goal and was active throughout his match.
Zach Steinberger. Stepped in to replace injured Fatai Alashe and worked his way into some promising chances. Did turn the ball over on a sequence that led to an opposing goal, but had an overall positive day.
PLAYERS WHO STRUGGLED
Khiry Shelton. While he did well to set himself up for some chances, his inability to finish had to worry scouts. The talent is there, but he will need to step his game up to ensure being one of the first players off the draft board.
Thomas Gomez. On a day when other goalkeepers impressed, Gomez failed to do so and even gave away a goal by being caught in possession near his goal. It will take more than one bad combine day to make scouts forget his excellent career at Georgetown, but he'll need to step it up the rest of the way to avoid falling behind some other prospects.
Ramon Martin Del Campo. Looked a step slow, and while he did his best to try and be vocal and organize, his defending looked well below the level you would expect from a top-rated central defender. Beaten for a goal and, in general, wasn't as impressive as some other centerbacks on day one.
Robbie Lovejoy. The North Carolina forward had a frustrating day. Had a shot saved on a breakaway and spent much of the rest of the day unable to really get going.
Dominique Badji. Sometimes players struggle to adapt to new teammates and Badji appeared to have more trouble with this than most on day one. Showed glimpses at times, but never really got going.
Adrian Reta. Argentine central defender was beaten on multiple occasions and really didn't look like a player worth a draft pick.
James Rogers. Struggled to make much of a mark. Did nothing to help his stock.
Sidney Rivera. Missed a wide-open chance and didn't do much else.
PLAYERS WHO NEED TO SHOW MORE
Romario Williams. Showed some glimpses of talent but the system he was deployed in didn't really play to his strengths.
Andy Thoma. For being the top-rated left back in a deep crop of them, Thoma was pretty quiet. No defensive blunders, but also not much going forward, which is something scouts want to see from all the left back candidates.
Adria Marco Beso. Showed the skill expected, but missed a wide-open net on one chance and faded in and out of his match.
Otis Earle. Much like Thoma, Earle didn't show much to reveal why MLS signed him to a senior contract. May have picked up a knock during the game, which may have slowed him down.
Said Abdul Salaam. Put together some decent passes but just doesn't look like a pro fullback. At 6-foot-4, he has more of a centerback's frame, but isn't strong enough to play there on the next level.