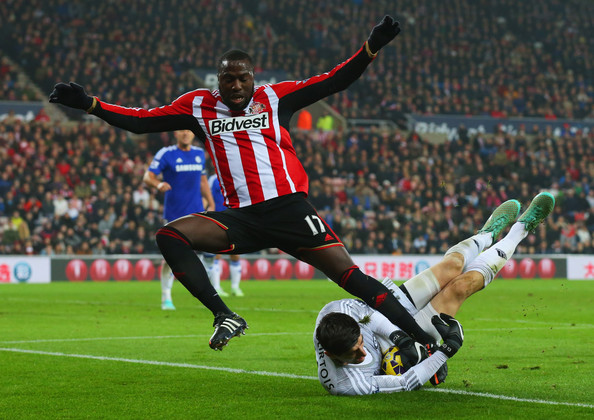 By CAITLIN MURRAY
If Jozy Altidore is serious about returning to Major League Soccer, the team with the best chance to acquire him is Toronto FC.
Although reports have indicated the New York Red Bulls are out of the running, Goal USA is reporting the Red Bulls are still part of the conversation, but TFC is willing to spend more money to secure Altidore.
The Portland Timbers, Goal USA reports, were also vying for the U.S. National Team striker, but have fallen by the wayside.
Another factor at play could be that the Canadian side has a higher standing in the league's allocation ranking, which would give TFC the edge as Altidore looks at a move back home, according to a report from ESPN. Other clubs, however, could make trades or deals to move up in the order to secure Altidore's services.
The ESPN report indicates MLS does not want to repeat the controversial "blind draw" that led to Jermaine Jones joining the New England Revolution, although he had expressed a desire to join the Chicago Fire. For Altidore's move, the league is looking to return to its typical allocation procedure and use an allocation order, the report said.
TFC does have three Designated Players at the moment, but is openly pushing hard to sell Jermain Defoe, who is looking to return to England.
Here are more news and notes from around the league:
REPORT: KLJESTAN DRAWING INTEREST FROM SEVERAL MLS CLUBS
Sacha Kljestan is looking poised to move to MLS as clubs clamor to sign the U.S. Men's National Team pool player.
Clubs vying for Kljestan include the New York Red Bulls, the Philadelphia Union and the Los Angeles Galaxy, according to a report from Goal USA. To secure Kljestan, they may have to enter a bidding war for the Montreal Impact's allocation spot.
Kljestan has 18 months left on his contract with RSC Anderlecht, but the club is reportedly willing to let the midfielder go.
The Galaxy had actually agreed to terms with Kljestan last year before MLS's international transfer window closed in early August. But the deal was nixed by MLS, something Galaxy coach Bruce Arena criticized in the press and was later fined over.
MLS TRIED TWICE TO SIGN MEXICO'S CHICHARITO
MLS tried twice to land Mexico's Javier "Chicharito" Hernandez, but alas, it was not to be.
According to a report from Goal USA, the league had approached Chicarito about coming stateside, but the El Tri standout rejected the offers, preferring to play in Europe.
The striker has been with Manchester United since 2010 and last September joined Real Madrid on loan.
It's not clear which MLS teams were interested in Chicharito's services, but the Los Angeles Galaxy and Chicago Fire are clubs that have popped up as possibilities. Signing the 26-year-old likely would have required a record-setting contract for the striker.
D.C. UNITED SIGNS FINNISH NATIONAL TEAM PLAYER HALSTI
D.C. United has signed Finnish international and Malmö FF player Markus Halsti, the club announced Monday.
Halsti, 30, has spent the last seven seasons with Malmö FF in Sweden's top Allsvenskan as a defender and midfielder, appearing in 115 games and scoring six goals. He helped Malmö to three league championships in the last five seasons, the first in 2010 before consecutive titles in 2013 and 2014.
"We are pleased to be adding a player with solid European playing experience at the club, Champions League, and national team levels," said D.C. United general manager Dave Kasper in a statement. "Markus can play as both a central midfielder and central defender, and this was quite attractive to us. He is a tough competitor and another very good character piece for our club. We look forward to having him join our family."
Internationally, Halsti has represented the Finland national team 20 times since his debut in 2008, last earning caps in November.
—–
What do you think of this news? Would you like to see Jozy Altidore land in Toronto? Think it's good to avoid another "blind draw" transfer? Wish Chicharito had taken up MLS on its offers?
Share your thoughts below.