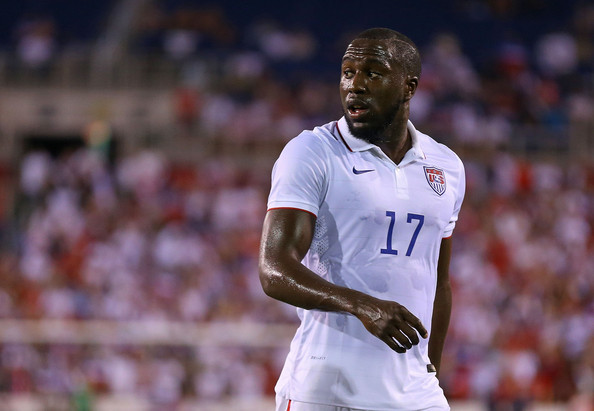 By DAN KARELL
The long-reported deal has become a reality. Jozy Altidore has returned to MLS.
Toronto FC announced early Friday morning that they have signed Altidore to a Designated Player contract, and that Sunderland have completed the transfer move for Jermain Defoe to move in the other direction. TFC acquired Altidore through the allocation order. Per team and league policy, terms of the deal were not disclosed.
"Our top priority is building a winning club with players that are committed to the TFC vision," general manager Tim Bezbatchenko said in a statement. "Jozy is a special player, and checks off all of the boxes that we look for in a player. We are excited to finalize this deal and bring him to Toronto FC. It became clear that a return for Jermain to the English Premier League was going to be in the best interests of both sides. We'd like to thank Jermain for his contributions to Toronto FC and wish him well."
The deal is a massive coup for Toronto, which now has two of the top U.S. Men's National Team players on the squad, as Altidore can link up with long-time teammate Michael Bradley. The move to MLS is also huge for Altidore, ending his 18-month struggle at Sunderland, where he scored just one goal in the English Premier League.
Altidore becomes the latest USMNT player to leave Europe for greener pastures in North America, following Bradley, Clint Dempsey, Jermaine Jones, Mix Diskerud and Brek Shea.
At the same time, the deal solved a long-standing issue for TFC, as Defoe was unhappy in Toronto and wanted to return to England. Defoe nearly joined Queens Park Rangers in the summer transfer window and it was clear that his continued stay in London throughout the winter meant his future was not in MLS.
Almost a year to the date after signing a reported $30 million contract with Toronto, part of the club's "bloody big deal," Defoe received his wish, transferring to Sunderland as they battle to avoid relegation. Defoe scored 12 goals and added three assists in 21 games in all competitions in his one year for Toronto FC.
"Our vision over the past 18 months has been to establish Toronto FC's international presence, and while just with us for one year, Jermain Defoe played an important role in helping us achieve that goal," said Tim Leiweke, president and CEO of Maple Leaf Sports and Entertainment. "We appreciate the fact that he worked very closely with us through this process, and while he had a number of options, he ultimately agreed to a deal that would be in the best interests of both the player and TFC. He wanted to ensure that TFC and its fans will benefit from this transfer, and we have.
"Jozy has chosen to return to MLS, and adding a player of Jozy Altidore's pedigree is an important addition for our club."
——————
What do you think of this news? Glad to see Jozy back in MLS? Would you rather have seen him stay in Europe? How does this affect TFC's playoff chances?
Share your thoughts below.