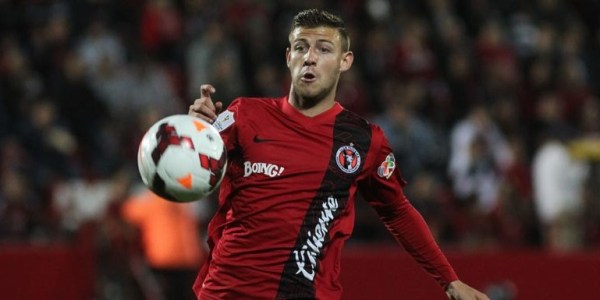 By FRANCO PANIZO
SUNRISE, Fla. — For Paul Arriola, 2015 could be a year of significant changes. A positional switch with the U.S. Under-20 Men's National Team is already underway, and a switch of addresses at the club level could soon follow.
Arriola is currently in Jamaica with his U.S. teammates preparing for the start of CONCACAF's U-20 Championship, and is expected to play a pivotal part in helping the Americans advance from the tournament and into this summer's World Cup. In order to get there, however, Arriola will have to adapt well to new challenges. First, in a more central role with Tab Ramos' team. Then, at a possible new home in MLS to seek playing time.
"I've talked to my agent Chris (Megaloudis) about trying to get a loan and we're in talks right now, but it's up to Tijuana," Arriola told SBI. "Obviously, I'm up for it because I want to play and if I go somewhere, it'll probably be somewhere in the MLS."
That scenario would be an interesting twist of sorts to the 19-year-old attacker's budding career. Arriola is known for having turned down a deal with the LA Galaxy in order to sign with Liga MX's Club Tijuana in 2013, but now could be landing in MLS in order to secure consistent first team minutes in a year that should include a World Cup trip to New Zealand for he and several other young Americans.
"I think I'd prefer a long season than two short seasons because, in my opinion, with two short seasons, I've learned in Mexico, since a lot of (coaches) come and go each season, there's not much room for chances," said Arriola. "A lot of coaches don't take chances on young players. I feel like the MLS season is so long, that players will miss a couple games here and there if they're tired or fatigued.
"For us, it's completely different. You go into like Week 7 and if you're not in the middle of the pack, if you're in the low pack, you're like, 'Well, geez, you have to win every single game because we only have nine more,' or however many we have. I definitely prefer (a longer season) because I think I'd get more chances in the MLS and I'm definitely interested to see if I do go back, how I would fit in compared to the guys."
If the more structured approach in MLS is more appealing to Arriola now, it's only because of what he's learned during his time in Mexico. Coaches are hired and fired with a high frequency there, making stability practically impossible to come by. Arriola has already witnessed several coaching changes at Tijuana, and he's only been there for a year-and-a-half.
The constant shuffling is tough for any player, but young prospects looking to break into the lineup tend to find it especially difficult. As quick as they might be receiving first team minutes and playing well under one manager, they can just as easily be cast aside by another whose style doesn't suit them nearly as well.
That scenario has played out for Arriola in the past year at Club Tijuana. After making 14 league appearances for the Xolos in his first year at the club, the Chula Vista, California, native has seen his role diminish under different managers. He's even had to go on loan to second-division side Dorados to find some minutes in the midst of all the coaching chaos.
"The difficult thing has been switching coaches," said Arriola, who played in five matches for a total of 92 minutes during the recently-concluded Apertura campaign. "It's definitely tough. My first coach we played a 4-3-3 that I fit in perfectly. I did real well. The second coach played more of a 4-4-2 and the style was different, the demands were different. Now, we play more of a 4-4-2 and I find myself as a right mid but I still find myself sitting behind someone else.
"That's always a challenge, especially when you're young. I think in my position since I'm young, they might say I lack the experience. I wouldn't say I lack the heart to play, but I feel like when you're young they're not quite sure. Coaches, especially, when they're trying to keep their jobs, a lot of times they're not quite sure do they risk a position on a young player unless he's doing really well.
"That's where I find myself, kind of sitting on the bench, kind of when a situation happens, when the coach needs me, that's when he's going to play me. I'm not necessarily a player that's going to always be put in like I want to be, like every player wants to be if they're on the bench. But I've been trying to make the most of that."
While Arriola has tried to maintain his chill and pleasant demeanor in the face of this difficulty, the lack of playing time has affected his form. Naturally, he has not always been as sharp as he can be when he's arrived to U.S. U-20 camps and it even garnered a recent talking to from a concerned Ramos.
"I see Paul a lot sharper now than he was about a month and a half ago, and I talked to him about it," Ramos told SBI. "I said, 'Paul, obviously I want to have you as big part of the team and you're an important guy, but I don't see you in good form. If you're not in good form in this group, someone will pass you because everyone is hungry and ready.'"
Ramos has seen Arriola's form improve since that conversation and expects the 5-foot-7 prospect to play a "big role" in the upcoming World Cup qualifying campaign, which starts on Friday. But Arriola will likely not only be deployed in his customary winger role over the course of the five group stage games in Jamaica.
That's because he has been seeing some time lately as a central midfielder, playing as a hybrid No. 8/No. 10. It's a new position for Arriola, but one that Ramos has been slowly introducing his player to in recent months.
Ramos first had Arriola play in a more central role than he's accustomed to in a Dr. Pepper Dallas Cup match. The U.S. set up with a diamond midfield of sorts on the day, and Arriola was deployed on his preferred right side but with more responsibilities to pinch in centrally.
Arriola then saw time as a pure central midfielder in last month's camp, playing in the new spot in the first of two friendlies in Honduras. He's making progress in the new position, but is still learning all of its ins and outs
"It's easier when people communicate," said Arriola. "Finding myself in that position where there's always people behind me so I have to trust my teammates to step, to press, to come back, to back off or whatever. It's definitely something that's interesting."
Interesting can also be read as challenging. Arriola admitted it's been difficult at times to fight his natural instincts on the field, instincts that tell him to go at defenders and run at space. But in his new position he's not able to do so as frequently because of the amount of defenders that normally surround him, forcing him to think quicker, pass faster and try to find spaces in between the opponent's defensive and midfield lines to receive the ball.
While Arriola would probably prefer to play out wide, just being on the field for this qualifying campaign is something that is really exciting him. He missed out on a previous qualifying campaign with a younger U.S. squad because of a stress fracture, and is more than eager to play a role in trying to reach the World Cup this time around.
Accomplish that and playing time at the club level may be easier to come by, regardless of where he is.