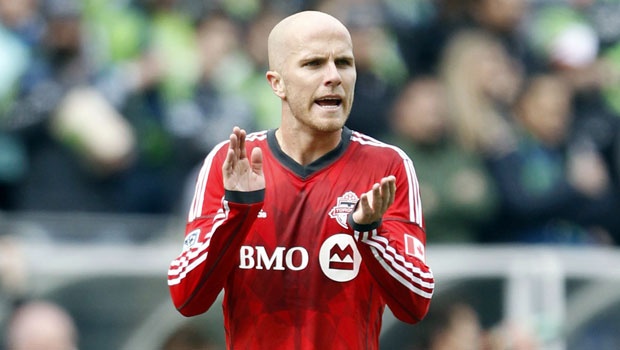 By CAITLIN MURRAY
As contract negotiations continue between Major League Soccer and the MLS Players Union, star midfielder Micheal Bradley said players are ready and willing to strike.
In an interview with ESPN, Bradley made it clear the MLS Players Union is ready for a work stoppage in order to fight for concessions the players believe are worth fighting for in current Collective Bargaining Agreement negotiations, like free agency and higher minimum salaries.
"Should we get to a point before the season where things and negotiations aren't where they should be, we are ready to strike," Bradley told ESPN on Wednesday. "We are united as a group to make real progress in terms of the way players get treated in this league."
Bradley said the union is not hoping to strike, but his comments suggest the union is prepared as a group to fight for changes MLS has long stood opposed to in past CBA negotiations.
The union's CBA with the league is set to expire at the end of the month and the union is seeking both higher salaries and more freedom of player movement.
Bradley is one of the league's highest-paid players, earning $6.5 million in guaranteed compensation last year, but in his comments to ESPN, he backed his colleagues in their quest for higher salaries.
The latest salary data from the league from 2014 showed an average salary of $207,831 in MLS, but that appears to be skewed heavily by high-priced Designated Players as the the median was just $91,827.
"We want to help this league grow and continue to push forward in every possible way," Bradley said. "But it is time for some changes in the way that things are done."
—–
What do you think of Bradley's comments? Should MLS loosen the rules for free agency? Should MLS reconsider its single-entity model? Do you believe players are really ready to strike over free agency and salaries, or see the union caving?
Share your thoughts below.