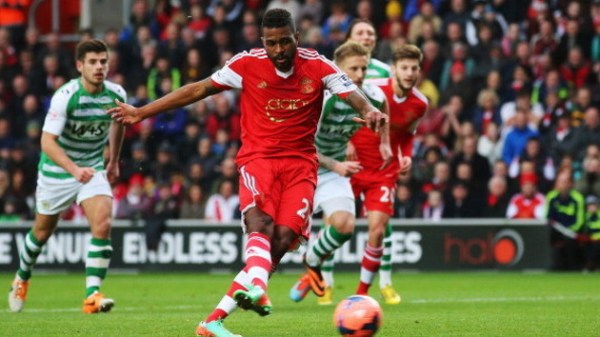 By FRANCO PANIZO
The Chicago Fire's attack is going to have a distinctly different and foreign feel to it in 2015.
The Fire announced another addition to their forward corps on Tuesday, landing Brazilian striker Guilherme do Prado. The 33-year-old do Prado arrives in Chicago after spending the last four-and-a-half years at Premiership side Southampton, where he scored 16 goals but none in the past two seasons.
"Guly is a versatile, attacking player," said Fire head coach and director of soccer Frank Yallop in a statement. "I'm pleased to add someone with his experience to strengthen our corps of attack-minded players."
Nicknamed "Guly," do Prado is the latest foreign forward Chicago signed this offseason. The Fire recently added Nigerian forward Kennedy Igboananike and Ghanaian striker David Accam as Designated Players.
Here are more notes from around MLS:
PALADINI CHARGED WITH DOMESTIC VIOLENCE
Former Columbus Crew midfielder Daniel Paladini has been hit with six charges stemming from incidents that allegedly took place over the course of three days.
The Franklin County Municipal Court charged Paladini with three counts of domestic violence and three counts of assault against his fiancee. Each of the charges, which allegedly took place from Oct. 26-28 of last year, are first-degree misdemeanors.
Paladini had been suspended with pay by MLS on Oct. 29 after the league learned of the incidents.
RSL ADD MARSHALL AS ASSISTANT COACH
Real Salt Lake have added a long-time MLS defender to its coaching staff, and his main task will be to work with the club's back line.
RSL announced on Tuesday that it has added Tyrone Marshall as an assistant coach, effective immediately. Marshall, 40, will serve as Salt Lake's main defenders' coach and arrives at the club after a 15-year career in MLS that saw him win two MLS Cups and play for five different clubs from 1998-2012.
"We're really fortunate to add somebody like Tyrone to our staff. His character is going to be excellent for our team and especially our defenders," RSL head coach Jeff Cassar said. "He had a very, very good career in MLS and he's a young, hungry coach who wants to prove himself. That's the kind of staff I want to have.
"With us moving Craig Waibel into the Technical Director role, it was important that I brought somebody in that held the same standards that Craig did and Tyrone fits that bill completely."
EARTHQUAKES SIGN RALSTON, TWO OTHERS AS ASSISTANTS
The coaching makeover in San Jose continued on Tuesday.
The San Jose Earthquakes announced that they signed Steve Ralston, Tim Hanley and Ian Russell as assistant coaches. The three men round out new head coach Dominic Kinnear's staff ahead of the 2015 season.
Ralston and Hanley join the Earthquakes after most recently working under Kinnear at the Houston Dynamo. Russell, meanwhile, was with San Jose last season and served as interim head coach during the final two matches of the year.
—-
How do you see do Prado faring in Chicago? Like Real Salt Lake's appointment of Marshall as an assistant coach? What do you think of the Earthquakes' coaching staff?
Share your thoughts below.