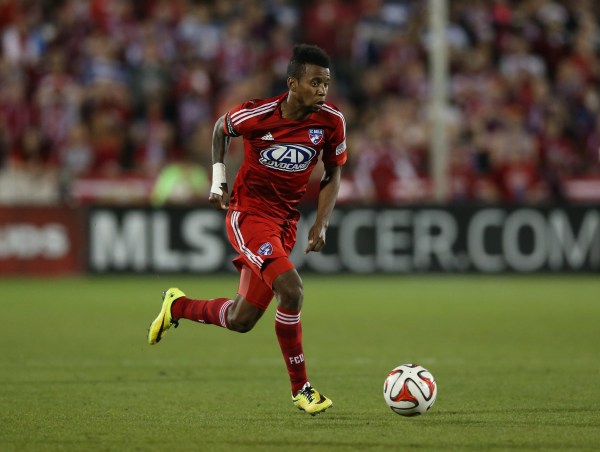 Photo by Matthew Emmons
/USA Today Sports  
By FRANCO PANIZO
SUNRISE, Fla. — The last time Kellyn Acosta was with the U.S. Under-20 Men's National Team ahead of a major international tournament, he was the youngest player on the squad and far from vital to the U.S. team's success.
This time, he is one of the more experienced players and someone who is shouldering the responsibility of leading the charge into this summer's World Cup.
It is not too common to see players represent their U-20 national team through two cycles. Their birthdays have to fall on a certain window in the year and they have to be talented enough at a young age to warrant inclusion. FC Dallas' Acosta is one of those players, having been a member of the U.S. side that played in the World Cup two years ago in Turkey and now the captain of the one looking to do so this summer in New Zealand.
Acosta's increased role with the program is a product of not only a fortunate  birthday – July 24 – but also his ability to break through in the professional ranks.  With that role come loftier expectations, which he'll have to live up to starting in this month's qualifying campaign at the CONCACAF U-20 Championship in Jamaica.
"I think sometimes the perception is you name a captain and it's a reward to be named captain, and I don't see it that way. I see it more as a challenge," U.S. U-20 head coach Tab Ramos told SBI. "I'm really challenging Kellyn to step up and kind of put the team on his shoulders and be the guy that doesn't let the team fail.
"That, in the end, he's the guy that gets everybody going through the tough moments, because there's no question that through all our games in our group play, we will have times where we're going to be suffering in every one of those games. That's when you need your leadership to get your team through, so I'm counting on that."
That Ramos named Acosta, 19, captain makes sense. The Plano, Texas, native has been through a World Cup cycle at the U-20 level before, serving as the youngest player on the roster that reached the 2013 World Cup and included the likes of DeAndre Yedlin, Wil Trapp and Luis Gil.
Acosta did not see time in any of the three games in the Americans' challenging and ultimately unsuccessful tournament campaign two summers ago, left on the bench to merely observe and soak in what the World Cup was all about ahead of a potential second opportunity in 2015. But he picked up valuable lessons during his time there, and is what Ramos is looking to tap into and lean on in January and beyond.
"I know what to expect: the media, the environment, the field conditions, everything," Acosta told SBI. "I'm taking everything from there and bringing it here, and I feel like I'm ready to go.
"I know things weren't always perfect in Turkey, like nothing was on time, the food was a little different than what we're used to," he later added. "Little things like that, just have to take that in and try to make the most of it."
While Acosta's transition into a leadership role has been somewhat seamless, the same cannot be said about his switching between positions. A versatile weapon, Acosta can play both fullback spots and defensive midfielder. He has seen time in both the defense and midfield under Ramos, but is more likely to play in the latter role to help protect the back line.
The 5-foot-10 prospect played in that No. 6 spot in last week's 6-0 win over a South Florida select team, and is admittedly growing more fond of the position.
"At that level before, I liked outside back because everything was in front of me, but now as I'm progressing, I like d-mid better," said Acosta. "I feel like I'm getting better, I'm getting more comfortable and playing here and playing a lot of games. Consistency is a big thing, so the more games I play, the more consistent I'll be. I'm just glad that I can make the most of any position.
"D-mid, hopefully (is where I'll be), but we'll see how the week goes."
Moving from one position to the next has not always been easy for Acosta, especially when he has had to go from fullback to defensive midfield. The adjustment is not as easy as, say, going from right back to left back. But he's had his share of experience doing it, and not just on the international level.
Under Schellas Hyndman and Oscar Pareja at FC Dallas, Acosta has bounced around different spots. The Homegrown Player has served as a utility man of sorts, filling in wherever is needed when needed.
Following his experience at the 2013 World Cup, Acosta played in his first 13 games as a professional, albeit at different positions, for the Hyndman-led Hoops. Eleven of those appearances came as a starter, and that momentum carried over into the following season despite a Dallas coaching change.
Acosta was again a regular in FC Dallas' lineup when the 2014 campaign began, starting in five of the club's first seven games before a kneecap fracture derailed his campaign. The injury was the first serious one of Acosta's fledgling career, sidelined him for three months, and led to him growing a real dislike for receiving treatment on the table.
"I can't even walk into the trainer's room anymore. I hate being in there," said Acosta.
When he returned to action in mid-August, there was no longer a regular starting place for him. Dallas had improved during his absence, and he had to make due with spot duty during the final few months of the year.
"Unfortunately, it was hard for me to get back in the swing of things," said Acosta. "But I kept pushing and I feel like everyone experiences an injury. It's good that it happened to me kind of early, so I know what to expect. I just tried to remain as positive as I could and I just kept pushing.
"Luckily, I got a few games in the end and our team made a good run in the playoffs. Unfortunately, we lost to Seattle but throughout the season I thought it was a pretty good season for me."
With the 2014 season behind him, Acosta's sights are now set on what could be a big year for him. He wants to not only reclaim a starting spot at FC Dallas, but wants to guide the U.S. into the World Cup.
His growth as a player and leader since 2013 indicate that he stands a good chance at crossing both those things off his to-do list.
"I was there at the U-17 camp when Kellyn was there. I think he was just 15, playing against MLS teams at right back," said Ramos. "I remember this scrawny little kid playing against Chad Marshall, who is a giant, and he hung in there. I remember how resilient he was and I think now you look a few years down the road and he's turned into this good player who has such great experiences and that will definitely help the team."