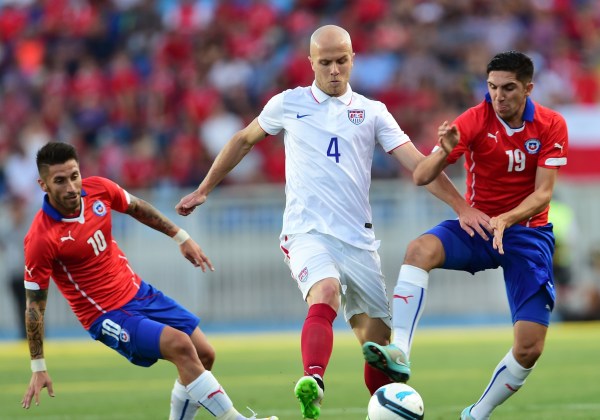 By IVES GALARCEP
When Mark Gonzalez buried the winning goal on Wednesday to seal Chile's victory against the U.S. Men's National Team, it was easy to come away from that friendly feeling like the U.S. laid another egg. Going five matches without a win and allowing nine goals in three matches will start making everything taste a little sour, but the first U.S. friendly of 2015 still gave Jurgen Klinsmann plenty to ponder.
My latest Goal.com story took a look at some of the key things to take away from Wednesday's friendly, such as the excellent play of USMNT debutant Steve Birnbaum, who didn't play like someone making his first national team appearance.
Not on that list was the overall verdict on Klinsmann's 3-5-2 experiment. I touched on that on Thursday on Goal.com, basically calling it a successful debut marred by the fact Klinsmann only gave the new formation 45 minutes.
Now, with some time to digest the match, and more importantly re-watch it, I present SBI's USMNT player grades for the Chile friendly:
CHILE 3, USA 2: USMNT PLAYER GRADES
NICK RIMANDO (6). Made some big saves, including some on plays that were ruled offside, but his work on Chile's equalizer, which saw him beaten to his near post, kept him from generating the best grade on the team.
STEVE BIRNBAUM (6). Very steady debut for the national team newcomer. Made the plays he had to make, and aside from a sequence that saw him nearly volley in an own goal, he rarely put a foot wrong. Was not to blame on any of the three goals and did enough to merit more looks from Klinsmann.
JERMAINE JONES (5). Made some pretty glaring mistakes, both in terms of defensive assignments and losing possession in bad spots, but also covered a ton of ground and made a plethora of plays all over the field.
MATT BESLER (6). Two plays stand out for the Sporting KC man. The first being a delicious pass on Brek Shea's opening goal. The second was Chile's opening goal, which looked to be his fault (at least partially). Besler made up for that with some steady play defensively the rest of the match, particularly when the U.S. went to a 4-4-2 and he had to cope with having Shea as his left back.
BREK SHEA (5). Took his goal extremely well, but had very few bright spots beyond that. Was active in the first half in his wingback role, but looked like a chicken with his head cut off in the second half as a left back.
DEANDRE YEDLIN (4.5). Had some very good moments in the first half as a wingback, including his work on Jozy Altidore's goal, but the second half was a disaster from a defensive standpoint. Could have pressured the ball better on the opening Chile goal, was beaten badly on the second goal, and just fell asleep on the eventual winner.
MIX DISKERUD (5.5). Made arguably the play of the match for the U.S. with his beautiful assist on Altidore's goal, but was relatively quiet the rest of the day. Appeared to take a backseat to the team's other attacking players, and looked to buzz around, even if he didn't really have much influence on the match aside from the assist.
MICHAEL BRADLEY (6). Came very close to putting the match away with a blast off the crossbar, and was his usual industrious self throughout the match. Did have a few  turnovers, but had more of the ball than anybody else in midfield, and usually does well to win the ball back. Helped create some promising chances later in the match that Nguyen and Wondolowski couldn't convert.
CLINT DEMPSEY (5.5). Tried hard to be active in the attack, but only had a few flashes throughout the match. Delivered a sharp pass that nearly helped Altidore draw a penalty.
BOBBY WOOD (3). Largely invisible, had no impact on the match for his 45 minutes on the field.
JOZY ALTIDORE (6.5). Very well-taken finish on the second U.S. goal, nearly drew a penalty later in the first half, and also provided the pass that freed Bradley up for his crossbar-rattling shot. Did turn the ball over at times as he forced passes trying to help the attack, but also put in an impressive amount of defensive work trying to pressure the Chileans in possession.
LEE NGUYEN (5.5). Moved well and put himself in good spots during his 45 minute appearance. Almost scored on one play, but saw his chance miss just wide. Encouraging showing.
WIL TRAPP (4). May have had the jitters that can sometimes come with a national team debut. Should have done better on the sequence leading to Chile's winning goal.
GYASI ZARDES (6). His movement was excellent and passing sharp in his second-half cameo. Looked the part, and showed no signs of first-cap jitters.
CHRIS WONDOLOWSKI (NR). Didn't do much, had a flashing header saved late in the match.