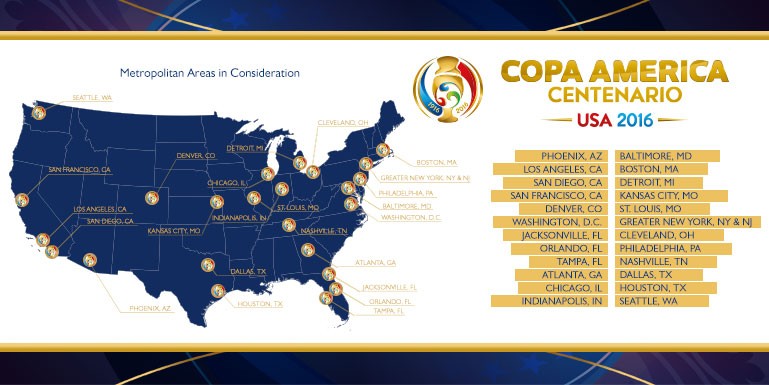 By DAN KARELL
Expect to see the 2016 Copa America played under the bright lights of some of America's largest cities and media markets.
Twenty-four cities and metropolitan areas from the East Coast to the West Coast are interested in hosting games during the 2016 Copa America, CONCACAF officially revealed on Thursday afternoon.
The areas include the likes of New York/New Jersey, Los Angeles, Chicago, Miami, Houston, Seattle, Indianapolis, and Washington D.C.
"We are looking forward to taking the first step in the organization of this historic event that will unite the Americas and the world in 2016," CONCACAF President Jeffrey Webb said in a statement. "The unique opportunities that we have with the Centennial Cup America, flanked by the 2015 and 2017 Gold Cups, will help set the stage to demonstrate how our region is ready to welcome back another FIFA World Cup in 2026."
Cities and venues interested in hosting games during the tournament have until March 16 to submit a proposal. The CONCACAF release claims anywhere from eight to 13 stadiums will be selected. Stadiums must seat at least 50,000, ruling out all soccer-specific venues in the USA.
"The interest level from cities across the nation has been phenomenal," U.S. Soccer president Sunil Gulati said in a statement. "Everyone understands the tournament will be a huge event during the summer of 2016 and it's exciting to see all of these cities putting together bids to be involved. While we're just in the beginning stages of preparing to serve as host, we already are starting to see the impact and interest the tournament will have with soccer fans across the United States."
CONMEBOL, South America's soccer confederation, is celebrating its centenary in 2016 by holding an additional Copa America in the United States.
The tournament will take place from June 3-26, 2016, and involve 16 teams: All 10  CONMEBOL nations; the USA; Mexico; Costa Rica; Jamaica; and two other yet-to-be-determined nations.
Last fall, FIFA added the 2016 Copa America to its official calendar, meaning that clubs must release players called up for international duty.
Here's the list of metropolitan areas under consideration from CONCACAF, listed by state:
Arizona (1): Phoenix
California (3): Los Angeles, San Diego, San Francisco
Colorado (1): Denver
District of Columbia (1): Washington, D.C.
Florida (3): Jacksonville, Orlando, Tampa
Georgia (1): Atlanta
Illinois (1): Chicago
Indiana (1): Indianapolis
Maryland (1): Baltimore
Massachusetts (1): Boston
Michigan (1): Detroit
Missouri (2): Kansas City, St. Louis
New York/New Jersey (1): Greater New York
Ohio (1): Cleveland
Pennsylvania (1): Philadelphia
Tennessee (1): Nashville
Texas (2): Dallas, Houston
Washington (1): Seattle
———
What do you think of this development? Which cities do you see getting selected?
Share your thoughts below.