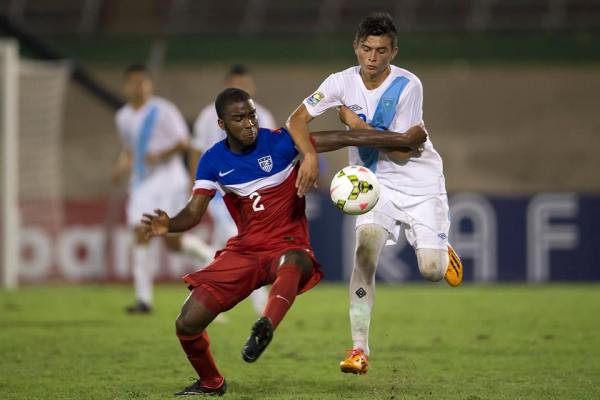 By RYAN TOLMICH
One moment of brilliance from Guatemala's Andy Ruiz was enough to undo 89 minutes of U.S. U-20 Men's National Team dominance.
Despite asserting themselves throughout the majority of the match, the U.S. U-20's were forced to settle for a 1-1 draw with Guatemala in the CONCACAF U-20 Championships due to a 90th minute long-distance volley from Ruiz.
The volley, which canceled out an opener from Cameron Carter-Vickers, came following a clearance from Kellyn Acosta. Although the headed clearance went well outside the box, Ruiz stepped up and unleashed on the volley to net the equalizer and snag Guatemala a point.
The U.S. dominated the opening 30 minutes by maintaining possession through a high-pressure style. The constant pressing limited Guatemala's ability to move the ball out of the back and allowed the U.S. to work with the ball following a series of Guatemala turnovers.
Tommy Thompson and midfielder Romain Gall were among the more active Americans in the opening stanza. Thompson's efforts were rewarded with a pair of chances in the 12th minute, with the first being pushed away by goalkeeper Nicholas Hagen while the ensuing rebound was sent soaring over the bar.
Center back Cameron Carter-Vickers also earned the U.S. a decent look on goal following a free kick, but the game headed into halftime with a level scoreline despite the Americans' dominance.
The U.S. opened the second half with a spectacular chance through Gall, but the midfielder's volley was pushed just wide following a cross from Shaquell Moore.
The breakthrough finally came in the 59th minute through Carter-Vickers, who skied above the Guatemala defense to provide the opening goal.
Service was provided by Emerson Hyndman, whose corner kick was placed right around the 6-yard box. The physically-gifted Carter-Vickers took control from there, smashing the ball into the back of the net to give the U.S. a well-deserved lead.
Hyndman had a chance to double the lead 16 minutes later with a long-distance effort, but the Fulham product's shot curled just past the left post.
Guatemala finally got their breakthrough in the 90th minute through Ruiz, who smashed a volley from long range past Steffen into the upper left hand corner.
The U.S. is back in action Sunday for a matchup against Panama.
Here are the game highlights: