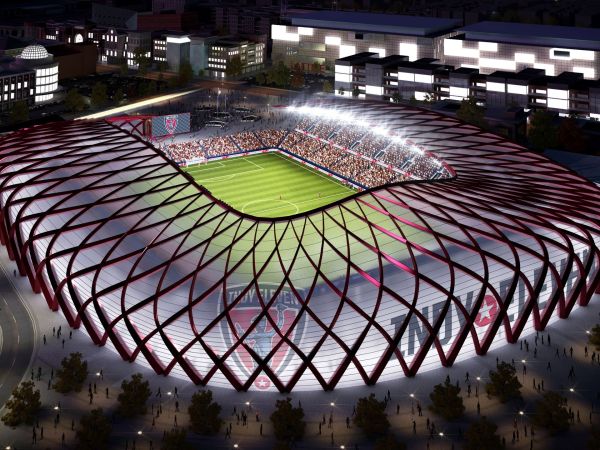 By RYAN TOLMICH
Heading into just the second year of the team's existence, Indy Eleven has the American soccer world buzzing about the potential of a brand new soccer-specific stadium.
Following a debut season that saw the club sell out every home game, Indy unveiled plans for an 18,500-seat stadium on Wednesday, as owner Ersal Ozdemir and president Peter Wilt look to continue to grow the game both locally and nationally.
"I think it's a continuation of the support you've seen for soccer nationally, as well as locally," Wilt told SBI. "You look at the facilities in Kansas City and Salt Lake City, which are markets not all that different than Indianapolis, and they're sold out every game. You look at Houston and Portland, and similar sized venues again, that are sold out virtually every game. The sport has reached a tipping point in this country and it deserves a venue like this.
"Some people just haven't caught on that there is a real shift in demographic in the United States, not just in unusual markets that might be ethnic-heavy or skewed young. Throughout the United States, the age wave has grown up that supports soccer that required a venue this size."
The venue, which Ozdemir says will be used to host a variety of other sporting and entertainment events, would be funded by stadium revenue. With cost of living and construction fees currently below the national average, the cost of stadium construction is projected at just $82 million, well below the norm for stadiums in the U.S.
Overall, Ozdemir says the public response to the initial plan has been tremendous, as virtually everyone the owner has come in contact with has applauded the efforts and ambition of the club.
"We look at the responses we get, the public responses, and I don't want to say 100 percent, but I believe that 99.9 percent, just in case there are people I don't know, love the design and are excited," Ozdemir told SBI. "It's a unique design for the city and overall, so they're excited.
"99.9, and I say 99.9 because I don't want to underestimate a few people who don't like it for some reason. For that purpose it's been great and people will understand how this will be financed as we go through the process that has been done with the state and the city."
That process, according to Wilt, began in 2013 when nearby Lucas Oil Stadium — home to the NFL's Indianapolis Colts — hosted an international friendly between Chelsea and Inter Milan, drawing over 40,000 fans to watch a sport that in the past was seen as far from the mainstream. That game, which Wilt refers to as the first stage of the city's "enlightenment," opened the eyes of  fans, who then proceeded to fill each and every Indy Eleven home game at Michael Carroll Stadium, the team's current home on a state university campus.
The Indy Eleven ownership group initially submitted a stadium proposal to state legislators last spring, before the club even played a match. Skeptical about potential attendance and revenue, the legislature failed to approve that plan, but the groundwork was established for this week's proposal.
"Last year when we put the bill forward, we weren't surprised," Wilt said. "The surprise we had was that it got as far as it did, actually. It went pretty well, it was received well, but it ran out of time because of the short session.
"We went back at it this year and submitted the bill about three weeks ago with similar language to last year, and we understood through the discussions with the legislators that it is something that is going to evolve and work for everyone in Indiana."
The current proposal, as Ozdemir sees it, could be a major landmark in inspiring other owners in lower-tier leagues to pursue stadiums in an effort to grow the game. Overall, the Indy Eleven owner sees the stadium experience as a key part of the game's domestic development. More satisfied attendees, the thinking goes, will eventually result in more passionate fans of the sport.
"It doesn't matter what kind of league it is, in the United States or somewhere else, the stadium is an important part of the experience. It doesn't matter where and how and when you play, we're looking for providing a great experience for everybody that comes to the venue. It doesn't matter if they're die-hard fans or if they're casual fans or if they just want to check out a game.
"If they're not a fan, they'll become a fan after they leave. If they're a casual fan, they'll become a more loyal fan. If they're a die-hard fan, we appreciate it and we'll provide them with a quality venue to enjoy the game to the fullest."
Wilt believes that a higher-quality venue will obviously lead to more interest in the team from both a player and fan perspective. As the field, and the players on it, continue to improve, the game will continue to grow in both the U.S. and Indianapolis.
"When people see Ersal's vision for the future of the sport in Indianapolis, that again is really making an impact," Wilt said. "This week, as much as an impact is made locally, I think nationally, you've seen a lot of people recognize what's going on here in Indianapolis.
"I think it's about time people recognize nationally that this isn't just Indianapolis," Wilt added. "It isn't just Portland or Seattle. It's not just Los Angeles or other particular markets. Soccer is now entering the mainstream phase in the United States and this project in Indianapolis is part of that."