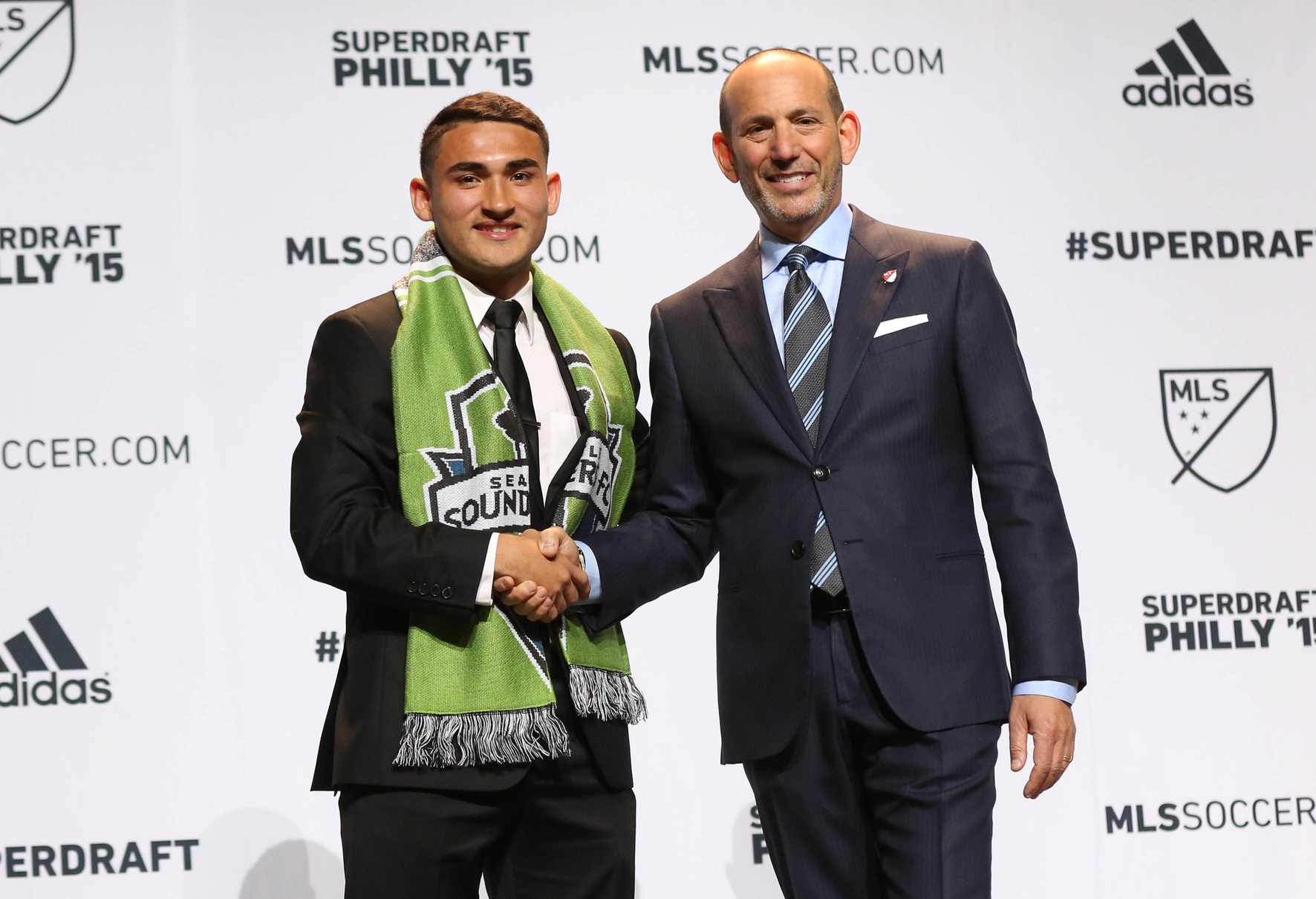 Photo by 
Bill Streicher/
USA
Today Sports
By RYAN TOLMICH
PHILADELPHIA — As the MLS draft continued to tick on, Washington midfielder Cristian Roldan waited, waited and waited some more. Through 15 picks, the Generation adidas addition and highly touted prospect had yet find a landing spot. That is until the Seattle Sounders set Roldan up for a bit of a homecoming.
The Sounders put together a trade with Real Salt Lake to select Roldan with the 16th pick, ending a two-hour wait for the 19-year-old midfielder. For Roldan, the wait was worth the stress, as he now has an opportunity to play for what he considers his hometown club.
"It's definitely worth it," Roldan said moments after being drafted. "I was nervous throughout the whole draft. I didn't know what was going to happen. Credit to the Sounders, who moved mountains to get me. That's definitely a confidence booster knowing that they moved a lot of things, a lot of people, to get me. I can't thank them enough.
"I feel like it was honestly worth it dropping as much as I did because Seattle is probably one of the better cities in the country. It's a soccer city… I can't thank Seattle enough for bringing me in."
Roldan's presence in the Seattle area was certainly noticed by Sounders head coach Sigi Schmid, who has seen Roldan play everywhere from the college ranks to the California pickup scene.
"I think a great little story is that I was down in Southern California looking at training field options for our preseason," Schmid said, "and I go to look at this one field playing 6 vs. 6 and who do I see? Cristian is out there playing 6 vs. 6. I didn't expect him to be there, but he's the kind of kid that, if there's a soccer game, he's going to play. Guys like that make it."
Schmid insisted that the Sounders' constant scouting of Roldan was a major advantage, as the club believes they have seen more than enough to know that he was a player that they wanted.
"We have the advantage that he plays at Seattle," Schmid said, "so we can see the body of his work and what we've seen day in and day out since he's had the opportunity to train with us as well. He didn't have the best combine, and he'll be the first to say that, but we're very happy.
"This is a skillful player, a good passer of the ball, a very humble kid, but he also has that little bit of flair. He's a little bit unpredictable, so we're very happy that we were able to work it out."
Roldan's skills will be able to transition just a little bit easier due to his familiarity with the Sounders environment. Joined by college teammate and recent Sounders Homegrown signing Darwin Jones, Roldan is excited about starting his professional career with a club that has placed so much faith in him.
"I know a lot of the guys, not just Darwin Jones," Roldan said. "It's going to be easy to make a transition with all of the support being there. I've been to the locker room, I've been to Starfire, so it'll be a pretty easy transition going forward.
"I just know that Seattle, who has been there for me in the past, is there for me now. I couldn't be more excited for the opportunity they have given me. It'll be exciting for sure."