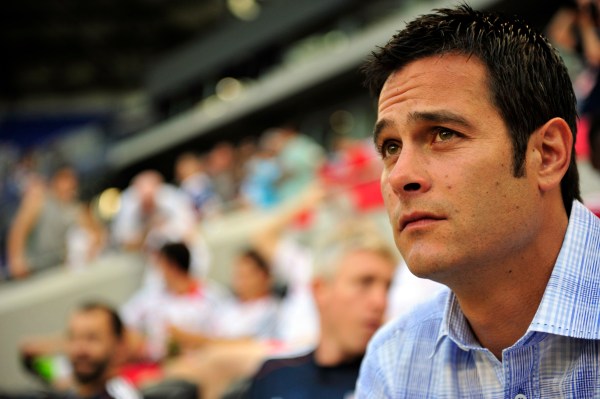 Photo by Joe Camporeale
/USA Today Sports  
By FRANCO PANIZO
If Mike Petke committed any infraction that led to his firing, it was simply that he was not Jesse Marsch.
New York Red Bulls sporting director Ali Curtis, who joined the club last month, dismissed Petke on Tuesday in a shocking move that reverberated across MLS. Petke had led his beloved team to a Supporters' Shield in 2013 and a deep playoff run a year later, but that was not enough to keep him from being replaced by Marsch on Wednesday.
It turns out that Curtis wanted a coach more in line with his vision for New York's future, and Marsch fit the bill more than Petke.
"At the end of the day, it was my decision. I own it, and it was very difficult," Curtis said during a 30-minute conference call. "But this decision wasn't about getting rid of Mike. It was more about bringing in Jesse Marsch. We're very excited to have Jesse and I'm looking forward to him sharing his ideas, not just at the first-team level but at all levels of our organization, from our youth development platform all the way to the first team.
"I've mentioned this before: I've built a plan," he later added. "I have a vision and a plan and core values and a style of play of what I want to occur when I'm at a club. When I joined the New York Red Bulls, I joined the New York Red Bulls with a very sophisticated plan in terms of where we need to be over the next 12 months, over the next 36 months and over the next five years. Jesse fits into that plan."
Curtis, who has never previously worked for a club, was eventually asked if Petke's firing was a decision made by the Red Bulls' ownership group in Austria. Curtis avoided answering the crux of the question, only repeating that he had the final say in deciding Petke's future on the cusp of the annual MLS Combine.
"The decision to replace Mike is not a reflection of whether or not we're embracing tradition," said Curtis. "Mike was a big part of the club and we believe he'll be a big part of the club moving forward. At the end of the day, I felt the decision needed to be made in replacing the head coach and I made it.
"Jesse is going to be great for this club. He fits into our vision great, so we're looking forward to him being a part of this."
In the 41-year-old Marsch, the Red Bulls are getting someone who is different than Petke in that he has coached at several levels in the United States. He was the head coach of the Montreal Impact in 2012 and an assistant for the U.S. Men's National Team prior to that.
Marsch, who most recently served as an analyst during the MLS Cup playoffs, acknowledged during the conference call that he and Curtis have "symmetry" in terms of their vision and work ethic. The former MLS midfielder also talked about helping the Red Bulls evolve as a club, altering their identity on the field, and introducing more youth into the fold.
"To get briefly and quickly into the playing style, this is an energy drink," said Marsch. "From the beginning it's been clear that Red Bull – as much as there has been some talented teams there, I think there's been success – I think they want to honor playing a more dynamic and uptempo game and incorporating more young players and now having a new direction.
"That fit well with who I am as a coach and how I think about things. I expect our team to evolve, but I also am not here to make sweeping changes. I know there's already a good base of talent here, and now it's just our job to add to it and instill a really strong work ethic and help this thing evolve."
Marsch added that negotiations to sign as head coach began two weeks ago and that he is in talks to bring a technical staff. Curtis confirmed on the call that assistant coach Robin Fraser is on his way out, as had been reported in recent days.
Curtis also praised Marsch's fondness for "performance and analytics", which the two men see as a key part of the club's future. They both sounded confident that they can win over New York's irate fans, whose expectations will be extremely high after seeing the unceremonious dumping of their beloved head coach.
If Curtis and Marsch fail in 2015, the fanbase will let them know it. They don't foresee that happening, however.
"(Marsch) embraces those areas that are consistent with where I see the club moving and the direction of the club," said Curtis. "His approach and ideas as it pertains to youth development as well as the first team and the interplay between those two areas, I believe is very innovative, and it fits very well into where this club is moving in not only over the next 12 months, but really in the long term."
"A value in Jesse is that he's actually had a chance to actually step away from the game, and I think a lot of times when you step away from the game, it gives you a perspective that is different, that is new, and very innovative," he added. "Particularly, through my conversations with Jesse, it's aligned with where we are moving as a club and I felt that was the right decision to make."